Back in the day, my mother used to have this big, honking Dyson vacuum that took a forklift to move between rooms. Keep in mind that this was a couple of decades ago, so things have changed quite a bit. Now you can get your vacuum cleaners on a stick.
Back when these things came out, there were probably a few doubts about their ability to clean. Today, the world has changed so that stick vacuums can be just as good, if not better, than your standard corded vacuums. In the interest of convenience, here is our list of considerations for the best stick vacuum cleaner NZ has to offer.
Top Five Stick Vacuum Cleaners in NZ
Here are the five vacuums we have decided upon reviewing.
Vax Blade Cordless Pet Pro VX63
Ryobi 18V ONE+ Brushless Kit R18SV7-H40G
Tineco Pure One S12 Platinum 165-1873-2301
Bosch Athlet BCH6AT25AU
Dyson V11 Absolute
While the primary focus will be the ability of the vacuum to clean dirty floors and remove dust, there will also be other ease-of-use figures considered. We will dig into the details below.
Dyson V11 Absolute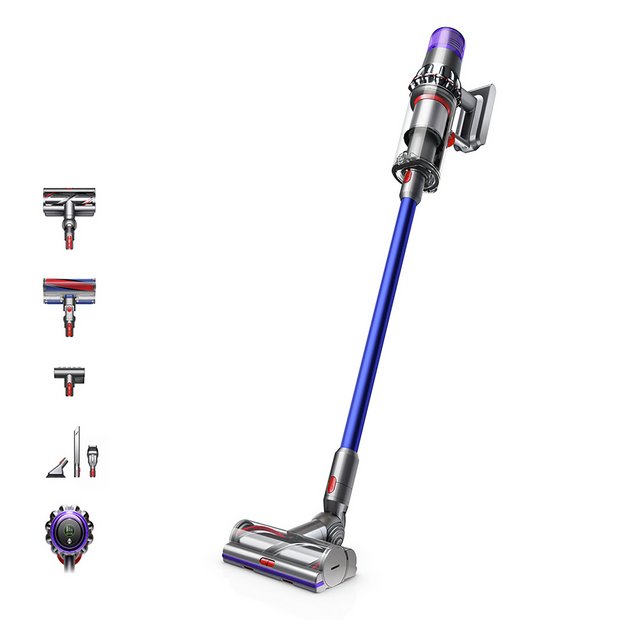 Charging time 4.5 hr
Running time 60 min
Weight 3.1 kg
Capacity

0.76

 

L
Returning to a familiar spot, Dyson is the grandfather of vacuums that still sets the bar for quality. The Dyson V11 Absolute is the latest in their Absolute line, and this one is no pushover. It even has a pretty nifty design that stands out amongst the competition.
As expected, you have a variety of features with a Dyson vacuum. It is incredibly effective at cleaning hardwood and carpets at any speed. It has a crevice tool, an upholstery tool, and a tool specific for hardwood floors.
It is excellent at cleaning in tight corners and picking up pet hair. It also has a handheld variant that is easy to switch on. Given the unique design, it can be a bit tiresome to hold.
The biggest drawback? It doesn't have a HEPA filter. One wonders if you even need one for a vacuum, which is something we will get into later. Regardless, it is easy to see why Dyson still creates some of the best vacuums in New Zealand.
Vax Blade Cordless Pet Pro VX63
Charging time 4 hours
Running time 45 min
Weight 2.9 kg
Capacity 0.3 L
We start our stick vacuum cleaner hunt on a newcomer to these lists. Vax hasn't been here before, but that is because they tend to specialize in stick vacuum cleaners. You can see that with the quality of the product they have here, all in a very cost-effective package.
The Vax Blade Cordless Pet Pro VX63 is perfect for removing chunks of pet hair from the ground. Despite having a bit of a problem cleaning thicker carpets, it is ideal for moving. It has an excellent handheld mode which makes it easy to clean hard-to-reach areas.
While it doesn't have a HEPA filter, it does have a reliable filter which catches a good chunk of dust. It also has two variable speeds, providing simplicity and power in a handy package.
It's a blessing in disguise as someone with dogs, and it holds its own with other surfaces. It is missing a hard floor head, but it still cleans them just fine with the included brush head.
Ryobi 18V ONE+ Brushless Kit R18SV7-H40G
Running time 45 min
Weight 4.5 kg
Capacity 0.5 L
Charging time 2.6 hours
Ryobi is another newcomer to this list, but it is no pushover with the Ryobi 18V ONE+ Brushless Kit R18SV7-H40G. The significant inclusion with this one is a HEPA filter. We will get into why that is a big deal a bit later in the review.
For now, keep in mind that HEPA filters are excellent at collecting and maintaining dust. It does well to hold this dust within the 530 ml tank, which is ample to clean most houses without switching out.  It does have tools for cleaning crevices, but nothing for hard floors.
It emphasizes a bit less on the portability scale, but it still has a useful handheld mode. It also has two different speeds for variable cleaning. While it seems superficial, I also like the design of the vacuum, as it fits neatly within the hands.
Overall, it is also a higher-quality carpet clean and pet hair clean when compared to the Vax model we just reviewed. As a result, it is easily one of the best stick vacuum cleaners in New Zealand.
Tineco Pure One S12 Platinum 165-1873-2301
Charging time 4 hours
Running time 100 min
Capacity 0.6 L
Battery volt 21.6 V
Given that this is a list full of newcomers to this list, Tineco is the last one on this list we haven't mentioned elsewhere. Their clear specialty is in vacuums. The Tinco Pure One S12 Platinum is another excellent vacuum for your consideration.
Tineco is focusing on a premium area for this one. It is an excellent carpet cleaner that stands with the best on this list. However, it doesn't work as well for quicker projects.
It is the first vacuum we reviewed on this list with a hard floor tool. It's a flat tool which is excellent for vacuuming hard floors without leaving behind any scratches. It also has a crevice tool, but no upholstery tool.
It also manages to be reasonably quiet for a vacuum, which isn't saying too much given that all vacuums are pretty noisy. It keeps the HEPA filter, the handheld option, and a full bin indicator. It is an excellent choice for almost any household.
Bosch Athlet BCH6AT25AU
Charging time 6 hours
Running time 60 min
Weight 3.3 kg
Capacity 0.9 L
Bosch is the first brand on this list with recognition in other areas. They manage to do well in whatever product line they create. Stick vacuums are no exception to this rule.
The Bosch Athlet is a relatively cost-effective item when compared to others on this list. It does this while being on par with the hardwood cleaning ability of the Tineco model we just reviewed. It limits itself to only having a brush tool.
The more significant drawback that comes with this model is the lack of a HEPA filter. Regardless, you won't see it shooting dust all over the place given the well-contained bin. It has 440 ml for bin capacity.
With bin capacity in mind, this is the only model on this list that does not have a handheld mode. You are stuck with the stick, making it a bit less versatile than some of the other vacuums on this list. It is still a cost-effective choice for your household, all without losing any vacuum quality.
Features To Look For In The Best Stick Vacuum Cleaner
Now that we have our list out of the way, it is time to dig into these features. As always, pick your most loved features on this list and be ready to eliminate some needless ones. Pick the vacuum that is best for your family and budget.
HEPA Filter
A HEPA filter is a necessity for those who have asthma or allergies. Known as a high-efficiency particular air filter (HEPA), these can pick up particles that are .03 microns. That means it can pick up incredibly small particles that include bacteria and cigarette smoke.
While they are not necessary for some people, they are certainly a mark of quality. Investing in a HEPA filter is a surefire way of improving your air quality. The first three models we reviewed today all have HEPA filters.
Variable Power
Variable power options allow you to control the amount of effort your vacuum exerts in attempting to remove stuff from the ground. If you regularly clean your home with a vacuum, you don't need to run it at the highest power each time. Not doing so extends your vacuum's battery life.
Useful Tools
Below is a list of standard tools that you may find on these vacuum cleaners.
Crevice Tool
If you have a crevice tool on your vacuum, you already know it is excellent for getting to thin and hard-to-reach locations. All of the vacuum cleaners except for the Bosch model come with this tool.
Upholstery Tool
An upholstery tool is for removing dust from the surface of upholstered items, such as couches. Given that most of these have brush heads, they technically could be used for upholstery. But the Dyson is the only vacuum on this list that has a separate tool for this.
Hard Floor Head
A hard floor head removes the bristles from your head to prevent scratches to hard floor surfaces. The Tineco and the Dyson models are the only two that include this tool.
Handheld Mode
A handheld setting removes the stick from the stick vacuum cleaner. The only vacuum that doesn't have this is the Bosch model we reviewed.
It is excellent if you don't feel like wielding a long vacuum everywhere you go. The options allow you to have a vacuum cleaner that is good for waist-level couches and the floor.
Bin Capacity
The larger the bin capacity, the less time you have to spend switching out the bin in the middle of cleaning. On the other hand, a larger container makes for a less portable item. Below is the list of bin sizes on the products we reviewed.
Vax Blade Cordless Pet Pro VX63: 400 ml
Ryobi 18V ONE+ Brushless Kit R18SV7-H40G: 530 ml
Tineco Pure One S12 Platinum 165-1873-2301: 500 ml
Bosch Athlet BCH6AT25AU: 440 ml
Dyson V11 Absolute: 510 ml
Conclusion
After careful consideration of our vacuums, the winner of the best stick vacuum cleaner NZ has to offer is the Tineco Pure One S12 Platinum. What it lacks in a single upholstery tool when compared to the Dyson, it makes up in droves with a high-quality HEPA filter.
These days, one cannot invest in a stick vacuum cleaner without having a HEPA filter. If you have another perspective, any of these vacuums would be an excellent option for your household.
I'm a Consumer Review Specialist that loves to gab about the latest in appliances. As a dad, a lot of my energy goes into keeping up with my four-year-old.
I'm one of those people that needs his appliances to work. As a writer, I'd take some of the burden from your hands with my research. You can check me out on copysmith.org if you want to see any of my other work.