When you make a big decision like deciding to install a split system air conditioner, you've got to know it's the right one the first time. Otherwise, expect the old installer to come back to remove their company's A/C system begrudgingly. I've been in those shoes, and it isn't fun.
With this article, we are going to dig into various air conditioners. Using the available features and effectiveness, we will find the right one for you. Here is our list of considerations for the best split system air conditioner NZ has to offer.
The Top Five Split System Air Conditioners for NZ
We have chosen five A/Cs for our review.
Daikin FTXZ25NV1B
Fujitsu ASTG12LVCC
Hitachi RAF50NXA1
Panasonic CS/CU-Z50VKR
Haier AS53FEBHRA / 1U53RABFRA
Our primary focus will be on cooling capacity, but heating capacity will be just as necessary depending on the month. We will also be delving into various ease-of-use features.
Daikin FTXZ25NV1B
Power input Cool (kW) 0.42 Heat (kW) 0.62
Capacity Cool (kW) 2.5 Heat (kW) 3.6
Weight Indoor (kg) 15 Outdoor (kg) 50
Dimension Indoor (mm) 295 x 798 x 372 Outdoor (mm) 693 x 795 x 300
The Daikin FTXZ25NV1B is going to be our first consideration on this list. This one's power comes from its ability to be a capable cooler and heater. It does this on the inside or the outside with relative quiet, which is much better than some models.
It's also a high wall unit, which makes it effective at lowering cold air throughout a room. It runs at 2.5 kW, which is typically suitable for a place that sits at five square meters. Over time, the cold air will settle and begin to travel to other rooms.
It does come with a 24-hour timer that can upgrade into a 7-day timer that allows you to control how long the cooler will last. Expect to pay extra for the seven-day timer. It also has optional WiFi capabilities supported by an application if you are willing to pay more.
On the energy efficiency front, it costs just around $250 per year. It puts it well ahead of most others in the same field. The combined features and low-impact noise make it an excellent choice for households who need quiet space.
Fujitsu ASTG12LVCC
Power input cooling 3.5 kW heating 4.8 kW
Weight indoor 9.5 kg outdoor 34 kg
Temperature for Cooling -10 ℃ to +46 ℃ heating -15℃ to +24℃
Dimension indoor 293 x 790 x 225 mm outdoor 540 x 790 x 290 mm
The Fujitsu ASTG12LVCC is the next choice on our list. At 3.5 kW it can handle a bit more than the Daikin model we just reviewed. But that increase in power comes with an increase in cost at around $430 per year.
Despite the increased power, it manages to stay pretty on-par with the Daikin as far as noise goes. It's a bit noisier, but not noticeable enough to make much of a difference. It also has four fan speeds, which is one less than the Daikin model we just mentioned, giving it slightly less versatility.
It has the same 24-hour timer feature which turns into a 7-day timer if you are willing to throw more money at it. The same can be said about the WiFi features as well. Both of those are optional.
While it can handle more than the Daikin, the claims of the Daikin are far more modest. That means that the Fujitsu model reaches now and falls a bit short by comparison. With this in mind, it is still an excellent choice for your household.
Hitachi RAF50NXA1
Capacity cooling 5.6 kW heating 6.0 kW
Weight indoor 14 kg outdoor 40 kg
Power supply 240 Volt / 50 Hz / 1 Phase
Dimension indoor 760 X 600 X 235 mm outdoor 887 X 600 X 345 mm
As the first floor mounted unit on our list, the Hitachi RAF50NXA1 has a lot to catch up on. It already starts at a small disadvantage given that cold air tends to sink, and this is already at ground level. Regardless, it hasn't lost much in the process of dropping down a bit.
It cools rooms just fine at a rate of 5.5 kW. As a result, it covers more places, but it costs just above $600 per year. It still manages to be a pretty quiet unit, even when it adds two extra kW to the list.
It also performs very well in colder temperatures, which is excellent considering the heating function. The advantage of floor-seated air conditions comes from the lack of mounting needed. It is one less thing to remove from the wall if you are ever to move.
Much like the other two: WiFi and a seven-day timer come as an optional feature. The 24-hour timer comes with this. If you are seeking a floor-mounted unit, this is an excellent choice for the best slipt system air conditioner in New Zealand.
Panasonic CS/CU-Z50VKR
Power input cooling 1.13 kW heating 1.31 kW
Capacity cooling 5.00  kW heating 6.00  kW
Weight indoor 13 kg outdoor 44 kg 
Dimension indoor 302 x 1120 x 236 mm outdoor 695 x 875 x 320 mm
Panasonic is a company that is known for being technology-oriented. It shows as they managed to keep many of the same features which include optional WiFi and a seven-day timer. They still include the 24-hour timer at no cost.
It is a bit noisier than the other models on the inside, but its outside noise is lower to compensate. It has good heating and cooling efficiency, and it performs well in low-temperature situations. Again, great for people who need a heater during the cold winter nights.
It heats and cools around 5 kW, making it about average when compared to others on this list. It does this while remaining just below $450 over the entire year's worth of energy costs.
Overall, it manages to strike the right balance between everything we have mentioned here. It is about as efficient as any comparable option you can find on the market. These facts make it an excellent choice for one of the best split system air conditioners.
Haier AS53FEBHRA / 1U53RABFRA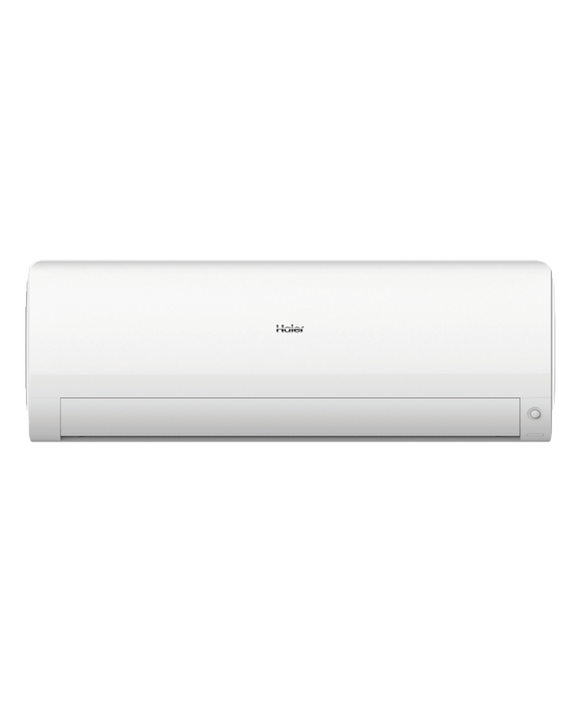 Capacity cooling 5.1 kW heating 5.7 kW
Noise indoor 33-45 dB outdoor 55-58 dB
Fan speed 5
Dimension indoor 34 x 112 x 23 cm outdoor 70 x 98 x 35 cm
The Haier models AS53FEBHRA and 1U53RABFRA are close enough that they hit the same spot.  They are the same thing. They also have the same stats as well.
It is excellent and cooling and heating for indoor and outdoor areas. When compared to the other models, it is weaker on the noise. It only starts getting particularly bad when you go outside, leading to potentially disturbed neighbours.
It does manage to do that with a substantial focus on cost-effectiveness. If you are seeking something in a budget, this is something that may work for you. 
It runs at around 5 kW on average and cools or heats an ample space with that. It also has five fan speeds. It has an optional seven-day timer comes with WiFi capabilities within their application. Overall, a good investment for people needing to cut costs without losing cooling ability.
Features You Need For Good Split System Air Conditioners
There is a lot to consider when it comes to purchasing a good air conditioner. We will get into the various features below.
Energy Efficiency
It is best to boil energy efficiency down to a cost-per-year basis. We list those out below.
Daikin FTXZ25NV1B: $250
Fujitsu ASTG12LVCC: $430
Hitachi RAF50NXA1: $605
Panasonic CS/CU-Z50VKR: $510
Haier AS53FEBHRA / 1U53RABFRA: $490
If we were speaking on energy-efficiency alone, we would give the award to the Daikin. But we need to consider the energy that it uses in the process of cooling these rooms as well.
Room Size Consideration
The best way to determine what size or room it can cool or heat is through its energy output during these times. The list of these will be below.
Daikin FTXZ25NV1B: 2.5 (cooling) and 3.6kW (heating)
: 3.5 and 4.8kW
Hitachi RAF50NXA1: 5 and 6kW
Panasonic CS/CU-Z50VKR: 5 and 6kW
Haier AS53FEBHRA / 1U53RABFRA: 5.1 and 5.7kW
With this in mind, that should paint a clearer picture of what you can expect based on power and energy efficiency. Consider that our first option covered around a four to five square metre room.
Noise
The noise of any air conditioner will increase when you go outside. The only concerning volume came from the Haier. Still, even that could be justified and only would be an issue if you were too closer to the neighbours' backyard.
Try to keep it under 60 dB for outdoor units, as that is the volume of a typical conversation. All of the units on this list are below that figure.
Timer
A 24-hour timer will allow you to control what your air conditioner does during 24 hours. The same applies during a seven-day timer, which will enable you to schedule different heating or cooling schedules depending on the day.
Both of these are great for convenience sake. Only get the seven-day timer if you feel like you aren't going to want to touch your A/C for an extended period. Typically, it does cost more as an additional purchase.
Fan Speeds
Fan speeds vary between four and five on this list. The Fujita and the Hitachi are the only two that have four. Fan speeds give your air conditioner greater versatility, but the difference between four and five fan speeds are pretty limited.
Conclusion
After consideration of everything on this list, our favourite split system air conditioner is the Fujitsu ASTG12LVCC. It is a bit more potent than the Daikin, but not so powerful that it destroys any chance at energy efficiency.
All of the others are in that same boat, but this is the only that provides the most excellent combination. If you have a larger space, this one may not be your favourite. Always pick the one that is best for your family's needs. In this case, our vote for the best split system air conditioner is the Fujitsu ASTG12LVCC
I'm a Consumer Review Specialist that loves to gab about the latest in appliances. As a dad, a lot of my energy goes into keeping up with my four-year-old.
I'm one of those people that needs his appliances to work. As a writer, I'd take some of the burden from your hands with my research. You can check me out on copysmith.org if you want to see any of my other work.