Have you ever looked at zucchini and though that would taste good as a noodle. If you have, you are probably familiar with spiralizers. If you haven't, this is an excellent place to start.
As someone who has a strong love for pasta, I have to oversee myself to be sure I'm not overdoing it on the carbs. Thankfully, a spiralizer does solve many of those problems, by allowing me to replace the noodle with something else. If you have this same problem, this guide will help you decide on the right one. Here is our list of considerations for the best spiralizer in NZ.
The Top Five Spiralizers in NZ
We have chosen five spiralizers to go through on this list.
Kenwood Spiralizer
Chef'n Twist Spiralizer
OXO Goodgrips Handheld Spiralizer
Joseph Spirogo Compact Spiralizer
Kilner Spiralizer
The critical factor of a good spiralizer is its ability to cut something in the form of a noodle with ease. As a result, this combined with the "ease-of-use features will be crucial in our decision making.
Chef'n Twist Spiralizer
Weight 11.5 ounces
3 blades
Costumer ratings 4.5 out of 5 stars
Dimension 9.15 x 4.5 x 4 in
If you don't feel the need to pay for premium, electronic features, the Chef'n Twist Spiralizer is an excellent second option. It boasts a total of three blades which work together to turn vegetables into pasta. As a result, it is pretty close to meeting the same requirements as the Kenwood model we reviewed.
It also has a handheld design, making it more of a utensil than an appliance. It is excellent, as you don't have to invest an entire chunk of counter space to add this to your collection.
As a result of it being manual, get ready for an arm workout. This one requires a bit more effort, and untested arms may have to put in some extra effort. Its size also makes it a bit more complicated for more giant vegetables.
The size issue can be solved pretty easily by cutting it into sections. Also, it is still pretty easy when compared to having to do it yourself manually. Overall, great value for those who want to cut their vegetables uniquely.
Kenwood Spiralizer
Power 70 W
Capacity 0.5 L
Weight 1.8 kg
Dimension 20.2 x 14.8 x 36.6 cm
As a company known for high-quality goods, Kenwood is a natural first stop on this list. Given that spiralizers are a relatively small market, it is interesting to see how much effort they put into this one. Based on our findings, this is the best electric spiralizer available.
Kenwood allows you to press your vegetables through to get an effect similar to a juicer. The result is anywhere between a 2 to 9 mm cutting zone, allowing you a wide variety of noodles. It is also the most simple spiralizer on this list.
The plastic casing also doubles as a temporary storage location. Just expect to transfer it over if you need to store the vegetable noodles. With a stainless steel blade and a year-long warranty, it is easy to see why this one is one of the best spiralizers in New Zealand.
OXO Goodgrips Handheld Spiralizer
Weight 4.4 ounces
Costumer rating 4.3 out of 5 stars
Blades 2
Dimension 3.15 x 3.15 x 3.6 in
The OXO Goodgrips Handheld Spiralizer also represents another company that is new to our lists. Regardless, the blades on this one work together to give you a hefty combination of potential options.
It is pretty small and hard to cut yourself without effort. It also requires some extra effort in your arms, but you can choose to cut down the vegetables. It's a little bit easier to manage than the Chef'n Twist.
The size of this device makes it easy to store and clean, just hand wash it if you can. Its portable nature makes it more of a utensil than an appliance. It is also one of the more cost-effective items, but it doesn't have any included containers.
Joseph Spirogo Compact Spiralizer
Weight 1.92 ounces
Blade 2
Costumer rating 3.7 out of 5 stars
Dimension 1.7 x 3.1 x 7.1 in
Probably one of the easiest spiralizers to handle on this list, the Joseph Spirogo Compact Spiralizer has an easy to use handle. Its also a bit easier to clean when compared to others given its simple design.
The bad news comes from needing to get used to it. Other have designs in such a way where the handle isn't to the side, so it's a bit weird for some and it can make things difficult. Also, the blades are a bit more limited by comparison.
With some more robust vegetables, we also found it was pretty common to new to pre-boil what you had. However, that is an issue that is not as prevalent with softer skins.
Despite having a few stumbling blocks, this is still easy to clean. It is also easy to use once you get used to its quirks.
Kilner Spiralizer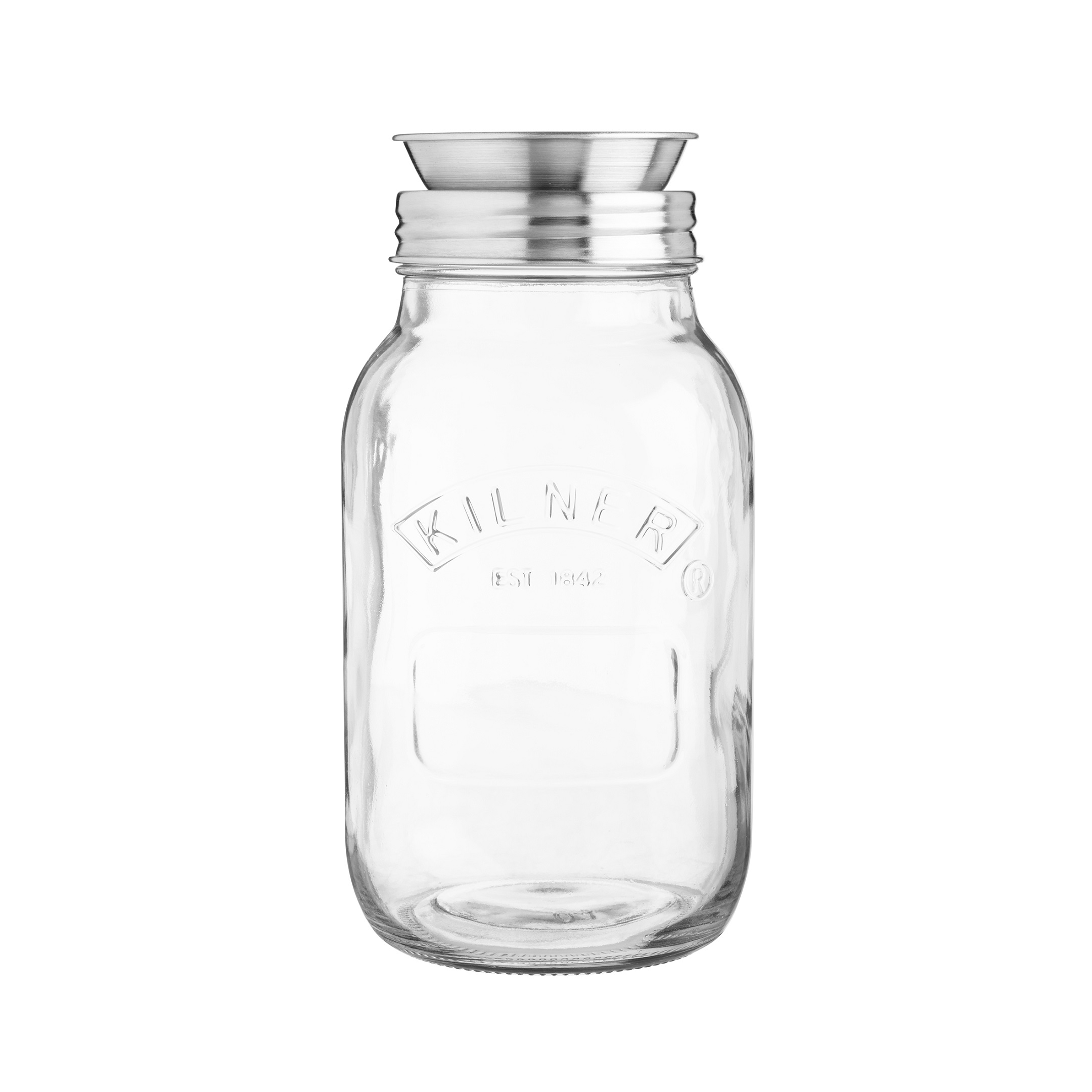 Weight 1.23 pounds
Volume 0.1 Centiliters
Costumer rating 4.5 out of 5 stars
Dimension 8.39 x 3.94 x 9.65 in
Kilner is another company that does come on these lists. Convenience is vital to their company. As they have a spiralizer that doubles as a container.
That means it has a no-mess system, and they are easy to twist into the jar. It also doubles as storage so you can only use a portion of it or easily mix it with other vegetables.  With 1 L of space, it can hold a good chunk before you run into issues.
Given it is a hand-crank method, it takes a bit more effort when compared to the Kenwood model. Also, its design requires a good deal of force from the top, given that there is no press like the Chef'n Twist. Regardless, it is still an excellent option that comes with a convenient storage jar.
Features of the Best Spiralizers
With the wide variety of spiralizers available, it can be challenging to pick the right one. We will list out some features to keep an eye out for that may help you in your decision.
Comes with Storage
Only two of the spiralizers on this list come with any form of storage. First is the Kenwood model, which has a .5 L container which can fit most things. Our biggest winner in this section is the Kilner model at 1 L.
While you can technically purchase separate storage, these two have the advantage of fitting them in without any mess.
Size of Cutting Cones
The size of cutting cones will determine the options you have when it comes to creating your vegetable pasta. The Kenwood is the easy winner here, as it has a wide variance of cutting options available. The remainder of these is between one and three options, which are typically enough for the ordinary consumer.
Dishwasher Safe
All of the items on this list are dishwasher safe to some capacity. Many of them have a combination of metal and high-quality plastic, and the Kilner is the only option that has any glass to it. Check the owner's manual for further details.
Handheld vs. Electric
Except for the Kenwood, all of the items on this list are handheld. The handheld options will require a bit more effort, so they aren't great for those who don't like the most convenient options. However, there is some satisfaction that comes with doing it yourself.
At the same time, electric options tend to cost more. While it's a bit of a trade-off, it's a matter of paying extra for the convenience. If that is worth it for you, make that investment.
What Can You Cook With A Spiralizer?
We've mentioned pasta many times on this list, but that isn't the only option you have. In this section, we will list out different ways you can use a spiralizer.
Rice
After turning your vegetables into noodles, those noodles can go through a food processor. Sweet potatoes are an excellent example of this, as there are several recipes you can look up that involve this.
Patties
Using a combination of eggs and heat, you can turn your vegetables into patties. You can add any seasonings you want to these patties as well, which makes them a great potential option for those who are seeking meat replacements. You could use egg replacements as well if you are a vegan.
Pizza
Consider patties on a much larger scale, and you get an idea of what you need to do. It acts as a lower-calorie crust form. Again, look up some recipes on this for further details.
Fries
You can turn your thin vegetable chunks into chips. Simply think of replacing potato with another kind of vegetable, and you can enjoy your chips but a lower calorie
Soups and Salads
When all else fails, you can add these to your soups or salads. They work as a great additive to flavour any soups and salads. Look up recipes for further details.
Conclusion
After careful consideration, our choice for the best spiralizer in NZ is the Kenwood Spiralizer. The addition of electronic features is what brought this over the top. The less effort you can put into a meal, the better off it tends to come off.
It also has many different bladed features, allowing for four various thicknesses. As a result of this significant ease-of-use difference, this is our best option. If you don't feel the need for added convenience, always make your decision based on your family's needs.
I'm a Consumer Review Specialist that loves to gab about the latest in appliances. As a dad, a lot of my energy goes into keeping up with my four-year-old.
I'm one of those people that needs his appliances to work. As a writer, I'd take some of the burden from your hands with my research. You can check me out on copysmith.org if you want to see any of my other work.