Imagine that its 3 p.m. and you are finishing up some work, only to have your door broken down after a fire had started in the lower apartments. After every person and us in the complex evacuated, we saw as the bottom-most studio was spewing out smoke. By the end of us, the entire apartment was a blackened mess.
That day we thanked the fire department for their efforts, as they were the difference between life and death for us. What tipped us off, the guy below us heard their smoke alarm going off when they were out of town. The moral of the story? Thank a firefighter for their excellent work and buy a functional smoke alarm. Since we can't review firepeople, here is our list of considerations for the best smoke alarm in NZ.
The Top Five Smoke Alarms NZ Has Available
We have chosen five different smoke alarms on our list.
Jobmate MT588H-LB
Pyrexx PX-1C
Quell Q1400
Fire Angel ST-750
Goldair GS-526
As expected, our initial focus will be their effectiveness is notifying you during a fire emergency. Otherwise, we will be looking into how easy these are to install.
Jobmate MT588H-LB
Noise 91 dB
Hush period 10 min
Battery life 10 years
Alarm life 10 years
With ten years of longevity backed up by a warranty, the Jobmate MT588H-LB is a good start on our fire alarm journey. It has sealed lithium-ion batteries that boast the same ten-year limit. But some customers have stated that they don't live up to the hype.
Given that these appear to be pretty limited reports, this still makes it on the list given its noisy reaction. It also is incredibly easy to install, which is undoubtedly vital given you don't want anything to go wrong with it.
It has a photoelectric sensor like all of the sensors on this list. Still, it doesn't have any carbon dioxide detecting features. It just lasts longer, makes a lot of noise, and protects your family. It is everything you typically need in a fire detector.
Pyrexx PX-1C
Weight 197 g
Noise 85 dB
Battery life 12 years
Dimension 10.5 x 10.5 x 3.8 cm
The Pyrexx is the premium model on this list. Why? Because these alarms can be linked together, meaning that if there is a fire in the other part of your house, the signal in your room will be able to go off.
This additional safety feature is great for those who have a lot of house space. It is less useful for those living in an apartment. It also doesn't have any carbon monoxide detectors builtin.
It bumps up the longevity as well, claiming to run up to 12 years long. It is also a photoelectric sensor with sealed lithium batteries. The linked feature is what brings it over the top as one of the best smoke alarms in New Zealand.
Quell Q1400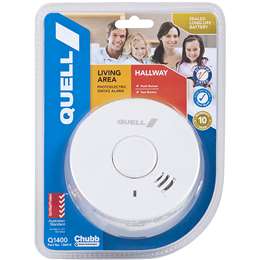 Noise 85 dB
Battery life 10 years
Hush period 10 min
Chirp alarm every 30 sec
The Quell Q1400 is remarkably similar to the Jobmate, which is reasonable given that smoke detectors can only do so much. It is noisy, it lasts ten years, and it is pretty easy to install. It's pretty standard, but the Quell Q1400 can safe your life if you let it.
There is one isolated incident of someone stating that they went off for no reason. Given that it has a ten-year warranty, Quell should be able to take care of any issues quickly.
Fire Angel ST-750
Weight 200 g
Battery life 10 years
Low battery chirp for 8 hr
Dimension 13 x 13 x 3.4 cm
The Fire Angel ST-750 has the most dramatic name out of any smoke detector. It also combines this dramatic entrance with an ability to detect any fire. A safe investment to say the least.
It boasts a ten-year battery and a warranty to back it up. It is a photoelectric sensor which emphasises safety but isn't too sensitive to make false alarms.
One person mentioned that the battery only lasted three years, but keep in mind that this does come with a warranty. Reach out to Fire Angel's customer service team if anything happens.
Given that most people are likely to share a negative experience, we found that most of them were positive. It is why we have a natural choice for the best smoke alarm in New Zealand.
Features of the Best Smoke Alarms
Now that we have our list, it is essential to be aware of some of the jargon behind the features. Smoke alarms tend to be a bit more complicated than people give them credit for being.
Sensitivity
All of the items on this list are acceptably sensitive. Those that go too far tend to beep during a little bit of smoke, those that don't do enough may respond too late. It is essential to find the right balance, which any of these have.
Battery Life
The batteries reviewed today all have longevity at or above ten years. The Pyrexx model is the only exception, as that one claims to last twelve. Warranties also typically follow suit, but the Goldair model's warranty is a bit weak at around one year.
Linked Alarms
For those who have a large amount of space, linked alarms are incredibly helpful. If you can think about a situation where your daughter is across the house, a signal telling them to get out would be extra peace of mind.
Even in smaller houses with thicker walls, there is ample excuse to invest in one of these alarms that have this feature. The Pyrexx model is the only one with this feature.
Ionisation Alarms
You won't see these alarms on any shelves these days. In comparison, they are typically more effective at detecting fast fires. They require a small amount of radioactive material to work. If you still have one of these from back in the day, get rid of them and replace them with a photoelectric alarm.
Photoelectric Alarms
All of the models on this list are photoelectric alarms. Not having radioactive material tends to be a big winner in our book. Also, they are pretty good at detecting slow fires that smoulder.
What the New Zealand Fire Service Recommends
The New Zealand fire service recommends that you obtain hard-wired photoelectric smoke alarms. Given that most rental properties won't allow you to wire something in their house, the next best bet is to get ten-year sealed lithium batteries. Also, hard-wired systems tend to be incredibly expensive.
The New Zealand Fire Services team also suggest that you install a fire detector in every room of your house. The exception to this rule possibly being the bathroom, as we do not recommend to keep any electronics or flammable pieces in there.
They also heavily suggested having linked services, which is typical for hard-wired options. In this case, the closest to meeting their requirements go back to the Pyrexx model we reviewed earlier.
Rental Company Requirements
If you are a landlord, you need to install smoke alarms for legal purposes. They must be within three metres of each sleeping space or inside of the bedrooms themselves. It is the tenant's responsibility to maintain those systems to ensure they do not fail.
Failure to follow through with all requirements could result in a fine up to four thousand dollars. Do it for the safety of your tenants, or the safety of yourself if you are a tenant.
Create an Escape Plan
In a somewhat unrelated note, the New Zealand Fire Services group suggests for you to create an escape plan. You are encouraged to think of your best ways out, as well as alternative escape routes as needed. It would prevent you from panicking if a fire were to break out and getting out of danger promptly.
Conclusion
When thinking of the safest smoke alarm on this list, it is clear that we must pick the Pyrexx PX-1C. The addition of linked signals is what put it over the top, which is something that the rest of these alarms lack. While it is true that you might be able to hear the noise coming between walls, there is no guarantee of that. As a result, it is best to be safer in all given situations. With safety at the forefront, we are confident in saying that the Pyrexx PX-1C is the best smoke alarm NZ has available
I'm a Consumer Review Specialist that loves to gab about the latest in appliances. As a dad, a lot of my energy goes into keeping up with my four-year-old.
I'm one of those people that needs his appliances to work. As a writer, I'd take some of the burden from your hands with my research. You can check me out on copysmith.org if you want to see any of my other work.