Slow cookers have been a staple in my household for as long as I remember. Slap some stuff in a pot and give it a couple of hours, and you have a meal. It is one of the most effortless ways of making a meal in the world.
Given all of the potential options for slow cookers, it can be a bit complicated to pick one out. Whether it is your first you're your next slow cooker, our guide will help you make a decision. It is our list of considerations for the best slow cooker in NZ.
The Top Five Slow Cookers in NZ
Here are the slow cookers we have selected on our list.
Crock-Pot Sear & Slow One Pot Cooker CHP700
Russell Hobbs 6L Searing Slow Cooker RHSC650
Cuisinart 6.5L Slow Cooker PSC-650
Living & Co 5.7L Slow Cooker Stainless Steel 240W
Sunbeam SecretChef Electronic Sear and Slow Cooker 5.5L HP8555
Our primary focus will be on its ability to cook. As always, we will be looking at ease of use features. We will also be looking at versatility, as the more it is built to do, the more effective it can be.
Crock-Pot Sear & Slow One Pot Cooker CHP700
Volts 230 – 240 V
Capacity 5 L
Weight 3.8 kg
Dimension 340 x 330 x 220 mm
Our first stop is going to be from the godfather of slow cookers: Crock-Pot. My mother owned a crock-pot, I own a crock-pot, and I imagine you know someone who owns a crock-pot.
Given that they are everywhere, their popularity is pretty clear, as this item can effectively cook almost anything.  It has a 5 L capacity, which makes it an excellent option for most families. It even comes with instructions and recipes if you have never used a crock-pot before.
The large-capacity bowl means that it can move around, but the lack of grips makes it a bit complicated to do so. It can also become hot, given that it has a lack of holds, so its best to grab from the warm settings. It's even a big bowl, making it somewhat complicated to clean.
When not taking the bowl out, it is pretty easy to move around with thick, rubber grips. It even has a cooking pan for searing your beef. Overall, this Crock-pot is an excellent option for your household.
Russell Hobbs 6L Searing Slow Cooker RHSC650
Power 200 W
Capacity 6 L
Heat settings 3
Cook 8 servings
Russell Hobbs is another excellent brand that brings its slow cooker to the list. It's more massive than the Crock-pot we just reviewed, making it great for larger families. It also solves a couple of problems related to bowl grip. However, the bowl is not dishwasher safe.
Given that the lid handle is large, it doesn't get as hot as the crock-pot model. Its also a bit easier to clean with the removable searing pan, which can fit into a conventional sink. The handles also make it pretty easy to lift and transport as needed.
It has a comprehensive list of instructions, making it pretty easy to use for beginners. For me, the lack of a keep-warm feature was a bit confusing, but its low setting is still pretty solid. With this in mind, it is a natural pick for one of the best slow cookers in New Zealand.
Cuisinart 6.5L Slow Cooker PSC-650
Volt and frequency 230 V / 50 Hz
Capacity 6.5 L
24-hour programmable cook time
Dimension 42 x 26 x 30 cm
The Cuisinart 6.5L Slow Cooker is a bit of an odd duck on this list. While most of the slow cookers are round, this one is a bit more cubic. The shape of the inner bowl is still oval, which gets us back to basics.
As a result of the unique shape, it can have a larger capacity. The drawbacks come with a large and heavy bowl, which makes it difficult to transport. The searing pan also has no handles, making this difficult to move as well.
It also comes with additional features. It has a steel rack on the inside of it, which is excellent for slow cooking significant cuts of meat. This one has an advantage over others as a result of this.
It has a couple of buttons on the side that are programmable. It also has instructions that are great for beginners. While it looks a little weird, it is an excellent option for a variety of households.
Living & Co 5.7L Slow Cooker Stainless Steel 240W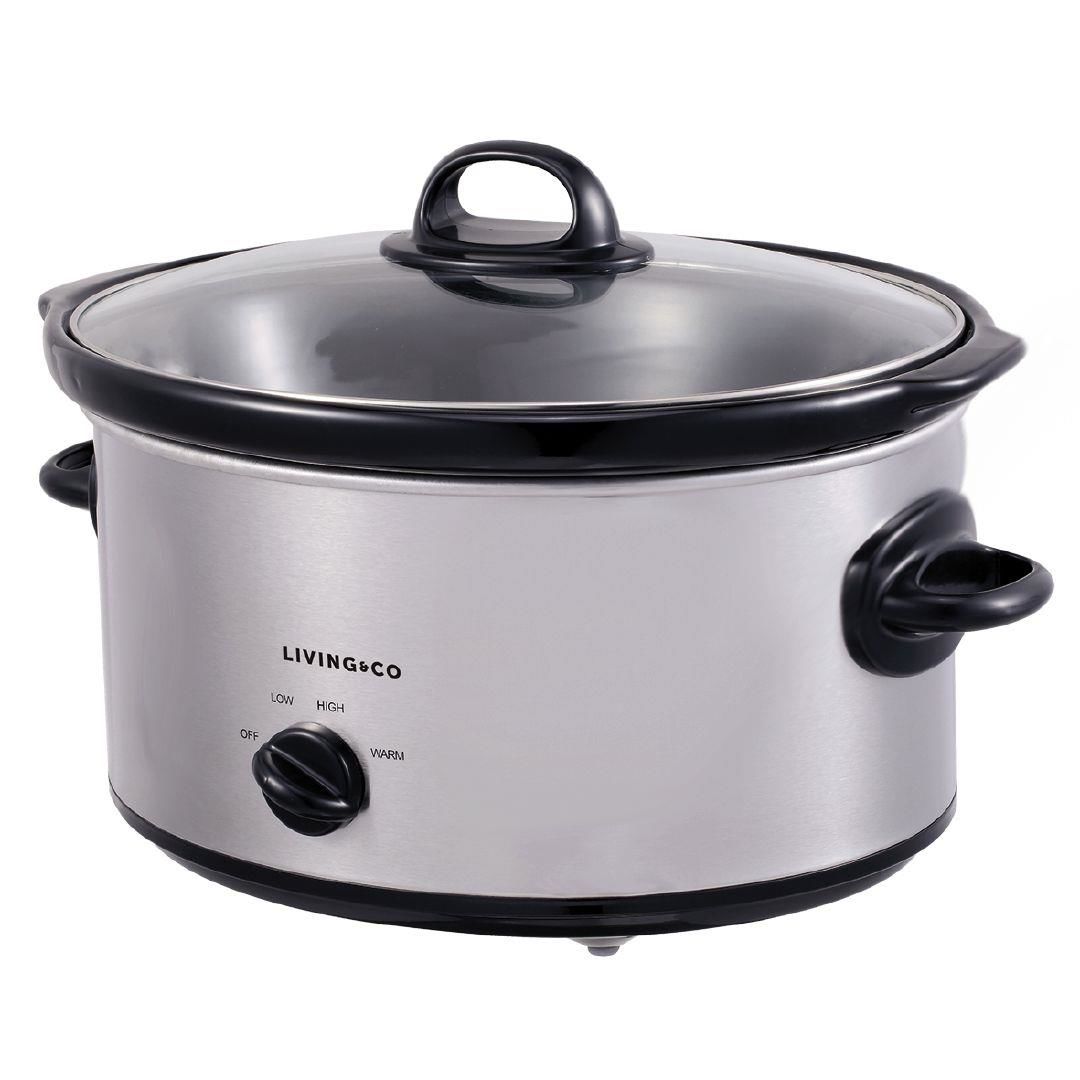 Power 240 W
Capacity 5.7 L
Volts and frequency 220-240 V / 50-60 Hz
Weight 6.65 kg
Living & Co is a company that makes cost-effective, easy-to-use products that are perfect for people on a budget. The cooker has a dial that has three different settings: low, high, and warm. All of the slow cookers have these, but this one is the easiest to have these settings recognized.
The dial upfront is the only setting you need, but that limits some capabilities. It's a large bowl that is difficult to clean in the sink. The cooking bowl has small handles that can get hot. The instructions aren't as detailed as your other options.
Detailed instructions aren't essential for this. So if you have never used a slow cooker, Google is a great place to start. If done correctly, it can cook at the same level as any of the items on this list.
If you are looking for simplicity in your first slow cooker, this would be your start. While it may be a bit clunky and big, it is still an easy pick for one of the best slow cookers in New Zealand.
Sunbeam SecretChef Electronic Sear and Slow Cooker 5.5L HP8555
Capacity 5.5 L
Cord length 1200 mm
Weight 6.4 kg
Dimension 49.8 x 33.7 x 26.1 cm
The Sunbeam SecretChef Electronic Slow Cooker is a mouthful to say out loud. Still, it's a thoughtfully designed product that makes a natural consideration for the best slow cooker in New Zealand.
At 5.5 L, this hits a happy middle among sizes. Given its shape, it is somewhat more massive and difficult to store. But in this case, the volume works to make it a prominent figure that stands out to fit many types of food in it.
It's also a pretty useful cooker, but the lid handle gets a bit too hot. Combine that with detailed instructions and an easy-to-use sear function, and it is easy to see why this slow cooker is on this list.
Features You Need to Look for in Slow Cookers
Slow cookers come with a variety of different functions. Be sure that you invest in one that works best for your needs. This list should help you out.
Capacity
Below is a list of slow cookers and their capacities.
Crock-Pot Sear & Slow One Pot Cooker CHP700: 5 L
Russell Hobbs 6L Searing Slow Cooker RHSC650: 6 L
Cuisinart 6.5L Slow Cooker PSC-650: 6.5 L
Living & Co 5.7L Slow Cooker Stainless Steel 240W: 5.7 L
Sunbeam SecretChef Electronic Sear and Slow Cooker: 5.5 L
In this case, the difference between 5 and 6.5 is relatively minuscule. The extra space may be handy for larger families, but these are all still fairly close.
Dishwasher Safe
The Sunbeam, Cuisinart, and Crock-pot models are all three safe for dishwashers. They typically refer to the pan and the bowl when it comes to being washable. Don't put anything with electric features through the dishwasher.
Heat Settings
Three different heat settings are typical for most slow cookers. We will list those settings below.
High
All of the cookers on this list come with this feature. It is what you want to set it to when searing or cooking a heavy-duty meal. Follow the instructions on your owner's manual for further details.
Low
Low settings are available on all the slow cookers on this list. It is similar to simmering food and best kept to things that need softening. Typically, it isn't as suitable for searing your meat when it needs cooking. Follow recipe instructions for those unfamiliar with this setting.
Warm
Keeping your meal warm while you are waiting for everyone to be ready to eat is essential. While slow cookers are already good at keeping warm ingredients, this increases the longevity of that. You could feasibly keep it out for a few extra hours, but food can still spoil if you leave it out too long.
The Russell Hobbs model is the only option that does not have a keep-warm function.
A Searing Pan
A searing pan allows you to brown your meat before, during, or after the slow cooking process. It is excellent given that searing your meat tends to trap in the juices, allowing for a great combination of juicy insides with a crispy exterior.
The Sunbeam, Russell Hobbs, and Crock-Pot models all have searing features that come with them.
Slow Cookers vs. Pressure Cookers
Should you use a slow cooker of a pressure cooker for your project? We run some comparison to let you know the advantages of each.
Why is a Slow Cooker Great?
A slow cooker is great for convenience purposes. It is mean to cook meat, chilli, and other simple dishes over a long time. It is particularly good with meats you would like to see soft. They are also pretty inexpensive.
Why is a Pressure Cooker Great?
Regardless of their focus, pressure cookers use the advantage of pressure to tenderize the meat. So they are a bit more effective at the job. They are also suitable for many things that include rice.
Pressure cookers tend to be more expensive and more complicated. You will have to pay more attention, but they tend to have more programs available. They are also more costly.
Conclusion
After careful consideration, our vote for the best slow cooker in NZ is the Sunbeam SecretChef Electronic Sear and Slow Cooker 5.5L HP8555. Despite being the most significant mouthful, it is the easiest to use on this list without being too limited on features.
It also has a searing pan, which is great for browning the meat and sealing in the juices. While this is our favourite, yours maybe something else entirely. Always choose your slow cooker based on the features that you and your family need.
I'm a Consumer Review Specialist that loves to gab about the latest in appliances. As a dad, a lot of my energy goes into keeping up with my four-year-old.
I'm one of those people that needs his appliances to work. As a writer, I'd take some of the burden from your hands with my research. You can check me out on copysmith.org if you want to see any of my other work.