When coming to this review, I asked myself an important question: how do you even review a rice cooker? To answer that question, I'd like to share that there are lousy rice cookers out there. Some have no care in the design, those who have no temperature control, others who have no pressure control.
Thankfully, we aren't looking for lousy rice cookers today. We are just looking for good ones. So to avoid having burnt rice fiascos and leaky cookers, we've composed this list for here. Here is our consideration for the best rice cooker NZ has to offer.
The Top Five Rice Cookers in NZ
We have chosen the following five rice cookers for our list.
Living & Co Rice Cooker 13 Cup
Hi Mart 10 Cups Rice Cooker and Warmer CR-1055
Midea 5L Rice Cooker MB-FS5017
Philips HD4514 4L Rice Cooker
Breville The Set & Serve Rice Cooker
Our primary focus will be in its ability to cook rice effectively. All of these will typically do that if you follow directions, so ease-of-use is also going to be a significant mark.
Living & Co Rice Cooker 13 Cup
Power 630-750 W
Capacity 13 cups
Volts 220-240 V
Dimension 325 × 325 × 300 mm
Living & Co is a company that specializes in creating simple items that any household can use. With that in mind, it is only natural that they would be good at making rice cookers, which is one of the simplest devices known to man.
Living & Co doesn't have a unique name for their item, but a 13 cup (almost 2 L) capacity is no joke. It can feed large families who have a habit of putting away tons of rice. Just don't drink any water after the fact.
It has a non-stick inner pot which means that the rice will not stick to the side when done. It even has a steam basket, which means that it will work for steaming entire meals.
While this will not come with any instructional booklets, a quick google search will provide you with some potential recipes. Otherwise, follow the instructions for steaming rice as provided in the instructional pamphlet if that is all you are doing. It is an excellent and straightforward cooker that is great for those who crave simplicity.
Hi Mart 10 Cups Rice Cooker and Warmer CR-1055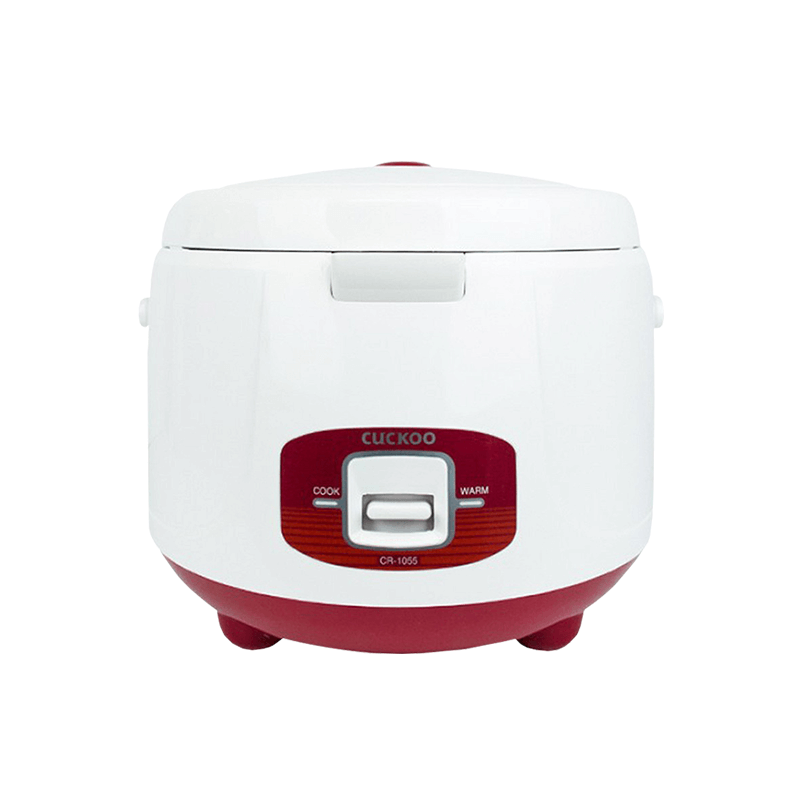 Volts frequency 230V~240 V / 50 Hz
Capacity 1.8 L
Weight 4 kg
Dimension 280 × 350 × 330 mm
The Hi Mart 10 Cups Rice Cooker and Warmer CR-1055 does what you think it would. It cooks rice with excellent effectiveness, providing with an ample amount in ten cups. It translates to about 1.8 L of space.
The inner parts are detachable, which means that the non-stick bowl doubles as a serving tray. It also means for more natural cleaning, but it is not with multi-cooking features. You can't steam your vegetables in this as effectively as the Living & Co model.
It does have a long-lasting keep warm function. It is also a simplistic item, much like the Living & Co option. While it doesn't have any significant bells or whistles, it does capture the simplicity of what a rice cooker should be.
Midea 5L Rice Cooker MB-FS5017
Power 875 W
Capacity 5 L
Weight 12.6 lb
Dimension 267 x 275 x 353 mm
The Midea 5 L Rice Cooker is on the other end of the spectrum. It has a 5 L capacity, which is more than double the capacity of those we have mentioned thus far. It is for cooking large scale meals that will feed an entire family in one bowl.
It has an easy-to-read LED display which makes it a bit more complicated than other models. It isn't so much that it is a real difference-maker in simplicity. The touch panel upfront will provide you with greater control.
It also comes with a 24-hour preset timer, which will provide you with additional safety features as needed. Eventually, the keep warm function will turn off.  It also has a one year warranty which is a statement to the quality of this item.
Provided you are willing to put up with needing to read a screen every so often; this is an excellent option for you. As a busy father or mother, this will provide you with something you can use to cook entire meals with almost no effort.
Breville The Set & Serve Rice Cooker
Power 500 W
Capacity 8 cups
Volts 220 – 240 V
Dimension 31 x 23 x 24 cm
While Breville is typically known for creating more premium items, they know when to keep it simple. The Breville Set & Serve Rice Cooker provides you and your household with a simple cooker that is an excellent addition to this list.
It has an eight-cup capacity, which makes it great for people who don't need excessive amounts of rice. It has a toughened, glass lid which is resistant against shattering if dropped on the ground. It also has a non-stick bowl, which is standard among rice cookers.
It also includes a non-stick steaming tray, which is another method you can use to have that "meal in a pot effect." Steaming your vegetables on this tray is an excellent option for you. Another simple option that does what it says with no additional bells and whistles.
Philips HD4514 4L Rice Cooker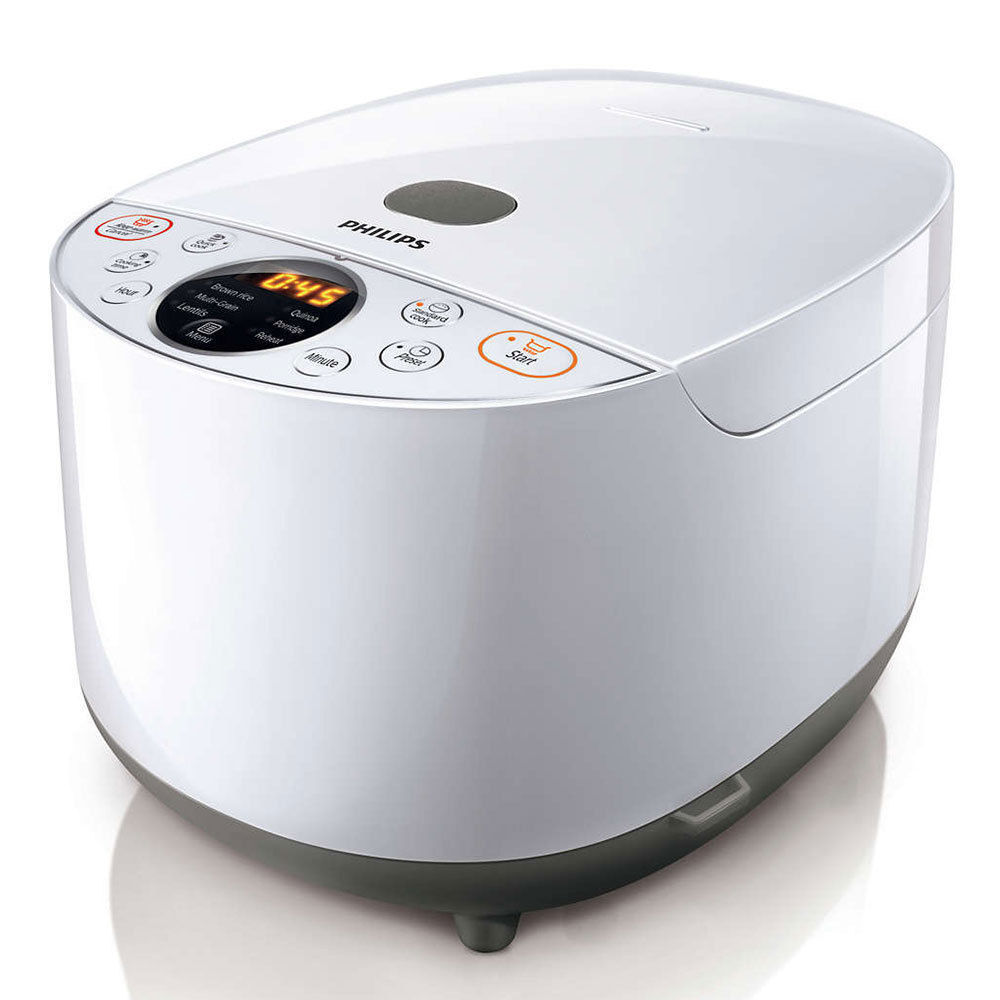 Power 790~940 W
Capacity 4 L
Cord length 1 m
Dimension 365 x 274 x 224 mm
Phillips is a company that is known for high-quality products. So when they entered the rice cooker field, they decided to go another direction. They decided to add a couple of extra features.
The Philips HD4514 4L Rice Cooker has more features than the prior four cookers combined. It keeps the non-stick pot, the twelve-hour timer, and the optional steaming basket. The container is 4 L large, making it second when compared to the Midea.
It is the only model with a water-level reading, which is an impressive feature we don't typically think of with rice cookers. But one would ask about the necessity of this given that rice is pretty straightforward?
It is a device that is meant for more than rice, as it has a 15 recipe booklet that applies to eight programmable features on this device. As a result of this, it is the most complicated model on this list. Provided you are willing to learn; this is the model for you.
Features To Be Aware of In The Best Rice Cookers
Now that we have a list of rice cookers available. We are going to look at various features that are common with rice cookers. Prioritize what is best for your needs.
Capacity
We have reviewed rice cookers that go from 1.5 L to 5 L today. This portion is only crucial if you are looking for specific sizes. Larger families will need larger rice cookers.
Non-Stick Cooking Bowl
All of the rice cookers on this list have a non-stick cooking bowl. If you find out that a rice cooker doesn't have one, have fun prying your meal from the bottom of the container. It is a necessity in any modern rice cooker
Keep Warm Function
Keep warm functions are relatively common in rice cookers. Keeping the rice covered is technically a "keep warm function." In this case, all of these cookers have low heat settings to keep your meals warm.
Removable Power Cord
A removable power cord allows you to repurpose your cooker into a serving dish. The smallest item on this list, the Breville model, doesn't need that because it is already tiny enough to be considered a serving dish. The rest of these models include this option.
Steam Basket
A steam basket provides you with an additional layer so that you may steam vegetables. The Hi Mart does not include this option. The Breville model has a removable tray which provides the same function.
Easy-to-Read Controls
The most complicated set of controls on this list is a reward that goes to the Breville model. It will take you the most time out of any of these models to learn this one. If you aren't into modern technology, you may wish to avoid this one.
However, it isn't necessarily complicated; it just has a more substantial hurdle. With enough practice and reference to your owner's manual, you will be able to learn this device quickly.
Twenty-four Hour Timer
All of the items on this list have some form of timer. Others are less obvious at displaying it, especially those without screens. The Midea and Breville models are the only two with LCDs that will let you know the amount left on this timer.
Water Indicator
A water indicator, which is only with the Breville model, allows you to see the remaining water level. It will enable you to make adjustments in the middle of the cooking process if it is clear your rice is incomplete. However, rice is typically pretty simple, so you may not need this as much as you think. Best used when steaming more complicated things.
Conclusion
After careful consideration, it is easy to see that the Philips HD4514 4L is the best rice cooker in NZ. While it may seem to have a lot of needless bells and whistles, this item has made it clear that a rice cooker does not have just to be this item. It can be something else, and it is more cost-effective to be something else.
If you are looking for a more simplistic model, any of the options listed will be great for your needs. Always prioritize your family's needs above all else. The best rice cooker for us may not be the best one for you.
I'm a Consumer Review Specialist that loves to gab about the latest in appliances. As a dad, a lot of my energy goes into keeping up with my four-year-old.
I'm one of those people that needs his appliances to work. As a writer, I'd take some of the burden from your hands with my research. You can check me out on copysmith.org if you want to see any of my other work.