When you spend most of your life renting at apartments, you don't get to pick out your fridge. The owner usually dictates that which means you end up getting a refrigerator you don't want. But when you get the sweet satisfaction of picking your first fridge out, you can finally get something that you have some ownership over.
As someone who has been there, I want to guide you along the path of picking out a fridge that works for you. Each family is different, so we are also going to be going over some standard features that will help. With this in mind, here is our list of considerations for the best refrigerator in NZ.
Top Five Refrigerators in NZ
The best fridges we found are listed below.
LG GF-L570PL
Samsung SRF717CDBLS
Mitsubishi MR-CX402EJ-ST-A1
Westinghouse WHE6000SA
Fisher & Paykel RF522ADX5
We are going to rate them based on temperature consistency for the most part. No parts should be too cold or too warm. There will also be additional ease-of-use features and energy-efficiency worth considering.
Samsung SRF717CDBLS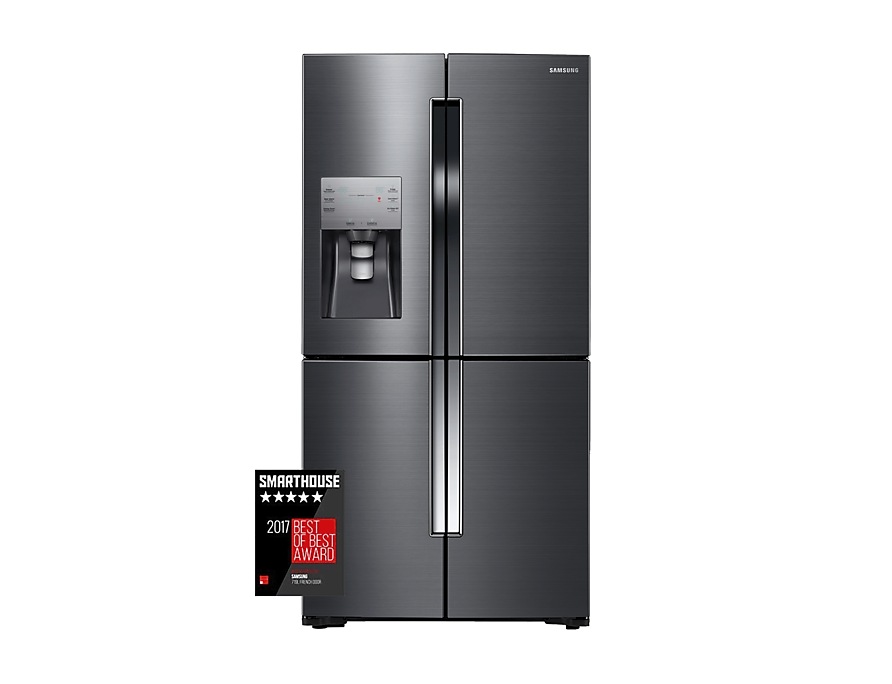 Capacity 719 L
Weight 153 kg
Energy rating star 2.5 stars
Dimension 1825 x 908 x 733 mm
Samsung is another brand known for bringing technology to the forefront. The SRF717CDBLS is no exception to this, as it is incredibly comparable to the LG. Its significant difference comes in the available size of the unit.
It will contain up to 719 L worth of food with 407 to the fridge and 290 L to the freezer. This, combined with two crisper drawers, makes it an excellent option for anyone with a larger family. It also has removable shelves, making it adjustable depending on your preferences.
It also has many other helpful features that include electronic controls and an ice and water dispenser. It also has self-closing doors with a backup door alarm as needed.
While this is another model without a chiller, everything else included gives you ample space to fit anything you need.  It maintains a uniform temperature that is appropriate for each location, making it one of the best fridges in New Zealand.
LG GF-L570PL
Capacity 570 L
Weight 130 kg
Energy rating star 2.5 stars
Dimension 1787 x 835 x 618 mm
The LG GF-L570PL is the epitome of high technology when considering refrigerators. With electronic controls that are easy to access and an ice and water dispenser, this is a premium model. LG performs well in ensuring the most advanced features.
This LG model also has auto-closing doors. If this fails, a door alarm will activate. It also has two crisper doors that contain your vegetables pretty well.
The total volume of this fridge is 570 L. Three hundred and ten of this comes from the refrigerator while 250 comes from the freezer.  It is an ample amount of space when considering what you can fit here.
The temperatures have a substantial range of availability. There is little creep between different locations in the fridge, but there is no chiller for that in-between sweet spot. Overall, the uniform temperatures and extra features make this an excellent option for your home.
Mitsubishi MR-CX402EJ-ST-A1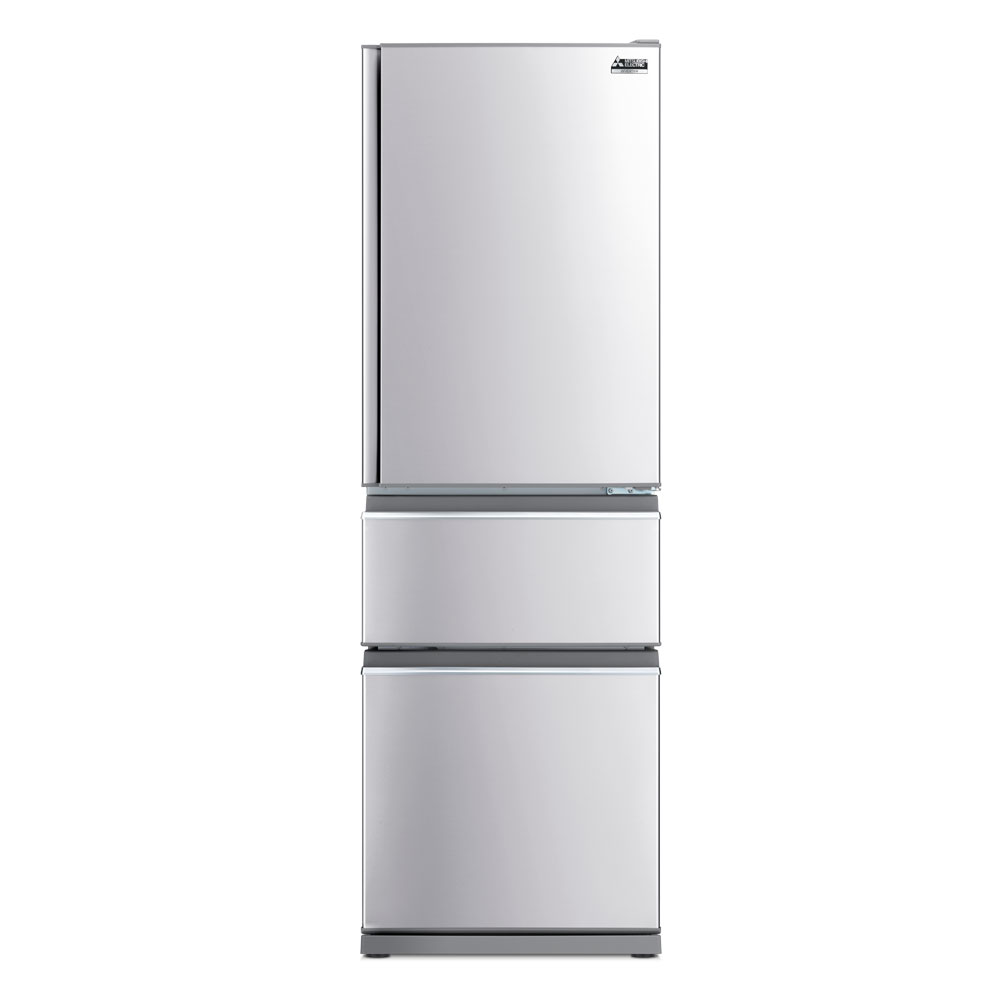 Capacity 402 L
Weight 76 kg
Energy rating star 3.5 stars
Dimension 600 x 1820 x 660 mm
The Mitsubishi MR-CX402EJ-ST-A1 is far smaller than any of our other options. It has a total volume of 407 L with the fridge portion being 298 L and the freezer filling the remaining 104. With this in mind, it also is a bottom-freezer design which means the most crucial part is within easy access.
It is perfect for medium to smaller families, and the cost-effectiveness in proven in a couple of ways. It has an energy star rating of 3.5, which is the best so far. It is on par with the Westinghouse and Fisher & Paykel models we are about to review.
It also has an included chiller, which is excellent storage for perishable goods. It maintains a uniform temperature throughout, so you should not expect too many fluctuations.
Be prepared to lose an ample amount of space and one crisper drawer. Regardless, this is a cost-effective fridge that maintains that status in the long term. 
Westinghouse WHE6000SA
Capacity 605 L
Energy Consumption 440 kWh/year
Energy rating star 3.5 stars
Dimension 1725 x 896 x 781 mm
Returning to larger, French door models, the Westinghouse WHE6000SA is another fantastic option for larger families. It holds 605 L with 411 L associated with the fridge. It feels a bit unbalanced compared to other models who have more giant freezers, but that will change depending on preferences.
Once again, this is a fridge that does not have a chiller section. However, it has replaced this with a compartment that is specific to dairy. The temperature is also mostly unformed, but they have addressed some customer concerns in the process. Westinghouse is a company known for high quality, so any issues regarding temperature appear to have been isolated incidents
This fridge can call itself on the list of those who have door alarms, self-closing doors, and electronic controls. It is excellent, as some of the recommended settings can cause some spots to be a bit too warm. The accessibility, combined with its energy-efficiency standards makes it one of the best fridges in New Zealand.
Fisher & Paykel RF522ADX5
Capacity 519 L
Energy Consumption 412 kWh/year
Energy rating star 3.5 stars
Dimension 1715 x 790 x 695 mm
The Fisher & Paykel RF522ADX5 is the happy middle of everything we have just mentioned. Its capacity sits around 519 L with the fridge taking up 360 L. The freezer is pretty small, only sitting around 159 L, which is the lowest on this list.
Regardless of this minor element, it manages to fit everything that other fridges of the same type failed to mention. It is the only French door model that has a chiller and a dairy compartment. It does sacrifice an extra crisper drawer.
Much like the LG model we started with, the shelves are not entirely removable, giving you some limits as to how you can set it up. But it does easily make up for this with versatility in other areas.
Features of the Best Refrigerator
With this list of the best fridges in New Zealand, it is crucial to understand what each of them offers. With this in mind, we will be digging into some available features in standard and premium fridges.
Energy Efficiency of Your Fridge
The first two fridges we reviewed has an energy star rating of 2.5. The final three had an energy star rating of 3.5. These standards come from the Energy Efficiency Conservation Authority (EECA).
Without getting too complicated, the highest rating that any appliance can reach is six. Given that fridges are hard to reduce, many of them are around the middle. Below, we will list out the average cost per year on these fridges.
LG GF-L570PL: $151 per year
Samsung SRF717CDBLS: $173
Mitsubishi MR-CX402EJ-ST-A1: $90
Westinghouse WHE6000SA: $114
Fisher & Paykel RF522ADX5: $107
While the clear winner is the Mitsubishi, keep in mind that this is the smallest fridge on this list. The capacity of a refrigerator will have an impact on the cost-savings provided. Lower numbers are just one aspect to keep in mind.
The capacity of Freezer and Fridge Area
Below is a list of sizes to keep in mind if you are to purchase one of these refrigerators.
LG GF-L570PL: 570 L Total / 310 L Fridge / 250 L Freezer
Samsung SRF717CDBLS 719 L / 407 L / 290 L
Mitsubishi MR-CX402EJ-ST-A1: 402 L / 298 L / 104 L
Westinghouse WHE6000SA: 605 L / 411 L / 194 L
Fisher & Paykel RF522ADX5: 519 L / 360 L / 159 L
If you have a larger family, five or more people, you may wish to limit your selection to the 500+ L amount. While this number will fluctuate depending on how much your family eats, this should be a safe bet.
Dimensions of the Fridge
The next concern you may have will be the actual size of the fridge. Always be sure to measure out a spot for your fridge before making a purchase. Below is a list of dimensions for the refrigerators we reviewed.
LG GF-L570PL: 1787 (H) x 835 (W) x 734 (D) mm
Samsung SRF717CDBLS: 1825 x 908 x 733 mm
Mitsubishi MR-CX402EJ-ST-A1: 1820 x 600 x 656 mm
Westinghouse WHE6000SA: 1725 x 896 x 781 mm
Fisher & Paykel RF522ADX5: 1720 x 790 x 700 mm
Different Types of Doors
There are two different types of fridge drawers. These are the French doors and the bottom freezers; which have their advantages. We will dig into the details of various door types below.
Frech Doors
French doors are the most appealing and modern design of the bunch. They combine designs of the bottom freezer and the side-by-side doors. It means that the freezer is on the bottom and there are two sets of double doors.
Given that they are the most modern, they are typically the most expensive. These model types also tend to have more features and are more likely to have dispensers. All of the models except for the Mitsubishi have this door.
Bottom Freezers
A bottom freezer has a freezer on the bottom, which sounds pretty obvious. It is pretty convenient, as most families spend more time in their fridge than their freezer. As a result, this model involves less bending to get what you need. The Mitsubishi is the only model we feature with this.
Top Freezer
The top freezer models are the most common type of fridge. The freezer is on top and usually takes up a third of total capacity space.
Side-by-Side
Side-by-side doors split the room down the middle. It does not mean for an even distribution of space, as the fridge side still take up most of the room.
Crisper Drawers
As suggested by the name, crisper drawers are for keeping your fruits and vegetables fresh. You will want more doors for this if you have a large amount of produce. The Westinghouse, Samsung, and LG have two doors, and the remainder has one.
Self-Closing
Self-closing doors with automatically shut the door after a given time. This feature comes with all models and also includes a door alarm just in case the first feature fails.
Water and Ice Dispenser
The Samsung and LG models are the only two that have this feature included. As suggested, they affect whether or not you can get a glass of water with ice from your fridge. It is a feature that is limited to premium models.
Dairy Door / Compartment
A dairy compartment is a small, clear door on the upper corner of the door of your fridge. It provides easy access to storing sticks of butter or cheese. It is not suitable for liquids (milk).
Noise
Noise isn't much of a factor on this list given that the difference between these is 5 dB overall. Given that a standard conversation is up to 60, none of these fridges will make too much noise. Keep it below 40 dB if you have to pick.
Conclusion
Our favourite fridge, when comparing those on this list is the Westinghouse WHE6000SA. It combines the best of features from all fronts. While it lacks a chiller, this is primarily an optional feature which does not change much in most people's day-to-day.
It manages to keep up with the energy-efficiency of the Mitsubishi model, despite being a bit larger. It also lacks ice and water features from the LG and Samsung models, which are purely optional. Overall, the best refrigerator NZ has to offer is the Westinghouse WHE6000SA.
I'm a Consumer Review Specialist that loves to gab about the latest in appliances. As a dad, a lot of my energy goes into keeping up with my four-year-old.
I'm one of those people that needs his appliances to work. As a writer, I'd take some of the burden from your hands with my research. You can check me out on copysmith.org if you want to see any of my other work.