When I was in college, the first air conditioner I purchased was portable. Portable air conditioners may not cool an entire building. Still, I bought one knowing that my landlord had no intention of putting any money into the place I rented. Once I got it in my house, there was no looking back; I knew I wanted to live in air conditioning.
Portable air conditioners are great for people who want to stay cold but can't afford, or aren't allowed, to install a household unit. Because of this, I feel I have to provide you with our list of considerations for the best portable air conditioner in NZ. We will get into the details below.
Top Five Portable Air Conditioners in NZ
We have chosen five different portable air conditioners you can see below.
Levante Polar 14 Portable Air Conditioner with Dehumidifier
Dimplex 3kW Reverse Cycle Portable Air Conditioner
Sheffield Portable Air Conditioner
Delonghi Silent Air-to-Air Portable Air Conditioner
Goldair Hot & Cool Portable Air Conditioner
Our primary focus will be in its ability to maintain colder temperatures over a long period. There will be other features to be considered that affect ease-of-use. Also, many of the units include dehumidifying functions. We will be discussing this as well.
Levante Polar 14 Portable Air Conditioner with Dehumidifier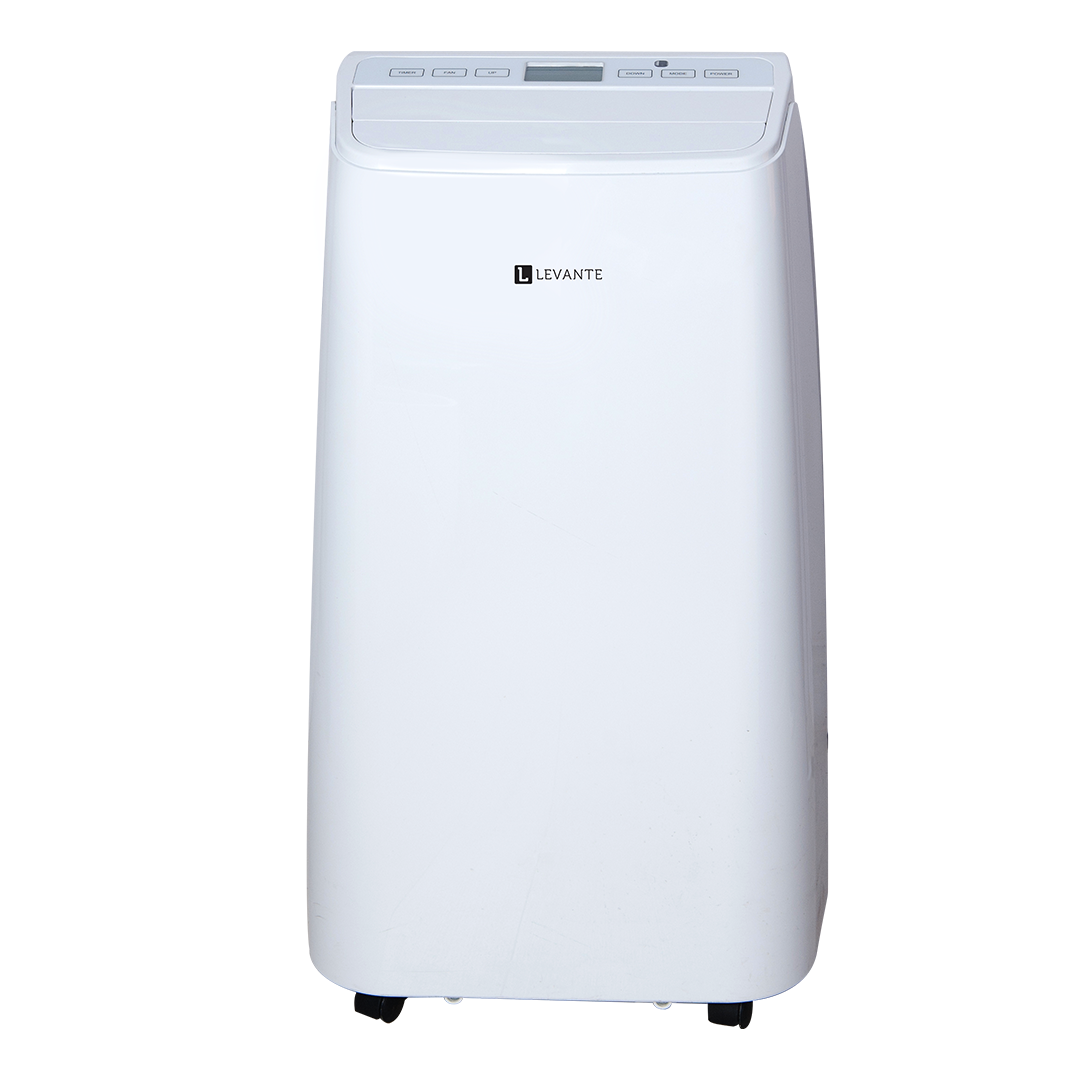 Cooling capacity 4.1 kW
Heating capacity 4.0 kW
Input Power 1.35 kW
Dehumidification Capacity 1.2 L/h
The Levante Polar 14 Portable Air Conditioner with Dehumidifier is the first stop on our list. With a 4.1 kW cooling capacity, there is a great deal of power in this small package. Regardless, it is large enough to include wheels, making it pretty easy to move around.
The Polar 14 made it onto this list due to its flexibility. It has three operating modes: cooling, fan, and dehumidifying. When dehumidifying, it removes about 1.2 L of water from the air per hour; meaning you will have to remove the water from it at least once per day.
When running, it is about 56 dB of noise at most, which means that it is close to you talking over a normal conversation. It makes it reasonably noisy, but the cooling sensation you get is worth it in my opinion.
The timer in it goes up to 24 hours, meaning you can set it up, so it turns off anytime within that period. This feature is excellent if you don't want it to run overnight when temperatures are typically colder.  Combine this with its cooling ability, and it is easy to see why this is one of the top options.
Dimplex 3kW Reverse Cycle Portable Air Conditioner
3kW cooling and heating capacity
Dehumidifying function – 40L/day
Suitable for rooms up to 30m2
Noise level 42 – 53dB(A)
At 3kW, the Dimplex is a bit weaker when compared to the power of the Polar 14. It trades this off by being much quieter, taking about ten off of that dB measurement we just listed. However, others state that they are still about on par as far as noise goes.
This one is unique with its four-directional air swing. It means that there are ports on all sides of this model, meaning you could efficiently cool an entire room. Just make sure that place is small, as this model is for tinier bedrooms, kitchens, or living rooms.
The dehumidifying function in this will carry up to 40L, meaning you could wait a day or two before removing the water depending on the environment. It also has the same 24-hour time feature included with the Levante model.
It has an easy-to-read control panel with a remote control which makes it easy to use. It does require a ducting kit to use this, limiting its placement. Thankfully, they have included this kit, and it is pretty easy to handle.
Sheffield Portable Air Conditioner
Power 760 W
Cooling Capacity 7000btu/H (2.05kw)
Dehumidifying function – 20L/day
Dimension 305 X 678 X 328 mm
The Sheffield Portable Air Conditioner doesn't advertise based on kW, but BTUs. Given that the Levante Polar 14 covers up to 14,000 BTUs and this model is 7,000 BTUs, you can see that there is a pretty significant difference. However, the power usage behind something isn't always indicative of its effectiveness, as Sheffield still manages to cool pretty well.
It matches many of the same features with the 24-hour timer.  It also dehumidifies but does so with a tank at half the size of the Dimplex. It isn't an entirely bad thing, as it is far easier to lift at half the capacity. It also blinks when the tank is ready to be removed. Portability is essential to this model.
Another winner that this model has is in the cost-effectiveness arena, as this is about half the cost of comparable models. It does this while also keeping the four-directional option introduced with the Dimplex model.
It doesn't require a ducting kit, which gives you more options for where to place it. With this in mind, it is excellent for those who emphasize the easy-to-move part of their portable air conditioner.
DeLonghi Silent Air-to-Air Portable Air Conditioner
Power 1050 W
Maximum cooling capacity 11500 BTU/h – 3Kw
Dehumidifying function – 30 L/day
Dimension 44.5 x 39 x 80.5 cm
The DeLonghi Silent Air-to-Air Portable Air Conditioner is the quietest unit on this list. The silence is related to the unique honeycomb design on this model. The unique design is a conversation starter as well as a noise-reduction element; making it great for your household.
For further concerns on noise, it also has a silent mode which reduces the power of the fan. Despite this, it can cool rooms pretty effectively. It also comes with a window kit, much like the Dimplex model.
The dehumidifier includes a 30L tank that will need to be emptied every other day depending on the humidity levels of your place. Unless you live in a sauna, don't expect to mess with it too often.
The 24-hour time also returns in this model. It also has a remote control that provides a layer of convenience. Great for those who are looking for a quiet model.
Goldair Hot & Cool Portable Air Conditioner
2-in-1 cooling & heating
12,000 BTU
2 speed settings
24 hour timer
The Goldair Hot & Cool Portable Air Conditioner trades in the dehumidifier for a heating function. It makes it a bit more versatile for your temperature uses, but far less useful in situations where heat and humidity work together. In New Zealand, this can be a bit of a sacrifice.
Regardless, it is still a sturdy unit that produces 12,000 BTUs of power, putting it just short of the Levante. You won't be able to tell much of a difference between those two, so try not to get stuck on the BTUs they advertise.
Many of the same convenience features are here. Expect the return of the 24-hour timer and remote control. It only goes in one direction, but it does give you two different speed settings depending on your fan preference.
The adjustable thermostat gives you a pretty substantial amount of control on the amount of cooling. It also does it at a tolerable noise level. If you are looking for a balance between the features we have mentioned, this is an excellent choice for you.
Features of the Best Portable Air Conditioners
Now that we have our list of the best air conditioners, we can dig into the features. As always, prioritize the features that will be the most convenient for you and your family.
Fan and Speed Settings
Each of these models come with adjustments related to the thermostat or speed settings. The higher these settings are, the more noise your model will produce. However, you will have a chill space at higher configurations.
The best you can do to test this is by bringing it to your home, working under the assumption that the store has a good return policy. All of these are portable, meaning they are for medium- to smaller-sized rooms.
Timers
All of the models on this list come with a 24-hour timer. A timer allows you to set a specific period for the air conditioner to turn off. It is excellent for people who want to keep a cold space during the day, but won't need it during the night or times where they may be out.
Dehumidifier Functions
Except for the Goldair, all of these models include dehumidifier functions. It is typical with air conditioners, as colder air is typically drier. By adding them in one package, it makes the unit's job easier.
The Dimplex model holds the most moisture out of each of these, making it easier to manage when it comes to tracking this. However, lugging 40 L worth of water can be a challenge for some people.
Energy Savings
BTUs and kW per hour are all important aspects when it comes to producing cold air. Given that these are smaller, you won't often see portable air conditioners with an energy star rating. Just keep in mind that the higher these numbers, the higher chance you have for a higher bill. The opposite logic also applies, so try and find a happy medium.
Noise Levels
All of these models fluctuate around the same level: just short of 60 dB. 60 dB is about the same volume as a conversation, so expect to have to talk a bit louder if one of these is in your room.
Conclusion
After careful consideration, our vote for the best portable air conditioner NZ has to offer is the DeLonghi Silent Air-to-Air Portable Air Conditioner. While it may not seem like much, any function to dampen the noise of these conditioners is appreciated. Given that they all cool at about the same level, DeLonghi won the second half of the competition.
When considering other features, it is the second-best dehumidifier on this list. It is a great feature, but we are not rating for the best dehumidifiers. Because of this, DeLonghi has produced the best portable air conditioner in New Zealand.
I'm a Consumer Review Specialist that loves to gab about the latest in appliances. As a dad, a lot of my energy goes into keeping up with my four-year-old.
I'm one of those people that needs his appliances to work. As a writer, I'd take some of the burden from your hands with my research. You can check me out on copysmith.org if you want to see any of my other work.