Buying an oven is a pretty big deal. Dropping a couple thousand on any appliance is a pretty big deal. Take it from me, because I've been through enough to know the difference between a bad one and a good one. When you buy a lousy oven, it takes a couple of hours arguing with customer service in an attempt to try and get things right.
If you are currently in this step and aren't sure about what type of oven you should buy, this guide is for you. Even if you want some useful information about stoves, we will provide a list of features to consider. Let's get into our list of considerations for the best oven NZ has available.
The Top Five Ovens in NZ
We have chosen the following ovens to focus on today.
Neff B57CR22N0B
AEG BPK742320M
Electrolux EVEP616DSD
Bosch HLS79R350A
Westinghouse WFE647SA
Our primary focus will be on the quality of cooking. Our secondary areas of focus will be in ease-of-use features, burner placement, and safety features. We will be focusing on two different types of ovens: freestanding and built-in stoves. We will be getting into the details of these differences in the features section.
Neff B57CR22N0B
Voltage 220-240 V
Capacity 71 L
Max temperature 275 °C
Dimension 595 x 596 x 548 mm
The Neff B57CR22N0B specializes in simplicity. While Neff is a relative newcomer to our list, they quickly distinguish itself through straightforward, plain button placement. Despite this, it is still a modern piece of technology that will fit into any contemporary kitchen design.
The simplicity means that it is easy for the oven to cook about anything. It's great for grilling, but it doesn't have a smokeless grill tray. The grill tray it does have is a bit loose and can move quickly, so you will want to be aware of this. Once you get used to this quirk, it isn't much of an issue.
It has pyrolytic self-cleaning, which is a topic we will get into with further detail later. What you need to know: it makes cleaning much more accessible. The bottom of the oven is a bit more complicated to clean, given that its design can trap some spills.
For me, I'm glad that it does emphasize safety. As someone with a four-year-old, that is curious about anything. A child lock is a nice feature. Not that I would expect him to crack open the oven, but you never know. The extra consideration is appreciated, which is why this thoughtful oven makes it on the list.
AEG BPK742320M
Connected load 3.5 kW
Capacity 77 L
Number of functions 16
Dimension 594 x 595 x 567 mm
The AEG BPK742320M has a couple of extra bells and whistles when compared to the Neff. First, it is excellent at baking and grilling things, don't expect a smokeless grill tray. The window in front is also incredibly bright, it is one of the few ovens where you can see what's going on on the inside.
The door and the glass can are removable to simplify the cleaning process. It has the same self-cleaning feature as the Neff model. While it has stoppers, the shelves still can fly out, given how smooth the device is. The telescopic runners make it easy to glide, but can be tricky to clean.
If you are forgetful, the oven even reminds you that it needs cleaning. Much like your little one who enjoys baths, expect it to beep every so often to tell you its dirty.
Its above and beyond features include pre-programmed cooking programs. These include a keep-warm setting up to 30 minutes after cooking is complete. The AEG is a solid example of modern technology working, making it a natural selection for one of the best ovens in New Zealand.
Electrolux EVEP616DSD
Connected load 3.1 kW
Capacity 80 L
Number of functions 13
Dimension 596 x 572 x 597 mm
Everything we have reviewed up to this point is built-in ovens. The Electrolux EVEP616DSD is the last built-in oven on this list. Despite it being the last, it is certainly not the least.
It includes many of the thoughtful features we have mentioned to this point: pyrolytic cleaning, child safety lock, and a clear glass view. The shelves move out smoothly, but you will have to fiddle with the lack of shelf supports. It also doesn't have a smokeless grill tray. The door can also slam if it is near closing.
 Once you get used to some minor quirks, this machine is incredibly convenient in many areas. The stoppers in this work, meaning they won't fly out regardless of what mistakes you make. The oven-quality can also handle anything you can throw at it.
There are various functions with this oven with food suggestions printed underneath them. It means that if you forget what setting is best for a specific type of task, such as defrosting, you won't have to look hard to find it. Overall, this would be an excellent option for your household.
Bosch HLS79R350A
Connected load 7.85 kW
Capacity 66 L
Number of functions 8
Dimension 850 x 600 x 600 mm
The ovens we have focused on to this point have all been built-in. The Bosch HLS79R350A is our first look at a freestanding stove. Given that freestanding ovens have a lot more flexibility, the Bosch has to overcome additional challenges in the process.
It includes a smokeless grill tray that slides into the available supports easily. It also is a fantastic oven for grilling and can cook anything with reliable quality. The stovetop portion has Flexi-zones as well, making this a modern induction model. 
It has the self-cleaning feature we have mentioned up to this point. So it does cover a lot of bases and shortcomings of some of the other ovens here. Its challenges in being freestanding include issues with the stovetop, as it isn't large enough to accommodate larger pots. The tray can also pull out accidentally.
There is a child lock for the front of the oven, but the controls of the stovetop are easily accessible by children. Regardless of some minor issues, it still wins at being an inclusive and flexible model.
Westinghouse WFE647SA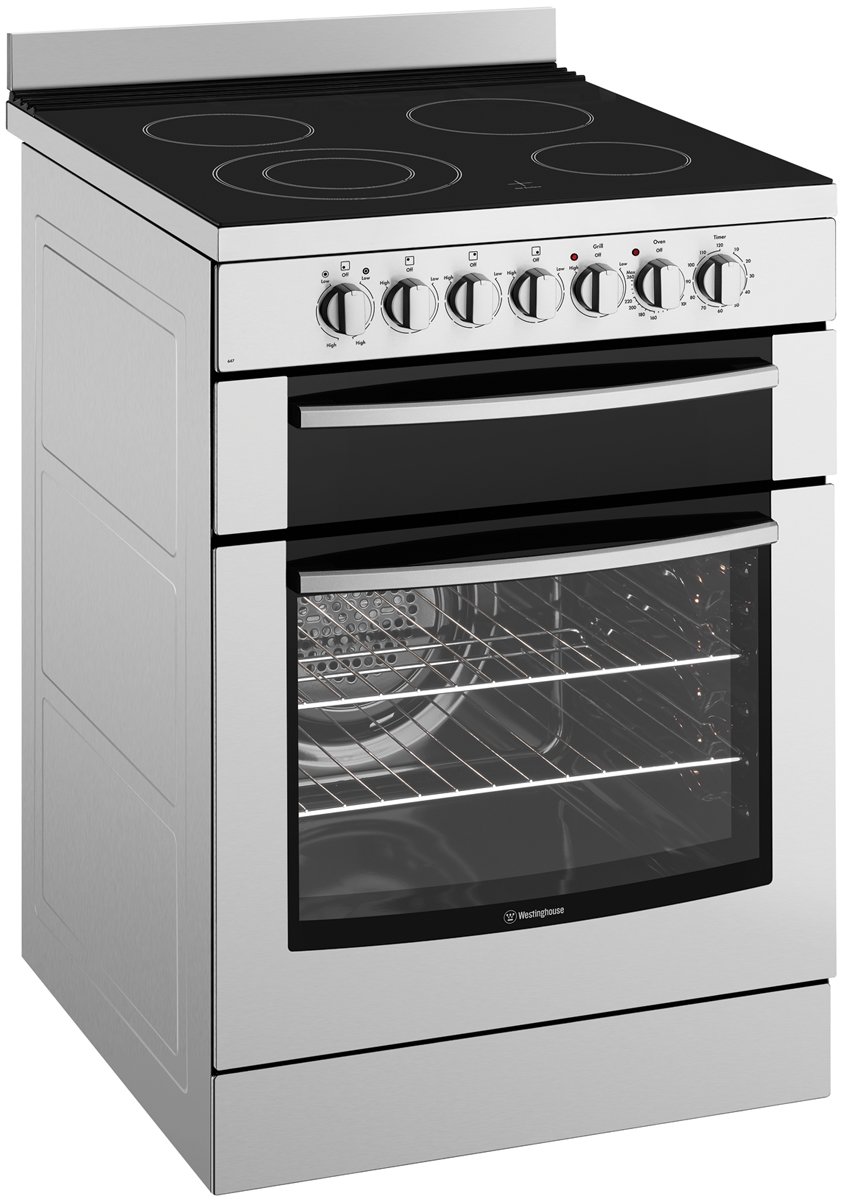 Connected load 10.5 kW
Capacity 80 L
Number of functions 1
Dimension 596 x 632 x 916 mm
The Westinghouse WFE647SA is the second oven on this list, taking the freestanding challenge. It does so with style, as it is an incredibly modern-looking oven. It also has telescoping runners, which means that the inner trays won't fly all over the place.
It also has a separate smokeless grill tray. The grill is entirely different from the other areas of the oven. Meaning it is easy to identify where you need to grill. It even has a shield guard in front of the grilling element.
The shield is a bonus to safety features, but the lack of a child lock and the controls are easily reachable by children. Be sure to discuss it with them if they are young enough.
Cleaning is also incredibly comfortable. There is a groove that traps dirt from getting in unwanted locations. The controls upfront can be removed as well for detail cleaning. There is a lot of thought put into this model, making it an excellent choice for your household.
Features of the Best Oven in NZ
There is a lot that goes into buying an oven. If any of the above statements were confusing, we will delve into those features below.
Freestanding vs. Built-in Ovens
The significant difference between freestanding and built-in ovens is design. Built-in ovens are for fitting into the spaces between cabinets seamlessly. All of the freestanding models we reviewed also include stovetops.
Stovetops can be purchased separately. But you will most likely need to buy one when choosing a built-in oven. Given that we are focusing on the "oven" component, this will be a secondary consideration. The first three are built-in. The last two are freestanding.
Pyrolytic Cleaning
Pyrolytic self-cleaning still leaves the bulk of the hard work up to the cleaner. Typically, it will heat your oven to five hundred degrees. This heat will turn all of your food into ash, making it a bit easier to remove. All of the models on this list have this feature.
Safety Features
The ultimate safety feature in any of these models is a child lock. The Westinghouse model is the only one that does not include this to some capacity. The two freestanding models also have controls that are easy for children to reach on the stovetop.
The Westinghouse is also the only model with a grill shield. Depending on your safety priorities, either would be a good option for you.
Grilling Features
All of the ovens on this list come with some grilling function. The biggest issue with these functions is the lack of a smokeless grill tray, which will trap the fat and oil from your grilling; the freestanding models we reviewed include this tray.
The Westinghouse adds a grill shield as well, as it has an entire isolated area for grilling. It is not a double oven, which is two ovens stacked on top of each other.
Clock and Timer
The Westinghouse model is the only one that does not include this feature. A clock and timer allow you to have an easy-to-view spot for a time. The timer will enable you to track how long your food has been cooking without an additional device.
Dimensions
Before making any purchase, be sure to measure out a spot for your oven. If it is too big or little, it may look weird in your available space. Below are the dimensions of the stoves we reviewed today.
Neff B57CR22N0B: 595 (H) x 596 (W) x 548 (D) mm
AEG BPK742320M: 594 x 595 x 567 mm
Electrolux EVEP616DSD: 597 x 596 x 568 mm
Bosch HLS79R350A: 860 x 595 x 600 mm
Westinghouse WFE647SA: 910 x 540 x 630 mm
You will notice that the freestanding models are much taller, fitting additional features into it. It is because they do not conform to the standard height of cabinets.
Conclusion
With everything considered, our choice for the best oven NZ has available is the Electrolux EVEP616DSD. Rating entirely on the merits of being an oven, this provides the most significant amount of simplicity combined with convenient features.
While freestanding models come with stovetops, ovens are the focus of this review. You may wish to consider buying a separate stovetop, as those can be complicated by themselves without lumping another package on top of it. Whatever your needs may be, always prioritize those when looking at any oven or cooktop. Our vote is still to the Electrolux EVEP616DSD.
I'm a Consumer Review Specialist that loves to gab about the latest in appliances. As a dad, a lot of my energy goes into keeping up with my four-year-old.
I'm one of those people that needs his appliances to work. As a writer, I'd take some of the burden from your hands with my research. You can check me out on copysmith.org if you want to see any of my other work.