When I was in college, coffee was the lifeblood that sustained me. Without a reliable coffee machine, I wouldn't have been awake for anything I studied. Because of that, I feel compelled to help you with the all-important task of finding the best coffee maker in NZ.
There are two things that a coffee maker needs to get things started. First, it needs to be consistent in its programming. If the timer fails for any reason, it isn't going to help you out very much. Second, I don't want to taste the material of the coffee maker in the process of making coffee. With that in mind, none of these models has those problems, so let's get to the review.
The Top Five Coffee Makers in NZ
We have selected five different coffee makers in the process of our selection.
Breville Aroma Style Coffee Maker
Morphy Richards 1100W Accents 1.8L/12Cup Filter Coffee Machine
DeLonghi Clessidra Drip Coffee Machine
Sunbeam Easy Clean Programmable Coffee Maker PC7800
Moccamaster Classic Glass Carafe
All of these produce excellent flavour, but that is the most critical factor of our rating. On the secondary side of things, we will be looking at ease of use features related to programmability and cleaning.
Breville Aroma Style Coffee Maker
Power 1000 W
Capacity 12 cups
Volts 220 – 240 V
Dimension 36 x 30 x 42.5 cm
Breville has been on many of our lists, and the Aroma Style Coffee Maker is one such example of why they keep coming back. With simple controls and a quick brew, it won't be too long before you can get your coffee.
It has a 12-cup coffee maker, meaning you can make an ample amount of coffee. You can see a gauge on the side that will make you confident in ensuring you get the cups you are looking for, removing potential waste issues.
High-quality materials were still used in the creation of this device, as it feels pretty sturdy. Also, it has a mesh on the inside for holding your filters. It provides an excellent protectant for your coffee maker.
While this won't be winning any rewards for the originality of design, it is a sleek reminder classic coffee makers. Its simplicity and reliance is key to making it an easy pick for one of the best coffee makers in New Zealand. 
Morphy Richards 1100W Accents 1.8L/12Cup Filter Coffee Machine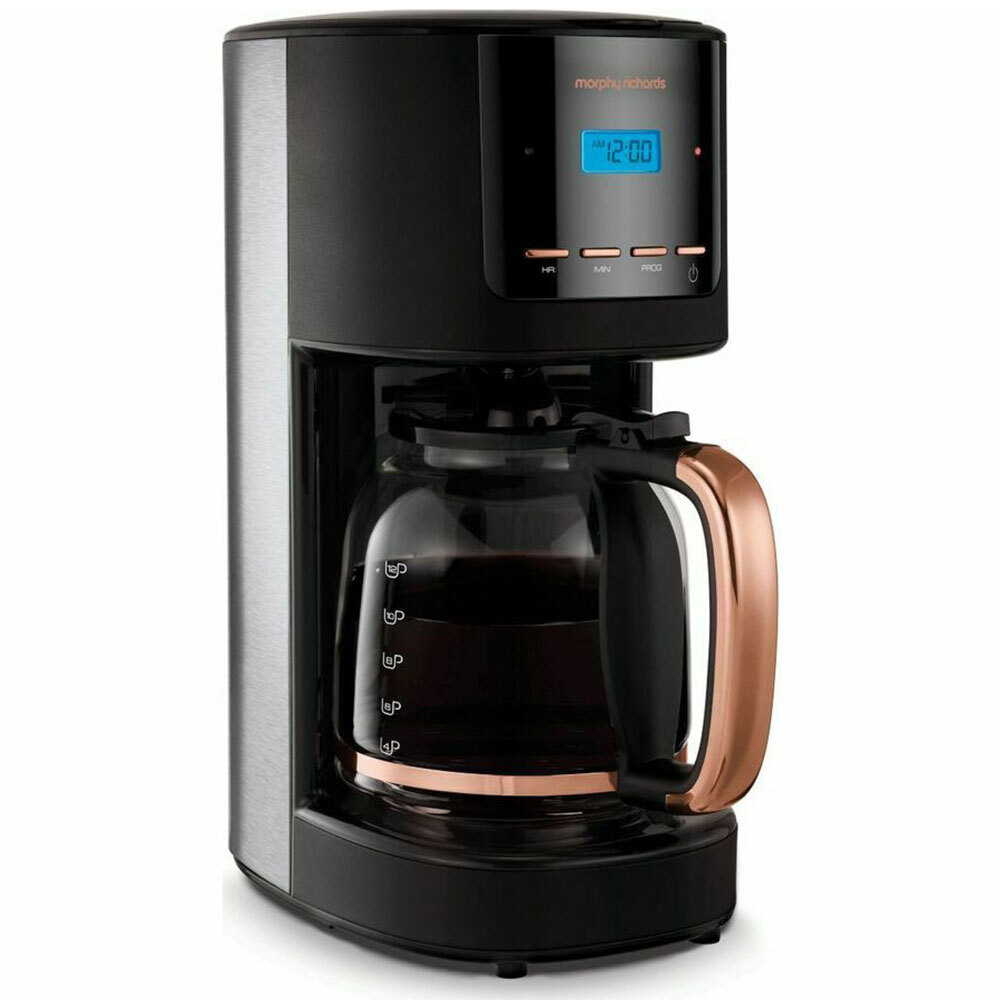 Power 1100 W
Capacity 1.8 L
Volts 220 V
Dimension 37 x 28 x 18 cm
The Morphy Richards 1100W has many of the same features we have just reviewed. A 12-cup coffee maker means for an ample amount of coffee, regardless of how big your family is. The programmable features up front make it easy to schedule a time for your coffee to be ready.
This model's water gauge is a bit harder to view, so it is a bit harder to see the water level. But the screen does stick out a bit more, so it is light blue and easy-on-the-eyes. Much like the Breville, it also has an auto shut-off and anti-drip features, which we will get into with greater detail in the features section.
The most striking feature on this one is its design. The rose-gold handles and accents on this model stick out very well. This design is in stark contrast with a black, making it a well-designed coffee machine.
Overall, the design and reliability behind this one allow it to be on the list of the best coffee makers. Our next option will shake things up a bit.
DeLonghi Clessidra Drip Coffee Machine
Power 1,800 W
Capacity 1.25 L
Volts 220-240 V
Dimension 330 x 188 x 280 mm
At first glance, the DeLonghi Clessidra Drip Coffee Machine looks like an unusual beast. You would be right, but it is not at all different from how a standard coffee maker would look. The strong emphasis on design is what makes this one stick out.
This coffee maker does not have many of the same programmable features we have mentioned thus far. There is no timer at all, putting it behind on the technology front.
Despite these critical issues, this coffee maker bursts in by having an excellent flavour profile. The slow-brewing process takes a bit more time than your standard brew, but it is a reminder to us that coffee should be enjoyable.
Its also a bit smaller at 10-cups, which isn't too much of a loss. It does have an indicator telling you when it needs cleaning, which is nice. Regardless of some shaved features, it is clear that DeLonghi prefers the flavour of your coffee to be its highest priority.
Sunbeam Easy Clean Programmable Coffee Maker PC7800
Power 1070 W
Capacity 1.7 L
Weight 2.54 kg
Dimension 365 x 236 x 351 mm
Turning back to our standard coffee makers, the Sunbeam Easy Clean Programmable Cofee Maker is an excellent addition to your home. It has a design which is pretty standard for almost all coffee makers, making it easy to use. It also offers multiple gaps which provide an easy-to-clean interface.
It has a 12-cup brewer, putting it back on par with most of our other options. It also has an auto-pause feature, which is another way to provide an anti-drip functionality.
It doesn't do anything in the design area. Its pretty standard, which makes it great for most kitchens. You probably won't be talking about this coffee maker too much unless you are complimenting the flavour of the coffee.
Overall, while it doesn't explode off of the shelf with a unique design, it does what a coffee maker should. It is easy to use, easy to clean, and suitable for scheduling your morning coffee. It's great for any home looking for a standard coffee maker.
Moccamaster Classic Glass Carafe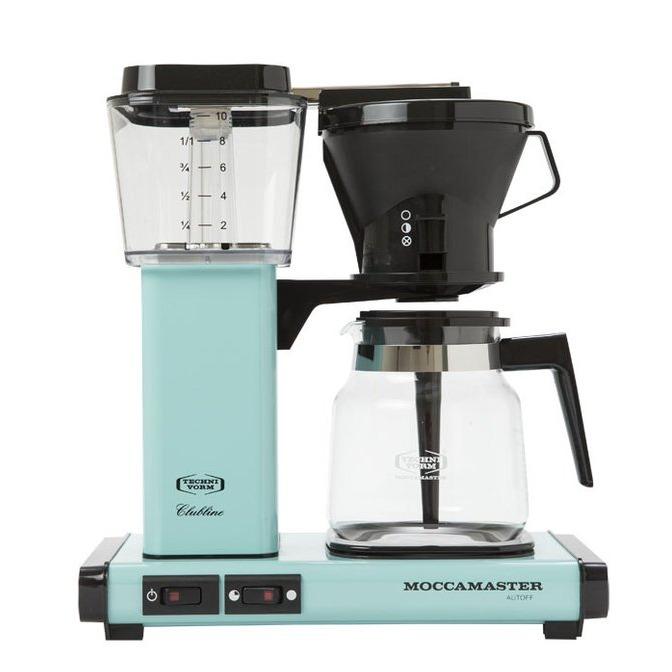 Capacity 1.25 L
9 hole spray head
Brew time 5-6 minutes
Dimension 355 x 325 x 170 mm
With the Moccamaster Classic Glass Carafe, it is clear that we are returning to the weird territory. But odd isn't bad as long as its functional, and the Moccamaster is pretty handy to have around.
It has a water reservoir on the top that makes it easy to store any water. As a result, you can control the amount of coffee you want with a considerable amount of ease. But, this one has half of the available cups as the other models, meaning you won't want it if you have a family full of coffee drinkers.
It is a premium item, so it is one of the few options that say they have passed the European Coffee Brewing Center's (ECBC) standards. For the regular coffee consumer, that means that it is certified to make a tasty brew. There are more details than that, but we won't be getting into them here.
Overall, the Moccamaster is the lowest capacity coffee maker, but it does so as a premium item. Best for a single person, or two people, who emphasize coffee flavour above all else.
Features You Need For Your Coffee Maker
We've reviewed a lot of coffee makers from all over the spectrum. Some of them are a bit odder than others, but all of them share the same purpose. We will look into the best features over the remainder of this.
Cup Capacity
Standard coffee makers will have a 12-cup pot that can hold enough coffee to provide for a variety of groups. The DeLonghi and the Moccamaster models are the only exceptions, as their priorities lay elsewhere.
Programmable Timer
Again, except for the DeLonghi and Moccamaster, all of these will have some form of a programmable timer. It involves syncing the clock on the coffee maker so that it matches the current time. You set an "alarm" that starts the coffee maker at a convenient time for you, typically just before you wake up.
Hot Plate
All of the models on this list come with a hot plate. It allows you to place the glass or plastic jug onto the plate so that it may retain heat. Be sure not to leave the heater on too long, as it can leave coffee burns on your glass. All of these models have an auto-off feature that prevents that from happening.
Anti-Drip Features
Anti-drip features typically come in two forms. First, the coffee glass underneath the dispenser is in such a way where the coffee escaping will be stopped as you remove the jug. Typically, this will also temporarily stop the coffee from releasing any fluid at this time, which is an auto-stop (or auto-pause) feature.
What is the Best Type of Coffee Maker?
There is no one "best overall" type of coffee maker to pick. While we focus on non-espresso models, this can comprise several different potential areas. We will be focusing on those that do not specialize or dabble in espresso.
Drip Coffee Maker
Save for the Moccamaster, all of the models we reviewed are drip coffee makers. In the case of the DeLonghi, that is just a slightly weird design of drip coffee maker. Hot water pours over the coffee grounds from a reservoir that typically rests in the base.
You pour it in the back, and brewing will happen all at once. It is the most straightforward design and the most common design for coffee makers.s
Precision Brewer
The Moccamaster is the only precision brewer that we have on our list. It typically has a less hot surface for those buying it and allows you to control the water that goes into it. It is also usually much more expensive, which is why you won't see many on this list.
Single-Serve Capsule
Some of the "capsules" you can purchase do come in espresso mode, so this is a bit of a cheater way. But there are also many standard coffee forms of this as well, meaning that it qualifies in my book.
The reason you won't see a capsule coffee maker on this list is that it is a slower process that encourages wait. It works in one cup at a time, and they sell single-use plastic cups. If you want one of these models, purchase a reusable container.
Conclusion
After a thorough examination, the best non-espresso coffee maker in NZ goes to the Morphy Richards 1100W Coffee Machine. While many of these are on par when it comes to flavour, this one has the most visually appealing look to it. It helps make things stick out, which makes things easier to manage. The rose-gold accents do not improve the flavour of your coffee, but they do provide you with a reminder that you bought a good coffee maker. If you are looking for something that emphasizes the other vital aspects of coffee, any of these on this list will help you out.
I'm a Consumer Review Specialist that loves to gab about the latest in appliances. As a dad, a lot of my energy goes into keeping up with my four-year-old.
I'm one of those people that needs his appliances to work. As a writer, I'd take some of the burden from your hands with my research. You can check me out on copysmith.org if you want to see any of my other work.