My family never got a pressure cooker. Somehow in learning about every kitchen appliance imaginable, a pressure cooker never ended on a list. A crock-pot was the closest to this, but it doesn't quite match some of the unique options you have with a pressure cooker. It is something I've discovered recently.
Whether it is your first purchase or your fifth, it helps to remind ourselves of the best options available. As a result, we've performed the research needed to narrow it down to five options. Below, we will select the best multi-cooker NZ has available.
The Top Five Multi-cookers in NZ
We've selected the options below for our "best-of" list today.
Philips All-in-One Multi-Cooker HD2237/72
Sunbeam PE6100 Aviva Pressure Cooker
Crock-Pot Express Crock XL Multi-Cooker CPE300
Cuisinart CPC-610 Pressure Cooker Plus
Breville The Fast Slow Pro BPR700BSS
Our initial rating will come from the cooker's ability to produce tasty meals. How versatile is it, and what can it give me? Everything else will be related to ease-of-use features, such as cleaning and easy controls.
Philips All-in-One Multi-Cooker HD2237/72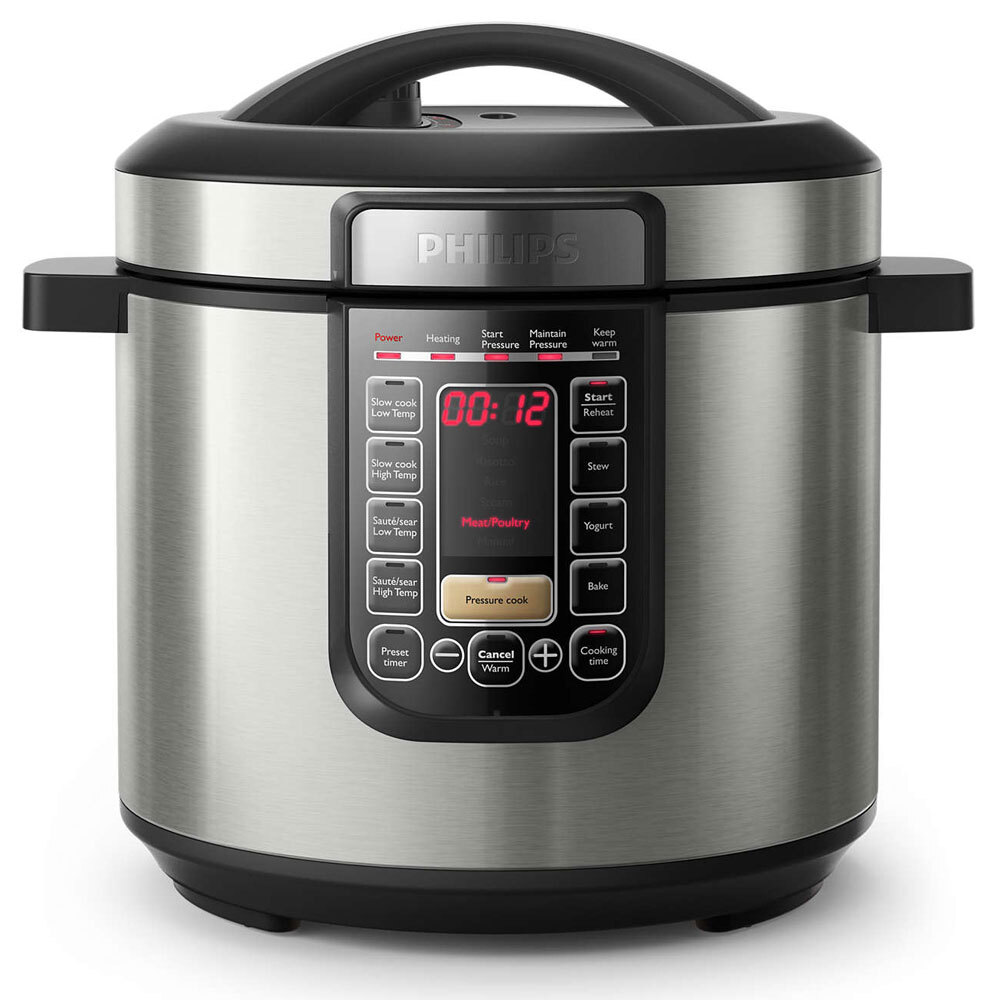 Power 1,300 W
Capacity 6 L
Voltage 240 V
Cord Length 1.2m
The Phillips All-in-One proves its point with an incredibly large 6 L tank. It's for large families, but it is about average for those on our list.
The bowl inside is a non-stick bowl that is pretty easy to clean and easy to use. However, it isn't the easiest to clean because it is not dishwasher safe. It also has one pressure setting, which means that it is easy to use but not very versatile.
For those who are uncertain on their cooking ability, this model comes with a recipe booklet. I would suggest using the recipe booklet for the first couple of times so you can get used to the thing. It is especially useful for when you are new to multi-cookers, like me.
It is a bit heavy compared to our other models. Once you find a spot, try and keep it there if you want to avoid lifting heavy objects. Despite some minor headaches and limited functions, the All-in-One is the perfect model for those who are new to the world of pressure cooking.
Sunbeam PE6100 Aviva Pressure Cooker
Power 940 W
Capacity 6 L
Weight 5.95 kg
Dimension 340 x 340 x 300 mm
The Sunbeam Aviva Pressure Cooker is just as good as the Philips when it comes to fitting a bunch of stuff inside of it. The bonus on this one comes from the removable bowl which can detach from the cord, making it double as a serving dish.
It is just as effective on cooking almost anything you can put your mind on. Just expect the non-stick features of it to be pretty easy to scratch. It's also so good with rice that it has a white rice setting directly on there, taking the guesswork out of how long you can cook this.
Some customers have stated that they've had issues with locking the lid on properly. Still, any system can be picky in the right conditions. Given that Sunbeam is a trustworthy company, be sure to reach out to them for any problems. Don't expect too many issues, as their customer service only contributes to the quality of this product.
Despite the bowl being removable, which makes it easier to clean, it is still not dishwasher safe given the tech features. It means you sacrifice one convenient feature for another convenient feature often in multi-cookers. Whatever you prefer, the Sunbeam is another excellent option in New Zealand.
Crock-Pot Express Crock XL Multi-Cooker CPE300
Power 1300 W
Capacity 5.5 L
Weight 9.2 kg
Dimension 37 x 35 x 39.5 cm
Crock-Pot is a brand that I grew up with, so I know about their ability to produce a quality product from personal experience. While I'm not familiar with their multi-cookers, these have just as much quality as anything else they provide. Tests have confirmed this.
It is pretty close to the All-in-one from Philips. It has a 7 L capacity which is excellent for fitting multiple servings; it is the largest among these comparable models. It is excellent for anything from meat to rice, but it doesn't have a specific setting for white rice. It does have two pressure settings.
This model has beaten the safe dishwasher battle as well, meaning that the bowl inside can be put through. It makes it the most accessible model to clean so far, be sure to check the nooks and crannies for catching food, which is a problem with any of these units.
Being a larger model, expect it to be pretty heavy to lug around the place. Once you find the counter space, try and keep it there as much as possible. Regardless of some unintended workouts, this is easily one of the best multi-cookers New Zealand has available.
Cuisinart CPC-610 Pressure Cooker Plus
Power 1000 W
Capacity 6 L
Weight 5.7 kg
Dimension 33 x 33 x 29 cm
Cuisinart is another company that is throughout my household. They do well in this area. The CPC-610 is no exception to this. It has the same pressure settings as one can expect, making it pretty versatile.
When comparing everything else, it is just as good at cooking any food as the other models here. By comparison, the upfront controls are also a bit more user-friendly, making it pretty easy to use. However, it is pretty easy to scratch, given the non-stick coating.
The unit is uncertain on the dishwasher safe front. Still, given that the cord is removable, it is ill-advised to put anything with electronic pieces through a washer.
For cooking, it manages to do so at about the same quality and rate. Provided that you don't mind that you will have to get your hands dirty, it is an incredibly simple model suitable for all levels.
Features You Will Need For Your Multi-cooker
Now that we have our list, we will go through a variety of features you will need. Many of the best multi-cookers on this list will include these features.
Capacity
The Crock-Pot model we reviewed is the clear winner in this area, as it has a claimed capacity of above 7 L. Other models are all around the same area, 6 L. A litre difference isn't going to mean much, but the more food you cook, the more room you will need.
Settings
There are typically four standard settings to use; they all will depend on temperature. Others will have settings related to the type of food to cook, such as the white rice setting we mentioned earlier. Below are a brief description of those settings.
High
This setting cooks the food at a higher temperature. Typically, you will need to stir your food every so often. There is no multi-cooker with auto stirring functionality.
Warm
The warm setting will keep the food at serving temperature for an extended period. However, do not hold this setting for too long, as "serving temperature" does not protect the food from exposure.
Low
Low temperature is slightly higher than warm, providing some level of protection. It is the enclosed version of your "simmer" setting on other cookware.
Auto
Auto settings are for cooking at high for a period until it reaches a pre-programmed period of warm. Parameters related to food are akin to this, like the white rice setting we mentioned earlier.
Pressure Release and Regulator
A pressure release valve is attached to your pressure cooker and allows you to control the amount of steam that is released. A regulator, the advanced version of this, will release steam at a consistent rate that levels out the pressure inside of the cooker.
Because we are in the modern era, each of the models has a pressure release regulator. Refer to the owner's manuals for various details.
Dishwasher Safe
The Crock-pot and Breville models are the only two with advertised dishwasher safe capabilities. But the Breville model isn't recommended to do this given the awkwardness of the parts. Regardless, it is always useful to handwash any of these products every so often to get spots that dishwashers may have missed.
What Can A Multi-Cooker Cook?
A multi-cooker has a substantial amount of versatility in what it can cook. The things you need to avoid are those with sealed containers themselves. Don't try and hard boil an egg in here.
Refer to owner's manuals for details on what you can and cannot cook. For the most part, it works with any diet.
Conclusion
After some hard considerations, the winner of the best multi-cooker is the Crock-Pot Express Crock XL Multi-Cooker CPE300. The versatility of use and ease of cleaning are the two keys that come with this one.
While there are others with greater versatility in other areas, this model did so without adding any additional cleaning concerns. Crock-pot is and has maintained a strong consideration for one of the best kitchen brands in the world. As always, make your purchase based on what you and your family need the most.
I'm a Consumer Review Specialist that loves to gab about the latest in appliances. As a dad, a lot of my energy goes into keeping up with my four-year-old.
I'm one of those people that needs his appliances to work. As a writer, I'd take some of the burden from your hands with my research. You can check me out on copysmith.org if you want to see any of my other work.