We've reviewed a lot of kitchen products on HomeVilla. All of are considered to be from a variety of different "quality measures." Some premium and some economy. Simply put, I'm not sure why Microwaves get a bad rap.
Microwaves are trusty machines that provide you with a quick avenue to defrosting and reheating your stuff. While they aren't appropriate for some things, microwaves still act as your trusty steed through many culinary adventures. For me, a good microwave got me through most of college. For you, we will find the best microwave in NZ that includes a variety of features.
Top 5 Microwaves in NZ
We have chosen from the following five microwaves.
Panasonic NN-ST34HWQPQ
Ariston 30L Microwave Oven with Grill MWA23B
Living & Co 900W 30L Microwave LM900B
Anko 20L Microwave SKU 42681229
LG MS2336DB
Our primary focus will be on its ability to reheat objects evenly and defrost food. Microwaves are excellent, but we will not be judging it using inappropriate cooking tests, such as cooking a raw turkey. We will get into the details below.
Panasonic NN-ST34HWQPQ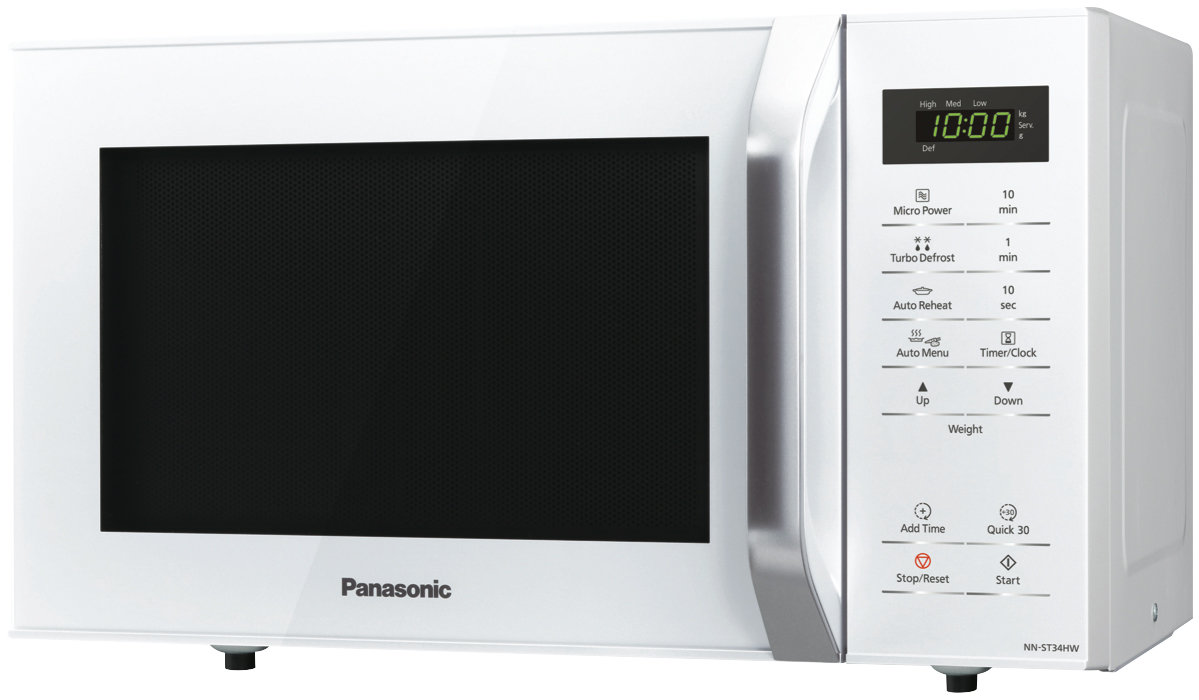 Power 800 W
Capacity 25 L
Weight 12.7 kg
Dimension 287 x 485 x 400 mm
Panasonic is known for jumping into a variety of different tech platforms and excelling at this. This microwave is no different, as it includes auto cook and reheat features we will get into later.
It has other staples to know you are buying a quality microwave:  a quick start and timer, allowing you to see what you are getting into from the beginning. The window tinting on this microwave also makes it hard to see into the unit.
All of the microwaves on this list allow you to adjust the time by pressing a button while it is cooking, typically adding another thirty seconds. It is pretty easy to use with this. Some customers have stated that the door feels a bit stiff, but this feels like an isolated issue.
With five different power settings, it does offer a great deal of versatility. On defrosting meat, it is a bit less capable than reheating meals. Regardless of this, it is a powerful microwave with many different options.
Ariston 30L Microwave Oven with Grill MWA23B
Power 1,850 W
Capacity 30 L
Weight 17.5 kg
Dimension 320 x 490 x 426 mm
The Ariston 30L Microwave Oven adds something a bit unique for microwaves, a grill. While you may have guessed it based on the title of this section, there has to be some cause for dramatic pauses. The extra grill is an exciting addition, but do we need it?
Regardless, it still manages to be incredibly useful at our focus. It is good at reheating food and defrosting chicken. It may be contributed to by the grill function, as it has a grill rack right inside of the microwave.
Unlike other standard microwaves, it doesn't have a turntable. It makes it a bit easier to clean, and it still manages to cook this with relative evenness. It also has the same auto-reheat, auto-cook, timer, and time adjustment during cooking.
With the neat and optional features, the Ariston changes what defines a microwave oven. With this in mind, it is easy to see why this is one of the best microwaves in New Zealand.
Living & Co 900W 30L Microwave LM900B
Power 900 W
Capacity 30 L
Function 6
Dimension 520 x 430 x 327 mm
The Living & CO 900W 30L microwave is a large unit that is great for defrosting food and reheating food. While it is not the most effective on the defrosting front, it still manages to do well enough to give us confidence in this area. It is still much better than most of those on the market.
 Its biggest bonus involves door visibility. You can see the status of your food through the microwave, which most companies don't even consider as a feature. Combine that with a large digital display and a big turntable, and this is a winner on the ease-of-use scale.
Like other microwaves, it has issues with collecting grime in a crack inside of the door. Also, it has auto cook features, but it does not have an auto reheat feature. However, you might see yourself not noticing these features too much.
While it may lack some of the features one may expect, it is easy to use and effectively cooks. These are the two most important features one would need from any microwave, making them a natural selection for this list.
Anko 20L Microwave SKU 42681229
Power 1,200 W
Capacity 20 L
Weight 11.5 kg
Dimension 266 x 452 x 320 mm
The Anko 20L Microwave is an excellent choice for someone happy with a small microwave. The shorter stature makes it easy to clean and comfortable for cooking. It has far fewer issues than other models do with defrosting meat. It is also the only multi-stage option on this list, meaning it can switch between defrosting and cooking through a programmable setting.
While the buttons are incredibly easy to read, there is still a comprehensive list of instructions that come with this microwave. It makes it one of the most simple microwaves one can use. It is also the most cost-effective microwave on this list, making it great for families on a budget.
The 20L model has one problem in the size of the turntable. It makes it hard to place larger objects inside of, which is common when comparing it to the Living & Co microwave. It's for a smaller family.
The display is also somewhat dinky, making you have to look a bit closer than other models. If you have glasses, you might have to lean in depending on your prescription. Regardless, the ease and cost-effectiveness behind this model make it a great option.
LG MS2336DB
Power 1,000 W
Capacity 23 L
Weight 9 kg
Dimension 272 x 476 x 370 mm
As the only inverter microwave on this list, it is one of the few that has placed energy efficiency on the forefront of their agenda. Combined with some other thoughtful features, and LG proves it has what it takes to be one of the best microwaves on this list.
It is the only microwave with a black interior. Not only does it look stylish, but it makes it far easier to clean the interior. Food chunks are much easier to see against a black background.
It also includes many of the other premium features we have mentioned: auto-reheat and auto-cook. The quick-start function has also returned; you can also adjust the time while it is in the middle of the process.
It has about the same capacity as the Anko, but it manages to feel a bit roomier in the middle. They have also removed the smaller display, which is a big bonus to those who have struggling eyes.  It is an excellent microwave with some fantastic features, making it a premium option on this list.
Features You Need To Give You The Best Microwave
While there are a couple of optional features, many of these are necessary to have a standard microwave these days. Standards are always upgrading, so its best to keep an eye on things as the technology improves.
Auto-cook and reheat
This feature is an automatic programmable option that changes depending on the object you are microwaving. Commonly you see settings for popcorn, potatoes, or bacon. Auto-reheat is in the same vein, only specific to reheating things. All microwaves come with these features to some capacity.
Quick start
Quickstart allows you to hit the start button and add 30 seconds to the timer, regardless of it being on. It starts the microwave under standard settings with a quickness. Meaning if you know you are going to need a minute, it requires two button presses instead of many.
Adjust Time During Cooking
The prior setting bleeds into this setting. If you hit additional buttons during the process, they typically add another thirty seconds onto the current timer. The Living & Co model is the only option that does not have this available.
Energy Efficiency
Below is a list of microwaves including their running costs per year.
Panasonic NN-ST34HWQPQ: $9
Ariston 30L Microwave Oven with Grill MWA23B: $12
Living & Co 900W 30L Microwave LM900B: $10
Anko 20L Microwave SKU 42681229: $8
LG MS2336DB: $11
As you can see, all of these are reasonably close. The reason we put as much emphasis on this section is because of LG being an inverter microwave.
What is An Inverter Microwave?
Inverter microwaves are said to have two advantages: they save more energy overall and cook evenly. On the energy side of things, we can see that the differences are reasonably insignificant. It is good to save money. A dollar over a year isn't going to break the bank.
On the other half of their claim, it is hard to say. LG is one of the best on our list. We wouldn't state it is so far ahead of the competition that it makes a significant difference.
Multi-stage
The Anko is the only microwave on this list with this option. After defrosting, this multi-stage process switches to cooking automatically. The risk is that the microwave has no way to tell whether or not it is appropriate to switch over. This feature is a bit "hit and miss," but it is an excellent option in the Anko given you can see through the window.
Grill
A grill, which is only with the Ariston model we reviewed, is a neat optional feature we are seeing with more microwaves these days. It is nice because they commonly mean that there is no turntable, making for quicker cleaning. But it is purely optional.
Conclusion
After a thorough review, our best microwave in NZ is the Anko 20L Microwave SKU 42681229. The reason for this is related to a combination of cooking- and cost-effectiveness. It manages to stay on par, and exceed, many of these models despite having half the cost—all without losing many features. While it is true that the LG wins the overall quality of cooking, the difference is not so staggering that it outruns other features. With this in mind, our vote may not be your vote, so choose the one that appeals most to you. But the Anko 20L Microwave wins our choice for the best microwave of NZ.
I'm a Consumer Review Specialist that loves to gab about the latest in appliances. As a dad, a lot of my energy goes into keeping up with my four-year-old.
I'm one of those people that needs his appliances to work. As a writer, I'd take some of the burden from your hands with my research. You can check me out on copysmith.org if you want to see any of my other work.