The first time I got my hands on a kitchen mixer, we got one of those benchtop models. With the older models, they tend to go for a bit longer than you may want. I remember having to clean cake batter off of the wall.
When I wasn't doing that, I was slowly learning how to handle and choose my mixer correctly. Today, I wish to pass some of that knowledge down to you. Whether you are new to the world of kitchen mixers or need some help on a new one, here is our list of considerations for the best kitchen mixer NZ has to offer.
Top Five Kitchen Mixers in NZ
We have chosen five different mixers that will not get cake batter on your wall if you use them properly.
Bodum Bistro 11520
Breville the Scraper Mixer BEM430
Kambrook KHM10
KitchenAid Artisan Hand Mixer KHM926
Breville The Bakery Boss BEM823
As always, we will be rating them on their most important feature: mixing ability. There will be other concerns based on whether or not they are a hand mixer of a benchtop mixer as well. These are mostly related to issues of ease of use.
Bodum Bistro 11520
Power 200 W
Cord length 47.24 in
Speed 5
Dimension 97 x 153 x 208 mm
Bodum Bistro is a newcomer to our top lists, but the one thing they excel at is here. While the 11520 doesn't have a crazy name,  this hand mixer does what it needs to do to help you cook the best pastries.
Its stark black colours do well to highlight the red buttons on the top. It makes the controls easy to use and easy to recognize. Simplicity is vital in this model, which limits it from having a pulse setting or a turbo setting.
The attachments that do come with it are easy to insert and easy to remove. It does come with a dough hook and a whisk, which are two standard attachments with quality hand mixers. Those attachments are dishwasher safe.
Its painful feature is the power cord. While it makes for a sleek device, the power cord is retractable. That means that you will have to rip it out fairly often, which may not be pleasant for some people. Regardless of this minor inconvenience, it is still one of the best food mixers around.
Breville the Scraper Mixer BEM430
Power 900 W
Speed 6
Capacity 4.7 L
Dimension 36 x 22.6 x 35 cm
The Breville Scraper Mixer is something that I could have used back in that original story. It is our first benchtop mixer, which means that it is a powerful device. It would generally have the ability to paint your wall cream, but it comes with a splashguard.
Like the Bodum Bistro model, it mixes eggs and batters with a great deal of ease. The controls may not have the same high contrast as the 11520, but they are pretty easy to spot.
The speed settings available on this are for simplicity. You will be able to see that those settings align with specific purposes. For example, whisking eggs is a different speed than mixing cake batter.
The bowl is dishwasher safe and is 4.7 L, which is pretty significant. It makes it difficult to fit into the sink, and it takes up a lot of washer space. The shield can also get in the way, same as the small base which can wobble around a bit during use. Despite some of these minor headaches, it is excellent at mixing large projects.
Kambrook KHM10
Power 250 W
Weight 0.9 kg
Speed 5
Dimension 20 x 9 x 16 cm
Going back to hand mixers is the Kambrook KHM10. The model may not have the black or silver that comes with the Scraper Mixer, but it does have a white finish that is easy on the eyes.
Much like any of these models, it is excellent and mushing down both cake batter and eggs. It does what it needs to do. The controls are a bit more tricky given the extra buttons, but it is still pretty simple to handle.
Unlike the Bodum Bistro model we just reviewed, this one has a turbo option for heavy-duty mixing. However, it does not have a pulse option, which makes it on par with the same model.
The biggest problem I had with this is the lack of safe dishwasher parts. None of the attachments can go through, and it does not have a whisk or dough hooks. It justifies this lack of features by being cost-effective, which makes it great for people who are looking for high-quality mixing on a budget.
KitchenAid Artisan Hand Mixer KHM926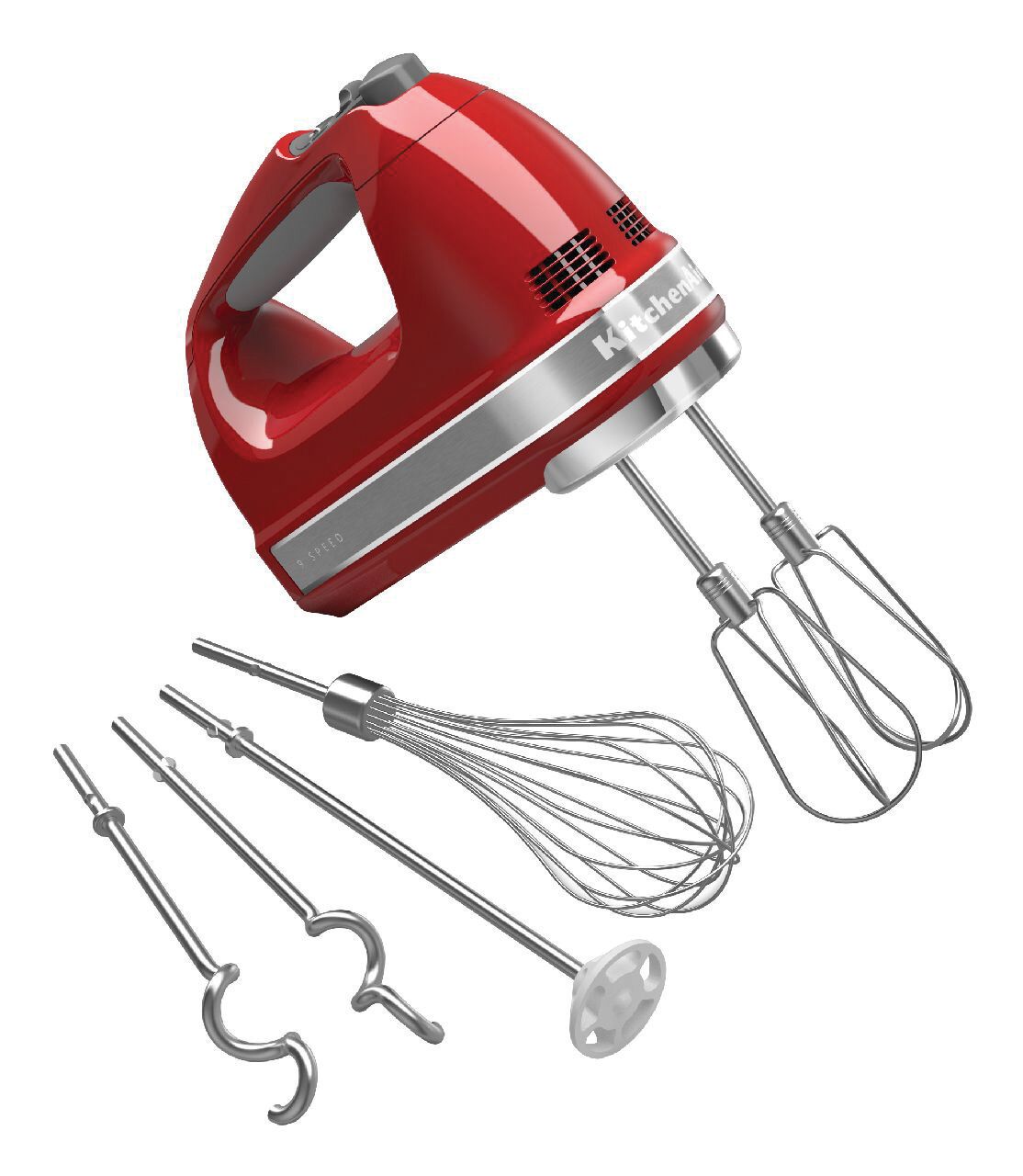 Power 85 W
Weight 2 kg
Speed 9
Dimension 15.3 x 8.9 x 20.1 cm
KitchenAid makes some of the most reliable kitchen products on the market. The Artisan Hand Mixer is no exception to that rule; it meets many of the high-quality product requirements in mixing.
The controls are pretty easy to use on a quick comparison; the on and off switch is separate from the other device controls. This feature reduces the number of accidental shutoffs. The grip is even noticeably more comfortable than may comparable models.
It comes with dough hooks, a whisk attachment, and a liquid-blender rod. All of these are everything you need and more. They are easy to insert, but a bit harder to remove when compared with other options. It does have a storage bag, which makes it easy to find for later use.  These attachments are also dishwasher safe.
You can get little chunks of egg and batter in hidden crevices, so it is a bit tricky to clean at times. Regardless, the thoughtfulness behind this item is astounding. Given everything they have put into this product, it holds a deserved spot on this list.
Breville The Bakery Boss BEM823
Power 1,200 W
Capacity 4.7 L
Speed 12
Dimension 363 x 377 x 290 mm
Breville is a company that has cornered the market on benchtop kitchen mixers. The Bakery Boss does live up to its name. It blends things with an incredibly high amount of ease. You won't have to worry about lumpy batter with this one.
It is another example of very thoughtful design. Much like the other Breville model, the bowl is a 4.7 L capacity that connects to a small base. The controls are easy to use and read, and the speeds are graded based on purpose. Many of the attachments, including the bowl, are dishwasher safe.
There is a digital timer built right onto this device. It counts up to let you know how long you have been mixing. There is a light that shines into the bowl while it is operating, making for easy viewing. It also has a splashguard.
While it might suffer from many of the same issues as the other Breville model, both are excellent options that mix with the best of them. While they both could use an eject button for the beater, they are still unique options that are among the best mixers.
Features You Need For The Best Kitchen Mixer for You
Now that we have a list of mixers to choose from, it is essential to know what each feature and attachment does. We will go into the details on those features below.
Whisk
A whisk is for beating eggs into a light, fluffy texture. It is perfect for using air and rapid movements to your advantage, only to add them to various pastries later. The Kambrook and KitchenAid products are the only two that do not come with a whisk.
Dough Hooks
Dough hooks are attachments to your mixers that are for kneading dough. It typically has a corkscrew shape that is best for kneading thicker doughs, such as pizza dough. The Kambrook model is the only one that does not come with dough hooks.
Pulse Feature
A pulse setting on a mixer is the same as a pulse setting on a blender. It allows you to control exactly when you start and stop mixing with the press and release of a button. None of these mixers come with this, as you would simply turn off the mixer.
Bowl Lock
A bowl lock only comes with benchtop mixers. It prevents the bowl from moving during heavy mixing periods. Both Breville models have bowl locks included with their containers. The two also have safe dishwasher bowls, which is vital for convenience.
Turbo Option
The turbo setting on your mixer will override any speed setting you have currently set. Instead, it gives it a temporary burst of power, which is great for getting stubborn lumps out of your light batters. The Kambrook model is the only mixer that has this.
Different Types of Kitchen Mixers
There are two significant types of kitchen mixers we featured on this review. We will get into the advantages and disadvantages of each below.
Benchtop Kitchen Mixers
Benchtop mixers are those who have a base for your bowl. Everything is pre-built, making it a very static object. It isn't portable, but it is more powerful than almost any hand mixers. In the modern world, it is also mostly hands-free. But they tend to be far more expensive.
Hand Mixers
Hand mixers combine portability and cost-effectiveness in an excellent package. While they aren't as potent as benchtop kitchen mixers, they do most mixing tasks that a standard household would need. Just don't expect it to mix the heavier dough, such as pizza dough.
Conclusion
With our review complete, it is clear that the best mixer is the KitchenAid Artisan Hand Mixer KHM926. While it doesn't come with an attached bowl and doesn't have the stability of a countertop, the extra features and mobility make it a natural choice. Hand mixers also tend to have greater flexibility.
Whether you are mixing a batch of cookies or an entire cake, this mixer will be able to handle anything you throw at it. But if you have a preference for benchtop mixers, it is easy to see why their power would be appealing. As always, choose the best option for your needs. Our vote for the best kitchen mixer remains as the KitchenAid Artisan Hand Mixer.
I'm a Consumer Review Specialist that loves to gab about the latest in appliances. As a dad, a lot of my energy goes into keeping up with my four-year-old.
I'm one of those people that needs his appliances to work. As a writer, I'd take some of the burden from your hands with my research. You can check me out on copysmith.org if you want to see any of my other work.