A few friends of mine have talked about not using a kettle over the past few years. They always think that there is no point in having one. At this point, I have taken it on as a sworn duty to educate them on how excellent kettles are.
Whether you're a fan of tea, coffee, or any hot beverage, a kettle is perfect for this use. If you are on this list, you probably already know how great they are. Either way, it is our quest to find the best kettle NZ has available.
The Top Five Kettles in NZ
We will be going through five different kettles on this list. Each of them has a litany of excellent features.
Russell Hobbs Lunar Kettle RHK62
Sunbeam New York Collection Pot Kettle KE4410
Dualit Classic Cordless D7
KitchenAid Artisan KEK1835
Russell Hobbs Brooklyn Kettle RHK92COP
The highest marks on this review will go to the kettle that is the easiest to use. There will be additional points to those who aren't too noisy, hold more capacity, and have a balanced weight.
Russell Hobbs Lunar Kettle RHK62
Power 2400 W
Capacity 1.7 L
Weight 0.89 kg
Cord length 64 cm
The Russell Hobbs Lunar Kettle doesn't seem to have much to do with the moon. Regardless of the confusing name, it is still a fantastic kettle that is a good start to this list. It has simple controls that are limited to a button that boils the water.
It has almost 2 L of capacity, which boils in just over three minutes. It isn't too heavy and is pretty balanced, making for a smooth pour of the jug. The push-button lid up top also makes for easy filling.
It has limited steam and an indicator light that is hard to miss. All of this is in a reasonably quiet noise level, meaning you could feasibly brew a cup of anything while your family is asleep.
Its biggest problem comes from the indicator on the side. If you need something that has a specific water level, it is hard to see that level when it is not on. When it is on, that means that the kettle is already boiling. It is a bit of a headache, but not enough to knock it off the top of this list.
Russell Hobbs Brooklyn Kettle RHK92COP
Power 2000 – 2400 W
Capacity 1.7 L
Weight 1.1 kg
Dimension 22.6 x 20.2 x 23.8 cm
We begin where we end with another product from Russell Hobbs. This one is another one that takes inspiration from its US-based name with the Brooklyn Kettle. For those of you who are unfamiliar, Brooklyn is a location that is part of the state of New York.
Regardless of where the name comes from, this is still a high-quality product. It is a bit lighter than most of our models, but about on par with any of them. It has a 1.7 L capacity that boils in just around three minutes.
It is easy to pour and has easy-to-use controls, meaning that it is approachable by anyone. It boils things at a pretty good rate and doesn't steam up the place while you are using it. It is also just as quiet as any of the other models on our list.
One of the reasons I would choose this one is due to its clear water-level indicator and its unique design. It has three different colour tones on its stainless-steel body. It is a unique and robust model that competes with anything on this list.
Sunbeam New York Collection Pot Kettle KE4410
Power 2,400 W
Capacity 1.5 L
Weight 2.01 kg
Cord length 0.9 m
The Sunbeam New York Collection Pot Kettle is what you would call a "classically designed kettle." You can tell this because of its natural shape, which resembles a classic over-the-stove kettle. Regardless of the vintage look, the performance is purely modern.
At 1.5 L of capacity, it isn't quite as roomy as the Lunar Kettle, but it still holds most of what you may need. It boils in just around the same time. The water-level indicator is easy to see regardless of it being on or off.
It is a little bit heavier, but the design makes sure that the weight doesn't matter too much. It is just as easy to use on the control side of things as well.
Its also a bit quieter when compared to the Lunar Kettle. There is little chance of a high amount of steam releasing into the air. The performance of this kettle is top-notch across the board. Overall, a classy pot that makes me think of old times with a modern twist. This combination makes it an easy contender for the best kettle in New Zealand.
Dualit Classic Cordless D7
Power 3,000 W
Capacity 1.7 L
Weight 1.61 kg
Dimension 154 x 281 x 235 mm
The Dualit Classic Cordless D7 is another classic kettle design with a modern twist. This twist comes with a cordless model, which is a bit unique and convenient in the kettle world.
The size is comparable to the Lunar kettle, making it a bit bigger than the Sunbeam model. It also boils in just over three minutes. Given that everything is self-contained, it has the most weight among the two we have reviewed.
Given that this is a premium model, it is much quieter than most kettles you can buy.  It performs well under pressure, so it boils all liquids pretty well. It pours and fills pretty quickly, and the controls are easy to manage.
 I would say that this kettle is great for those looking for a premium product. While it is a bit heavier, it is not so much that it is hard to lift. It is an excellent kettle for those who like the freedom of the cordless lifestyle.
KitchenAid Artisan KEK1835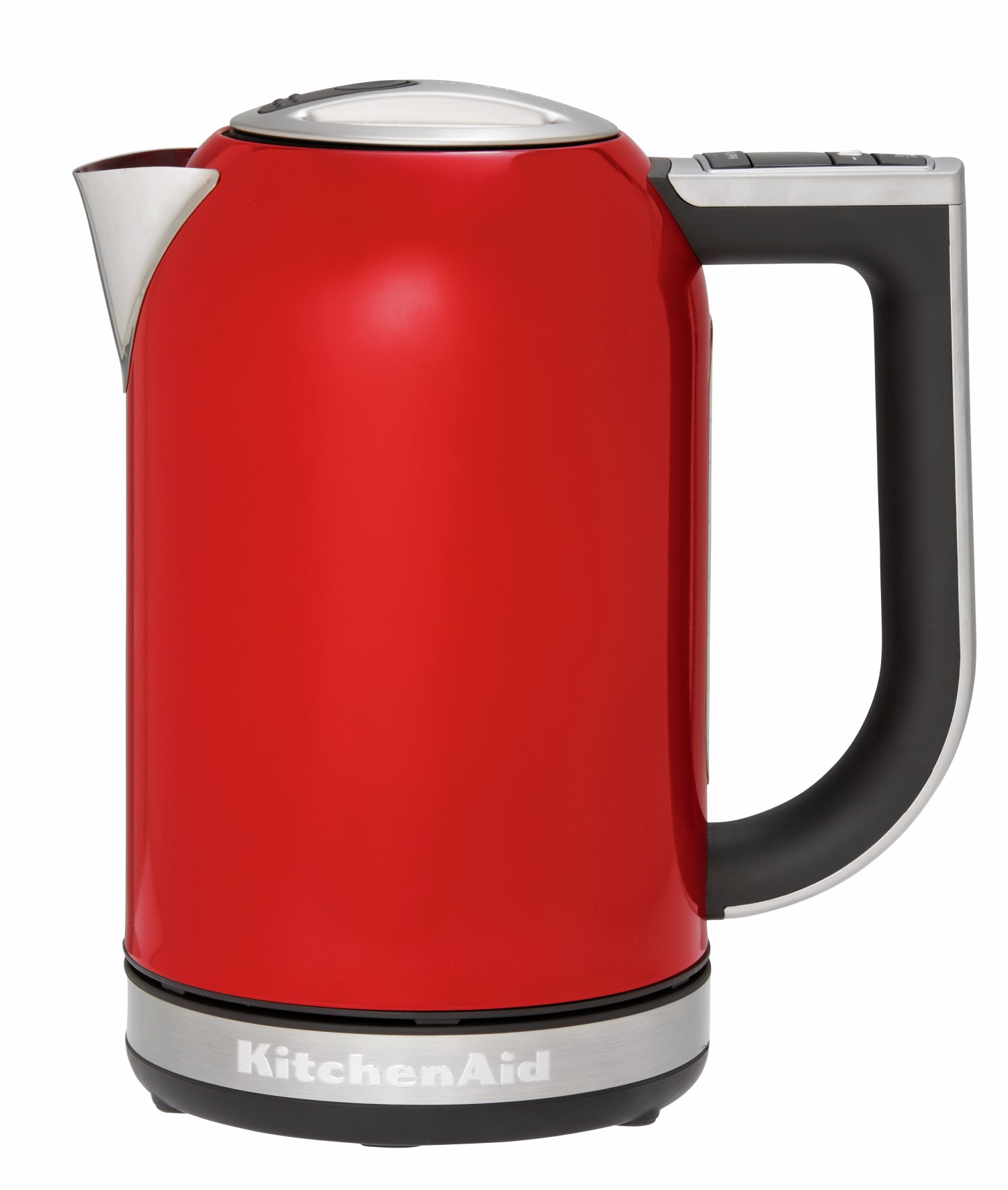 Power 2400 W
Capacity 1.7 L
Weight 1.8 kg
30-minute hold temperature feature
Given everything we've gone through, it is easy to see what makes the best kettles on the market. However, the KitchenAid is keenly aware of its audience wanting a little extra.
It is worth noting that it still has many of the same functions. It has a 1.7 L capacity that heats in just over three minutes of your time. It is quiet, has easy-to-use controls, and doesn't steam up the place. It is also easy to pour, but two things make this kettle unique.
First, this pot has a keep-warm function. That means if you forget about the kettle a bit longer than you may want to, you won't have to restart it again to get back to that "boiled water" level.
Second, when the water finishes its boiling process, it has an audible completion tone to remind you that you are boiling something. It eliminates one of the essential features of getting in a quiet, morning brew, which involves staying quiet.  So this feature is a hit or a miss depending upon your morning preferences.
Features of the Best Kettle for You
With our list out of the way, we will go through a few features that make these kettles great. Each of these features is best for their situations. All of the pots come with most, if not all, of these features.
Boil Time
The boil time will dictate how fast you can get to your tea, instant coffee, or hot cocoa. All of these kettles have the same boil time of just above three minutes. None of them outperforms the other in this area.
Capacity of Kettle
All of the kettles have a capacity of 1.5 to 1.7 L. Given how close all of these kettles are in this category. It is entirely hard to choose a winner when there is a minuscule .2 L difference. Try not to get hung up on this category.
Safety Features
After the boil time of three minutes is finished, all of these models will typically turn off. It is the only notable safety feature that comes with most modern kettles. All of these jugs are heavier and wide-bottomed, meaning that they are naturally resistant to tilting over.
Others will state that plastic models are superior because they do not burn you quite as quickly as stainless steel. However, plastic models are lightweight and easy to tip over. I prefer steel for that purpose.
Corded and Cordless Models
The only cordless model on this list is the Dualit Classic. Unless you plan on taking your kettle with you to the office, a cordless model is not necessary. You may also have limited plug-in space, so base this decision upon your personal preference.
Water Level View
The Lunar Kettle is the only model that has any sort of problem with the water level view. All of the other kettles are pretty clear on this front. A water-level look comes through a clear section with measurements on the side.
Conclusion
After careful consideration, the KitchenAid Artisan KEK1835 is the best kettle NZ has available. The reason for this is related to the two unique features that it has with this model. These include the audible beep when the kettle finishes and the keep-warm function.
If you have second thoughts, that is entirely normal. Many of these kettles were incredibly similar, so picking just one as the best was incredibly tricky. While our favourite may be the KitchenAid, also choose your preference based on you and your family's needs.
I'm a Consumer Review Specialist that loves to gab about the latest in appliances. As a dad, a lot of my energy goes into keeping up with my four-year-old.
I'm one of those people that needs his appliances to work. As a writer, I'd take some of the burden from your hands with my research. You can check me out on copysmith.org if you want to see any of my other work.