There is a long list of powerful juicers on the market. As someone who has a girlfriend who likes to eat her orange in her juice, a juicer has been an excellent addition. For you, you might prefer to drink your carrot. But how do you pick a juicer that works for you?
Blending a carrot is a lot more complicated than blending an orange. If you pick the wrong juicer, you might discover that the hard way. If you want to avoid the hard way, here is our list considering the best juicer NZ has to offer.
The Top Five Juicers NZ has for 2020
Below are the top five juicers in New Zealand.
Breville The Juice Fountain
Anko Juicer Large XJ-14416 42321026
Kuvings C7000
Kogan KA12SLWJCRA Cold Press Slow Juicer

Hurom H34 One Stop
As you might expect, our review will mostly come from the juicer's ability to handle a variety of different objects. These can include a mixture of vegetables. We will also be concerned with ease of use and safety features.
Breville The Juice Fountain Cold XL BJE830
Power 1,500 W
Chute size 8.8 cm
Number of speed 3
Dimension 540 x 290 x 510 mm
The Breville Juice Fountain Cold XL BJE830 is our next option on the list. Breville is a company that frequents our appliance lists, and this juicer is no different. Its power means it can handle any kind of juice you can think of, even carrot juice.
It is also just as easy to disassemble and clean in the sink. It comes with a cleaning brush, which means that it is not machine washable. But its mess prevention will also include a juice lid and nozzle, meaning you can direct the flow with great ease.
The juice capacity is also the greatest of all the juicers we have reviewed at 2000 ml. It makes it an excellent option for entire families of people who like fresh juice.  As a centrifugal juicer, it only takes around 30 seconds to blend most projects.
It has three different speeds to choose from and an impressive three-year warranty, which is still not as good as the C7000's warranty. The spout can also trap juice in it occasionally, making it have a fair chance to malfunction or make a mess. Regardless, it is a premium juicer that is great for large households.
Anko Juicer Large XJ-14416 42321026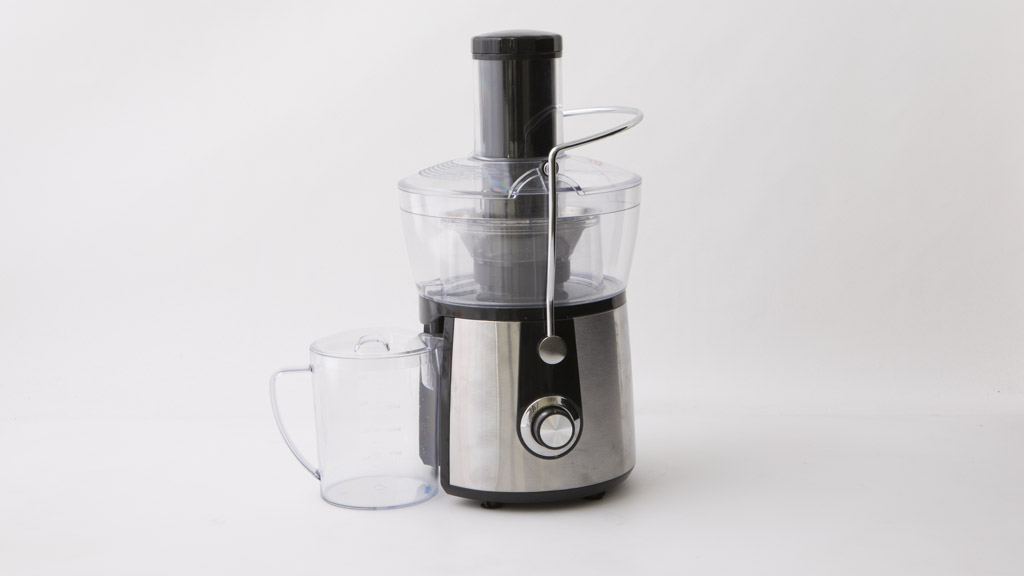 Capacity 800 ml
Number of speed 2
Weight 4 kg
Dimension 42 x29 x 24 cm
The Anko Juicer is simplicity incarnate, as its incredibly large chute for you to fit many items down it. This chute makes it great for bigger fruits and vegetables.  The sharp blade also means that it is pretty solid with a variety of food, including carrots.
It does not come with a cleaning brush, but many of its parts are easily dishwasher safe. Just be sure to check the instructions for if it is primarily for the locations of items on the top or bottom rack.
Commonly, this thing can get your juice in just under a minute. It also has an 800 ml capacity and a pulp container inside of the device. As a result, large amounts of juice may require mid-juicing cleanings, allowing time for the liquid to drip from the spout.
 Anko is also known for making very cost-effective items. As a result, this unit can be a bit underwhelming for people who are looking for advanced models. But if you are looking for a juicer that gets the job down, Anko has you covered.
Kuvings C7000
Power 240 W
Weight 6.9 kg
Capacity 1000 ml
Dimension 446 x 208 x 228 mm
The Kuvings C7000 is on the other end of the spectrum when compared to the Anko Juicer. This juicer is a high-end premium item that has a great deal of versatility and power. Surprisingly though, it is a bit weaker than the Anko when juicing carrots.
The juice capacity is 1000 ml. The pulp container is on the outside, making this much easier to clean. In unfortunate situations, the pulp can clog the filter. The Anko does not come with a screen, so this is a step up regardless of a minor inconvenience.
The device is not machine washable, but it does have small parts that clean easily in the sink. It also comes with cleaning brushes, which is a nice optional feature. Given the more complicated item, it does take smaller hands to and more effort to take apart.
If you are concerned about messes, this one also has a small lid that contains the juice from dripping. The chute is also more than big enough for any project you tackle. This premium item is an excellent choice for the smoothie lovers of your household.
Kogan KA12SLWJCRA Cold Press Slow Juicer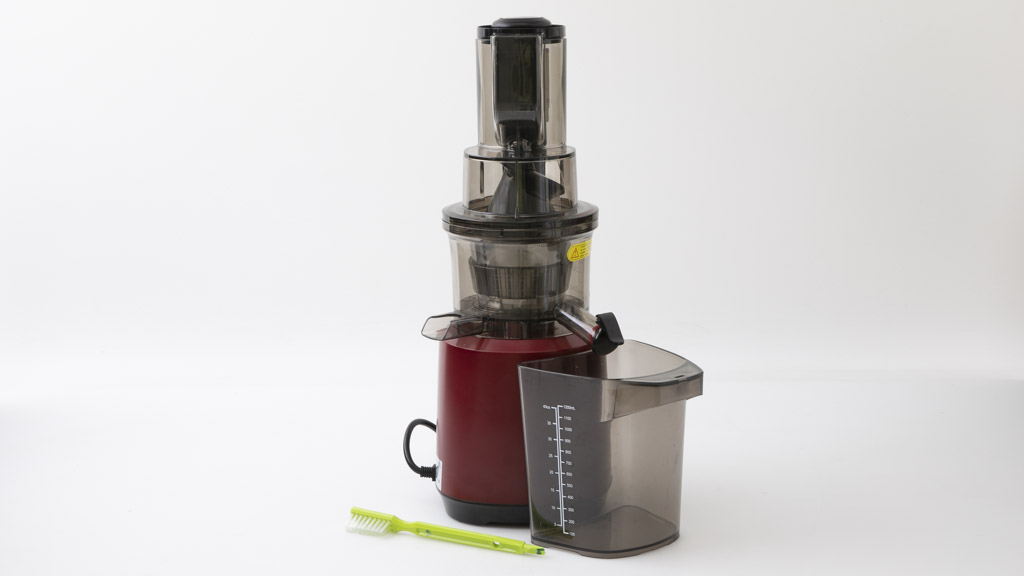 Power 240 W
Weight 3.5 kg
Speed 60 RPM
Dimension 45 x 19 x 17 cm
The Kogan returns to a cost-effective unit that does what it claims to do. It is our second cold press juicer alongside the C7000, which is a topic we will get into in the features section. It manages to compete with the C7000 regardless of the different markets.
The Cold Press Slow Juicer's biggest annoyance comes from the lack of a juicing jug. You will have to bring your jar to the table, which may not be a big deal for most people.
This model is also not dishwasher safe. Instead, it sticks with sending you home with some cleaning brushes that are for manually cleaning the model. It is a bit easier to disassemble than the Kuvings model but is a bit more clunky for sink-based washing.
It is excellent at juicing any juice you can think of, but it does not do as well with carrot juice. The pulp container is outside of the unit, and It takes just around three minutes to finish your drink. As long as you bring the jug, the Kogan Cold Press Slow Juicer brings the beverage.
Hurom H34 One Stop
Volts 220-240 V
Weight 6.5 kg
Capacity 900 ml
Dimension 43 x 15 x 31 cm
The One Stop is a bold name for any kitchen device. Is this the one-stop spot for all of your juicing needs? We will answer that question a little later, but no mistaking that the Hurom H34 is a beast among juicers.
It stands toe-to-toe with the Breville Juice Fountain when it comes to the quality of juice. It even handles carrot juice with great ability. The top of this model has a fruit and vegetable hopper, meaning you do not have to press down your food manually. However, this means that you will have to cut your vegetables and fruit to get them to fit into the hopper.
It is not dishwasher safe, but it does come with a cleaning brush so you can handle the manual work. It also has a lid that prevents juice from escaping the spout.
The blade is not easy to access, which is a great safety feature. But that means that greens (like kale) can get spun around the blade. The design is also not perfect, as residue can build up around the interior pretty quickly. The Hurom H34 is one of the best juicers in New Zealand.
Features of the Best Juicers
Now that we have our list out of the way, we can start looking into the best features. These will help you pick out the best juicer for your family.
Speed Variance
Each of these blenders offers a variety of settings that you can use to change the speed. Some of them, which include the Hurom, Kogan, and Kuvings models, also includes a reverse function. The Anko has two different rates, while the Breville model has three.
Dishwasher Safe Parts
Dishwasher safe parts are not very useful for blending, but they are a great convenience item. If you do not want to spend so much time cleaning your unit manually, this should be on your list. The Breville and Anko are the only two that have smaller dishwasher-safe parts.
Capacity of Jug
The more room your jug has, the more juice you can make. The only item that does not come with a jar is the Kogan model. The remaining models have varying sizes that we will list below.
Anko Juicer Large XJ-14416 42321026: 800 ml
Kuvings C7000: 1000 ml
Breville The Juice Fountain Cold XL BJE830: 2000 ml
Hurom H34 One Stop: 900 ml
The Breville Juice Fountain is the only juicer that has a more massive jug. If you have an entire family of people who like fresh juice, get the larger models.
Pulp Container
Pulp containers come in both internal and external forms. Internal forms tend to be a little less messy, but they are harder to clean. Outer pulp containers are more comfortable to get to and clean but do have a higher chance of making a mess. The Anko and Hurom models are the only two with internal pulp containers.
What Are Different Kinds of Juicers?
There are two major categories of juicers you may consider: centrifugal and cold press. We will go through the advantages and disadvantages of each below.
Centrifugal Juicers
Centrifugal juicers are loud, fast, and have larger chutes that can handle getting you juice at a high rate. They are also most likely dishwasher safe, but they are typically too bulky to put the entire thing in the sink. They are also incredibly noisy.
Cold-Press Juicers
Cold-press juicers are slower than centrifugal juicers. They also have smaller parts that are easier to hand wash in the sink. Their speed also allows them to for other projects, like baby food and coffee beans. Given the advanced features, they tend to be more expensive. They also take smaller chunks of fruit, which sometimes requires you to cut down the vegetables or fruit.
Conclusion
After careful consideration, our choice for the best juicer NZ has available is the Breville The Juice Fountain Cold XL BJE830. It combines the ease of use features behind the more inexpensive juicers and the premium features at a very reasonable cost.
This juicer can also handle carrot juice, which is an impressive feat by itself. Despite it being a cold-press juicer, it is not too slow. These features are why this is the best juicer based on our consideration.
I'm a Consumer Review Specialist that loves to gab about the latest in appliances. As a dad, a lot of my energy goes into keeping up with my four-year-old.
I'm one of those people that needs his appliances to work. As a writer, I'd take some of the burden from your hands with my research. You can check me out on copysmith.org if you want to see any of my other work.