I remember a few years ago where my entire family and I got sick. The fever just kept moving between each of us, and it was a miserable experience that required a deep clean when we were all done with it. We were just lucky we had invested in a great thermometer, which gave us consistent readings across four different heads.
If you have a poor thermometer, you've probably seen as the readings vary by two to five degrees between each scan. It can be the case even if scanning the same head. To avoid this headache for your family, here is our list of considerations for the best infrared thermometer in NZ.
The Top 5 Infrared Thermometers in NZ for 2020
As is typical of our lists, we have selected five available monitors in NZ.
Oricom Non-contact Infrared Thermometer HFS1000
Nuk Infrared Flash Thermometer 10.256.380
Braun Thermoscan 5 Infrared Ear Thermometer IRT6030
Oricom Infrared Forehead Thermometer NFS100/SCT100
Cherub Baby 4 in 1 Ear & Forehead Infrared Thermometer V2 CHTH001
Our primary grade will come from the consistency of readings. There will be high marks for ease-of-use and non-contact thermometers. In all cases, we are looking for a complete package.
Oricom Non-contact Infrared Thermometer HFS1000

Power 2 AA Batteries
Stores up to 32 recorded temperatures
Temperature detection 2 sec
Color coded reading 22-37.3oC 37.4-37.9oC 38-42.5oC
As someone who doesn't get sick too often, I remember having to look up the temperature you need to have a fever. The Oricom Non-contact Infrared Thermometer changes that need, as it provides you with a built-in fever alert.
The extra dose of confidence is a winner in my book, but we will find that many modern thermometers have this feature. Oricom further sets itself as a premium item with storage for up to 32 readings. If your doctor is looking for a history of your scans, you can have them readily at hand.
It has an extensive and backlit display, meaning it is easy to read in all light levels. It also allows for non-contact readings, meaning it prevents the spread of germs. It is also consistent across multiple tests of the thermometer. It is an excellent start for the best infrared thermometers in New Zealand.
Nuk Infrared Flash Thermometer 10.256.380
Power 1 CR2032 ION
Memory (25 entries)
Forehead mode +34,0~42,2 °C (93,2~108,0 °F)
Surface mode -22,0~80,0 °C (-7,6~176,0 °F)
The Nuk Infrared Flash Thermometer 10.256.380 is one of the more cost-effective items on our list. It has this cost-effectiveness with many of the same features we have mentioned thus far.
Its memory will store up to 25 past readings. It provides you with a series of beeps to indicate it has found someone with a fever. It has a backlit display and beeps upon completion. However, it does require you to touch the forehead of the one you are reading.
The most crucial piece comes back to accuracy. It is just as accurate as the Oricom model when comparing readings. It stays consistent across the board. Overall, there isn't anything wrong to point out here.
Braun Thermoscan 5 Infrared Ear Thermometer IRT6030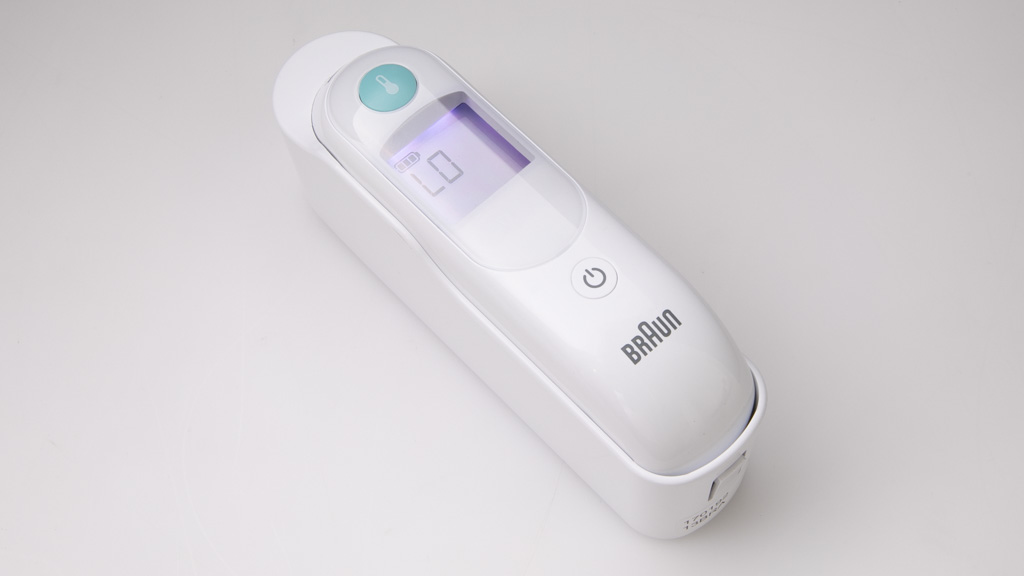 Power 2 AA Batteries
Weight 115.5 g
Temperature range 34.0 to 42.2 °C
Dimension 145 x 35 x 40 mm
The Braun Thermoscan 5 Infrared Ear Thermometer IRT6030 is on this list primarily due to quick readings and accuracy. Ear-in thermometers stick around because of their focus on being right almost all of the time. This monitor is no different.
When it comes to in-ear thermometers, there is still some chance of transmitting disease between people. To address this, you can purchase replacement lenses, which can add up over time. There is also no fever alert, which isn't a significant loss.
It still has a satisfying beep when you finish scanning. It has a dominant backlit display that is easy to read. It also has a protective cover for the batteries. If you are seeking something that is pure accuracy and consistency, Braun is an excellent place to be.
Oricom Infrared Forehead Thermometer NFS100/SCT100
Power 1 CR2032 ION
Weight 60 g
Temperature range 20(68.4) ~ 42.2oC (108.0oF)
Dimension 33 X 42 X 143 mm
Oricom has created some high-quality monitors, which is why you see two on this list. The Oricom Infrared Forehead Thermometer NFS100/SCT100 is no different. The significant difference between our other Oricome comes from the lack of no-contact display.
It also does not have a fever alert. It has traded many of these convenience features for an inexpensive model. It is the most cost-effective model available on this list.  It even keeps storage of up to eight readings.
It has an easy-to-read backlit display and beeps when you scanning is complete. It also has a protective cover for the device to prevent damage to the batteries. It may be simple, but simplicity and accuracy are precisely what you need in most thermometers.
Cherub Baby 4 in 1 Ear & Forehead Infrared Thermometer V2 CHTH001
Power 2 AAA Batteries
Accuracy +/-0.2 degrees C (+/-0.4 degrees F)
Weight 55 g
Dimension 163.0 x 40.5 x 28.5 mm
The Cherub Baby 4 in 1 Ear & Forehead Infrared Thermometer V2 CHTH001 is a mouthful to say out loud. Still, it is one of the more detailed and versatile models on this list. A four in one allows it to switch between forehead to ear easily.
Also, it returns many of the more premium features we have discussed. The memory is back to 32 total storage areas, which is excellent for parents who like to track their child's improving condition.
The fever indicator has also made a strong return, as the screen will change colour if it finds a fever. It will also give you a satisfying beep upon completion.
Its biggest issue comes from it being a bit inconsistent on scanning. But regardless, it is still a reliable and premium item that does what it advertises.
Features You Need For The Best Infrared Thermometer
When looking for thermometers, the features you need will depend upon your preferences. Each of these is a robust selection in the accuracy department. Below are some other features that may help you.
Fever Indicator
A fever indicator will tell us when a temperature has reached the fever range. Typically, this is 38 degree Celsius or higher. The Braun model and the Oricom NFS100 are the only two on this list that lacks this feature.
Non-contact Scanner
The Oricom Non-contact Infrared Thermometer HFS1000 is the only thermometer on this list that offers a non-contact option. Given that they tend to bring up the cost a bit, many thermostats do not have this feature. However, it can prevent the spread of germs.
Backlit Display
All of the models we review include an ample backlit display. This display allows for easy reading in multiple levels of light. It helps whether it is dark or sunny.
Noise Upon Completion
Most thermometers beep when they finish reading. All of the ones on this list fit that category. It allows you to know when to remove the thermostat from its scanning point, so you are not wasting time.
Memory
Technically, all of the models we reviewed on this list have some form of memory. Some have more storage points than others. Below is a comparison between our reviewed models.
Oricom Non-contact Infrared Thermometer HFS1000: 32
Nuk Infrared Flash Thermometer 10.256.380: 25
Braun Thermoscan 5 Infrared Ear Thermometer IRT6030: 1
Oricom Infrared Forehead Thermometer NFS100/SCT100: 8
Cherub Baby 4 in 1 Ear & Forehead Infrared Thermometer V2 CHTH001: 32
The Braun is by far the weakest in this category, as it only stores the most recent readings. Of course, you could always have a handy notepad to address the more limited memories.
What Are The Different Types of Thermometers?
Whether you be in the medical profession or a regular consumer, it is crucial to understand that there a few different types of thermometers on the market. All of those we reviewed on this list are infrared. We will be going through the pros and cons on this list.
Infrared Thermometers
Infrared thermometers scan along a forehead or ear for the thermal energy that gives off a temperature reading. They are loved because they require the least amount of contact. In some cases, they need no contact at all. It also takes a reasonably short time to get a reading when compared with other thermometers.
Digital Thermometers
Digital thermometers are typically at the doctor's office. Sit around with this stick in your mouth for some time, and eventually, you get a regular reading. They are also the same type of monitors you can see in an armpit or a butt.
The significant disadvantages on these come from the need to sanitize the object after every use. But many of them have plastic coverings to address this. You also need to replace the battery a bit more often.
Phase Change Thermometers
They can come in the form of "liquid crystal" thermometers of dot-matrix thermometers. Liquid crystal monitors will change the colour of fluid inside of an item. Dot-matrix ones are a plastic strip that will change colours using a chemical compound. Both are very temporary and not typically on the public market.
Liquid Thermometers
Many doctors still stick to the old staple of liquid thermometers. Mercury thermometers vanished several years ago due to toxins. Gallium thermometers still exist, and they do as you would expect from mercury. Keep it in your mouth for a couple of minutes to get a pure reading.
Conclusion
After careful consideration, the Nuk Infrared Flash Thermometer 10.256.380 is the perfect balance of quality and cost-effectiveness. While it may not maintain the accuracy of an ear thermometer, it is incredibly consistent across readings. There is a great deal of confidence that comes from regular readings.
While others have a few more features and options, The Nuk manages to do what you would need for an at-home thermometer. In this case, this is why it is the best infrared thermometer NZ has to offer.
I'm a Consumer Review Specialist that loves to gab about the latest in appliances. As a dad, a lot of my energy goes into keeping up with my four-year-old.
I'm one of those people that needs his appliances to work. As a writer, I'd take some of the burden from your hands with my research. You can check me out on copysmith.org if you want to see any of my other work.