If you look around the internet, there are plenty of reviews on the best dehumidifiers available. Of course, you are more likely to run into a lot of moisture. But you rarely see too much love for the best humidifier NZ has available.
With this in mind, we've decided to delve into that topic. We look at a variety of humidifiers for a couple of different needs. Still, all of them are effective in what they do. Below, we will get into the details on this list.
The Top Five Humidifiers NZ Has Available For 2020
Below is our list of the best humidifiers we found in NZ.
Crane Drop Cool Mist Humidifier 3.75L
Catzon Small Portable Elephant Air Humidifier
Lenox 10L Portable Evaporative Air Cooler Fan Humidifier
Catzon Icy Cooler Fan Air Conditioner Humidifier With LED Light For Desk
Moose Blissful Bedtime Humidifier
In our review, our primary area of focus is going to be on the effectiveness of humidifying a room. Humidifiers tend to be most effective in dry environments, such as during the winter season. We will also be looking into other features which improve the ease of use.
Crane Drop Cool Mist Humidifier 3.75 L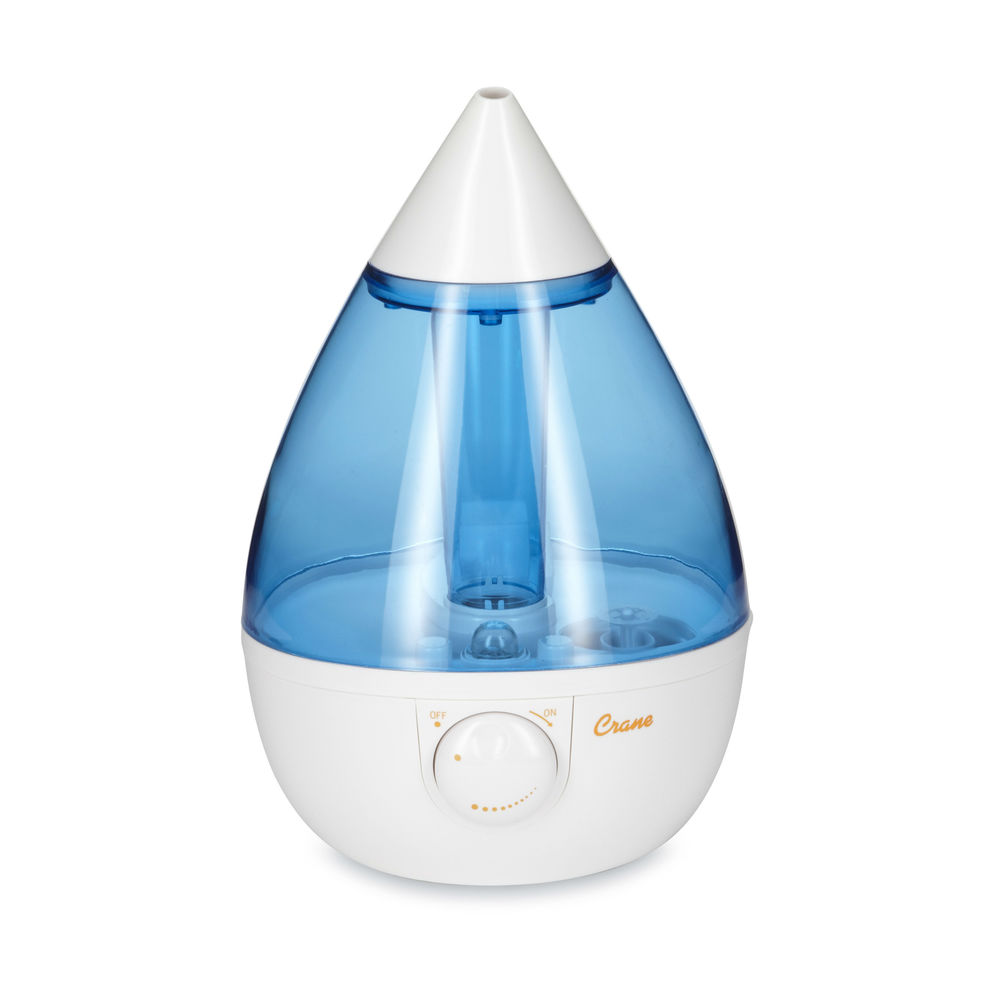 Energy efficient than a household light bulb – up to 45W
1 gallon (3.75 litres) tank runs up to 11 hours per filling, or up to 24 hrs on the lowest setting
Weight 6.95 kg
Dimension 26 × 26 × 36 cm
At 3.75 L, the Crane Drop Cool Mist Humidifier is an excellent option for your home that comes in a couple of different colours depending on your design preferences. As the bigger brother to their droplet product, it is pretty much just a longer-lasting version of this. The biggest size has made a pretty significant difference, as this can easily last a long while.
The product is for children, which makes sense because it doesn't have a heating element. It is a safety hazard towards little ones. So it the design is thoughtful, and the concept is pretty safe as long your child doesn't try and remove it from your table.
The tank runs up to 11 hours, which is a fantastic length given the limit. The biggest issue that people have expressed comes from the design of the item. People are unsure of why there is a top cone, which can increase the number of leaks. Regardless of some minor design issues, this is still an excellent selection.
Catzon Small Portable Elephant Air Humidifier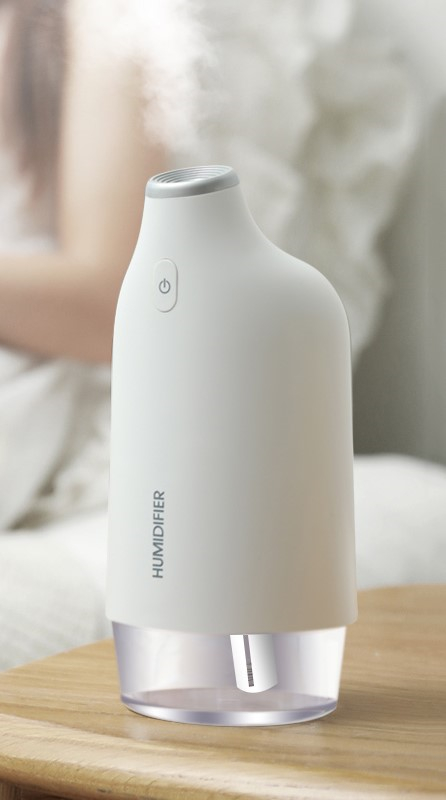 Power 2 W
Capacity 270 ml
Weight 255 g
Spray volume: 40 ml/h (+ 10) / hour
The Catzon Small Portable Elephant Air Humidifier might bring some funny images to mind. However, this humidifier is not a lightweight, as it manages to stretch its usage out to eight hours with a 270 mL tank.
At 2W of power usage, you can imagine that this does not take up much of the power grid. But it is a small and portable heater, meaning that it is best for smaller rooms. Regardless, it still manages to take care of this room well.
It also does not have a heating element, making it a great addition to children's rooms. Given that it is smaller, your kids are still just as likely to tilt it over, so keep it high enough so it will stay out of reach.
While it is one of the least powerful options on this list, it still will do what you want on a smaller scale. This ultrasonic humidifier is an excellent option for your small rooms and offices.
Lenox 10L Portable Evaporative Air Cooler Fan Humidifier

Power 60 W
Capacity 10 L
Timer 7.5 hours
Dimension 40 x 30 x 65 cm
The Lenox 10 L Portable Evaporative Air Cooler Fan Humidifier stretches what you can refer to as "portable." But this beast makes up for it with the sheer amount of features and longevity.
With a 10 L tank, this can easily last multiple days at a time. However, you are still going to want to clean it out fairly regularly. But this brings us to the plethora of features that comes with it.
It offers an air purifier function, which is unique for humidifiers. While it isn't as effective as "pure" air purifiers, it does get the job done in a tight package. It also has an air cooler, which is a neat inclusion with this model.
If that wasn't enough for you, it comes with multiple fan speeds and remote control. This monster has it all, meaning you will have to worry about more to clean and maintain. In this case, it will help you to handle medium-sized space over extended periods.
Catzon Icy Cooler Fan Air Conditioner Humidifier With LED Light For Desk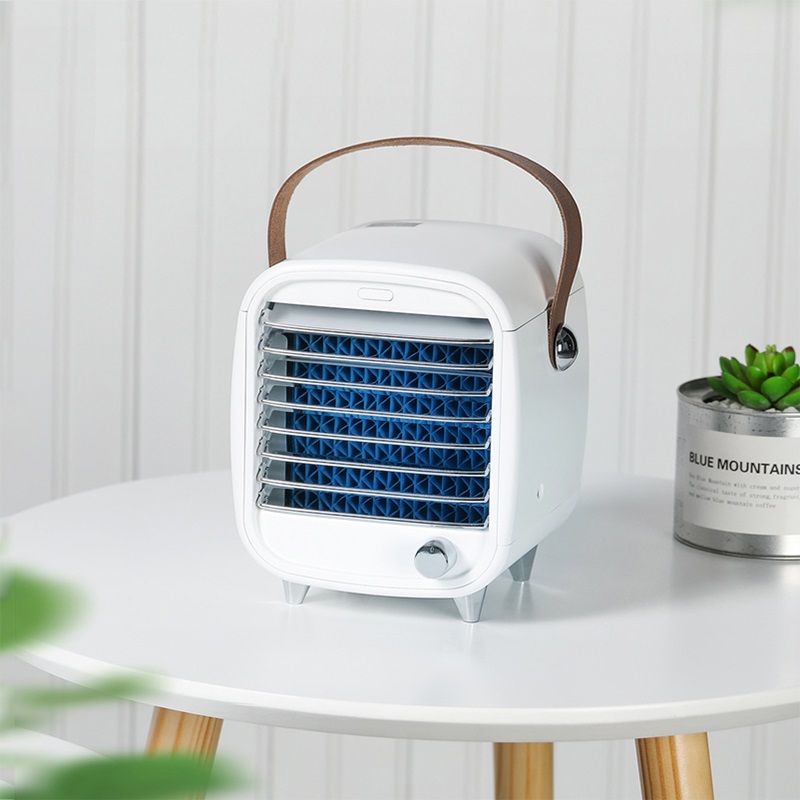 Power 4.5 W
Capacity 200 ml
Weight 0.702 kg
Dimension 145 x 132 x 172.5 mm
Catzon has two items on this list because of its ability to create small things with big packages. The Icy Cooler Fan Conditioner Humidifier is no exception.
Much like the Lenox, it has a cooling fan that is a bit more effective at smaller spaces. However, its smaller size makes for a smaller tank. Meaning that it doesn't have the longevity that other competitive items have.
It will last you for an entire overnight period. In that time, it will cool your space effectively. It is for a bedside stand, which is why it comes with an LED light. Some people find this feature useless, but I found it pretty thoughtful.
Moose Blissful Bedtime Humidifier
7 hours of continuous mist
Capacity 1500 ml
Room coverage up to 20 sq meters
Dimension 170 x 160 x 275 mm
Going to a product that focuses on the little ones, the Moose Blissful Bedtime Humidifier is excellent for helping your kiddos be comfortable as they sleep. With a reasonably small tank, it is surprising that it lasts up to seven hours.
The knob upfront allows you to control the amount of mist it produces. It will enable you to choose between multiple colours of soft light, which will help your children get to sleep. If you don't mind the pictures, it is a great bedside light to help you get to sleep as well.
The most significant issues that fellow customers have expressed is how complicated it is to clean. There are a few extra nooks that come with this device, but it is overall an excellent option. Perfect for helping kids get a comfortable sleep.
Features You Need So You Know You Have the Best Humidifier
Now that we have our list, we can get into some features. There is a surprising amount of crossover in features that come with some standard dehumidifiers. When select one, take care to focus on the features that your family needs.
Different Types of Humidifiers
There are four major types of humidifiers that you can purchase.
Ultrasonic humidifiers
Cool-mist humidifiers
Warm-mist humidifiers
Whole-house humidifiers
We will get into the differences below.
Ultrasonic Humidifiers
Ultrasonic humidifiers use a vibrating, metal piece in the middle of the unit. This piece creates water droplets which come through a fan in the device. Use distilled water with these units, as they sometimes do not have filters. The Small Elephant is the best example of this. It also uses the least amount of power
Cool-mist Humidifiers
All of the humidifiers on our list, except for the small elephant, fall into this category. They are called as such because the mist than launches out of these is cool. These also have a filter for getting rid of excess minerals, preventing the "white dust" issue you get with ultrasonic humidifiers. With their screens, they tend to require more maintenance.
Warm-mist Humidifiers
Warm-mist humidifiers are for people who are sick and stuck in bed. They are great at covering a small- to medium-sized space. They also provide a warming effect, which makes them useful for colder climates. The heating element is unsafe for use around children.
Whole-house Humidifiers
These units are for large spaces and people who do not want to refill their humidifiers all day. Sometimes, they can be fixed units that attach to HVAC systems. Other times, these units can just be large five-gallon tanks. Given how specific their uses are, we did not review one on this list.
Mist Control
Except for the ultrasonic humidifier, each of the units allows you to control the amount of mist produced. If you see a dial on the front of your device, that is usually for controlling the mist production. The further to the right, the more mist you tend to produce.
Effective Area
Each of these humidifiers is great for a small to medium space. The Lenox model is the largest of this group, and its continuous usage in a 10L tank means that it is best for covering the most extensive area. The Crane Cool Mist is a close second on the effectiveness scale.
Size of Tank
As you can see, the size of the tank does not always dictate how long the unit lasts. Instead, combine this information with the active area. Just because it offers seven hours doesn't mean that it will coat an entire room. Find larger tanks if you want to spend less time refilling your humidifier.
Multiple Fan Settings
Multiple fan settings are typically limited to the cooling devices, which is why the Catzon desk humidifier and the Lenox model are the only two with this feature. The rest of your humidifiers have some form of fan in them, but they are limited to "mist settings" which control how often that mist disperses.
Usage Time
The average usage time of our models is anywhere from 7 hours in the small elephant to 11+ Hours in the Lenox model. Many of these are for overnight, which will explain the average time of around eight hours.
Conclusion
After careful consideration, the Lenox 10L Portable Evaporative Air Cooler Fan Humidifier is our selection for the best humidifier NZ has available. While it may be less portable than all of the other models, it makes up for this with a built-in air purifier and cooler. If the additional features aren't on your list, any humidifier on this list will help you out within your budget. Always pick the best humidifier for your family's needs.
I'm a Consumer Review Specialist that loves to gab about the latest in appliances. As a dad, a lot of my energy goes into keeping up with my four-year-old.
I'm one of those people that needs his appliances to work. As a writer, I'd take some of the burden from your hands with my research. You can check me out on copysmith.org if you want to see any of my other work.