By comparison, it is pretty easy to heat up indoor rooms. By a good enough heater and any several foot long space can be taken care of. But what if you want to heat up your open garage? What if you're going to heat up your patio?
There are a few options for that, and many people still have a strong love for a gas heater in this sense. By getting the fuel and hooking it up, your heater will keep you warm while performing the necessary outdoor projects. So for the outdoor workers who need a bit of heat, here is our list of considerations for the best gas heater in NZ.
The Top Five Gas Heaters in NZ
Given the limited amount of gas heaters available, we have narrowed our selection down to three different options.
Gas Area Patio Heater Silver Hammer
Gascraft Area Heater
Workshop Diesel Heater 30kW
Gasmate Travelmate Portable Butane Heater
Mr Heater Portable Buddy Gas Heater
They will be measured in two primary means: effectiveness of heating and fuel consumption rate. We will also be taking a look at the available safety features and other options that make these more natural to use.
The Trade Tested Gas Area Patio Heater Silver Hammer
Fuel 9 kg LPG gas cylinder
Fuel usage: 450 g/hr. – 870 g/hr
Weight 16 kg
Dimension 45.4 x 136 x 26.2 cm
The Silver Hammer is an incredibly dramatic name for anything, but the dramatic flair Is earned. The Trade Tested are the producers of this product. While it may be relatively small compared to conventional outdoor heaters, it doesn't lack for power.
 The shortness allows you to go inside of an enclosed space. If you have an awning, this heater will fit well. Also, it has an adjustable heat dial that allows you to control the level of output. This means that you can be warm, but not too warm. It also allows you to control the amount of cost that this thing adds to your gas bill.
It also has a one-year warranty to ensure its long lastingness, which is pretty solid for an outdoor product. There is a flame guard around the heated section that prevents you from being burnt. Also, it has small wheels so it can be moved pretty quickly.
Overall, it is an excellent option for heating an outdoor patio space. It can be hooked up to any standard gas output. It has heat usage at 450 g/h and up to a 9 kg fuel cylinder can be put inside of it.
Gascraft Area Heater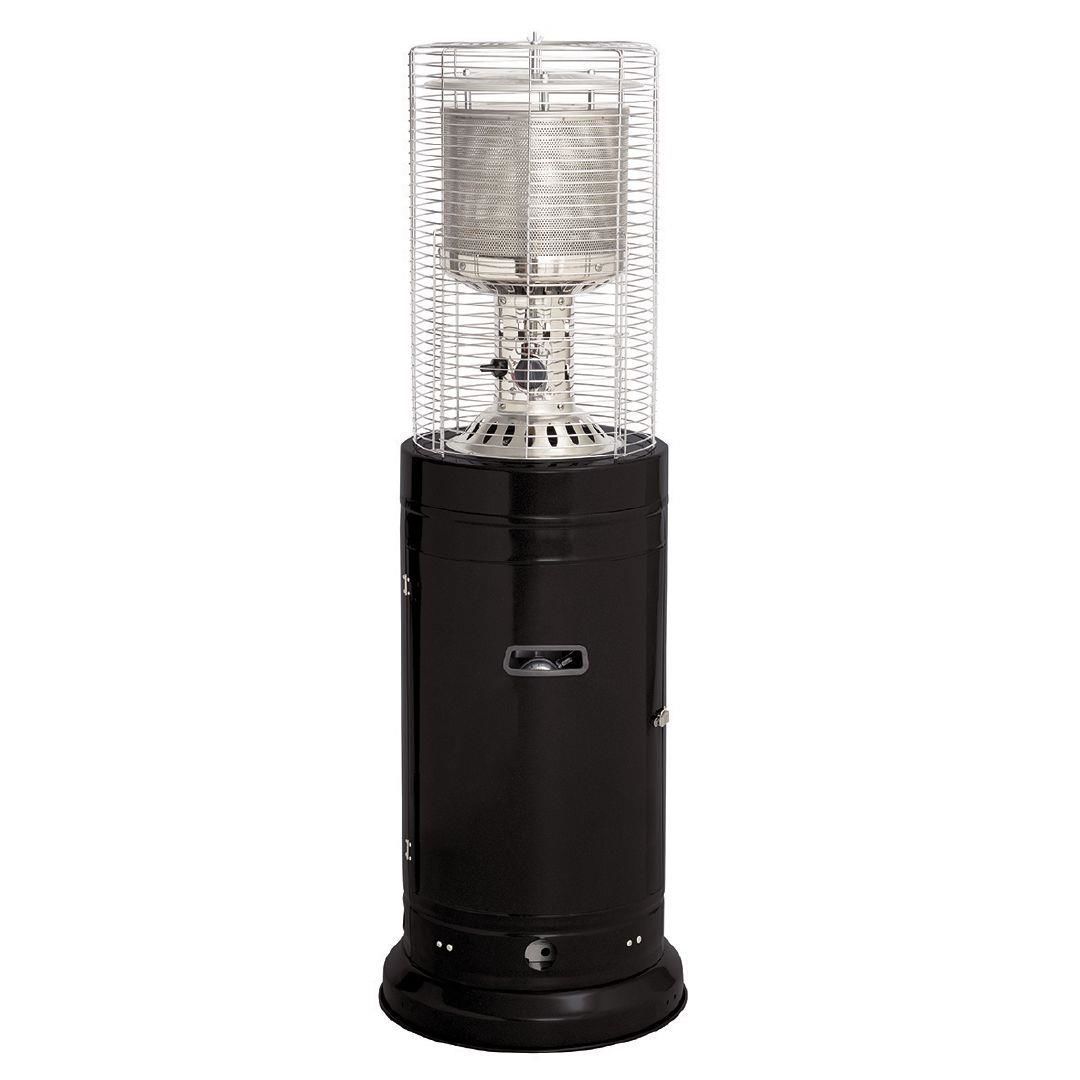 Fuel 9 kg LPG gas cylinder
Fuel usage 40 MJ/h
Weight 17 kg
Dimension 455 x 660 x 460 mm
Gascraft is another recognizable brand simply based on its name. While "area heater" is not as exciting as "silver hammer," Gascraft is no slouch when it comes to quality products. Much like the Silver Hammer, it has a flame shield and an adjustable heat output knob.
It also holds a similar 9 kg cylinder and can heat a location for up to 11 hours if you spend that much time outside. Both units have wheels as well so that you can quickly move this item around the patio.
Gascraft excels by doubling the warranty period from one year to two years. It does have a direct ignition option, much like the Silver Hammer. Still, this unit emphasizes safety with a tip-over switch. As a result, you will end up paying a bit more for the extra feature.
Workshop Diesel Heater 30kW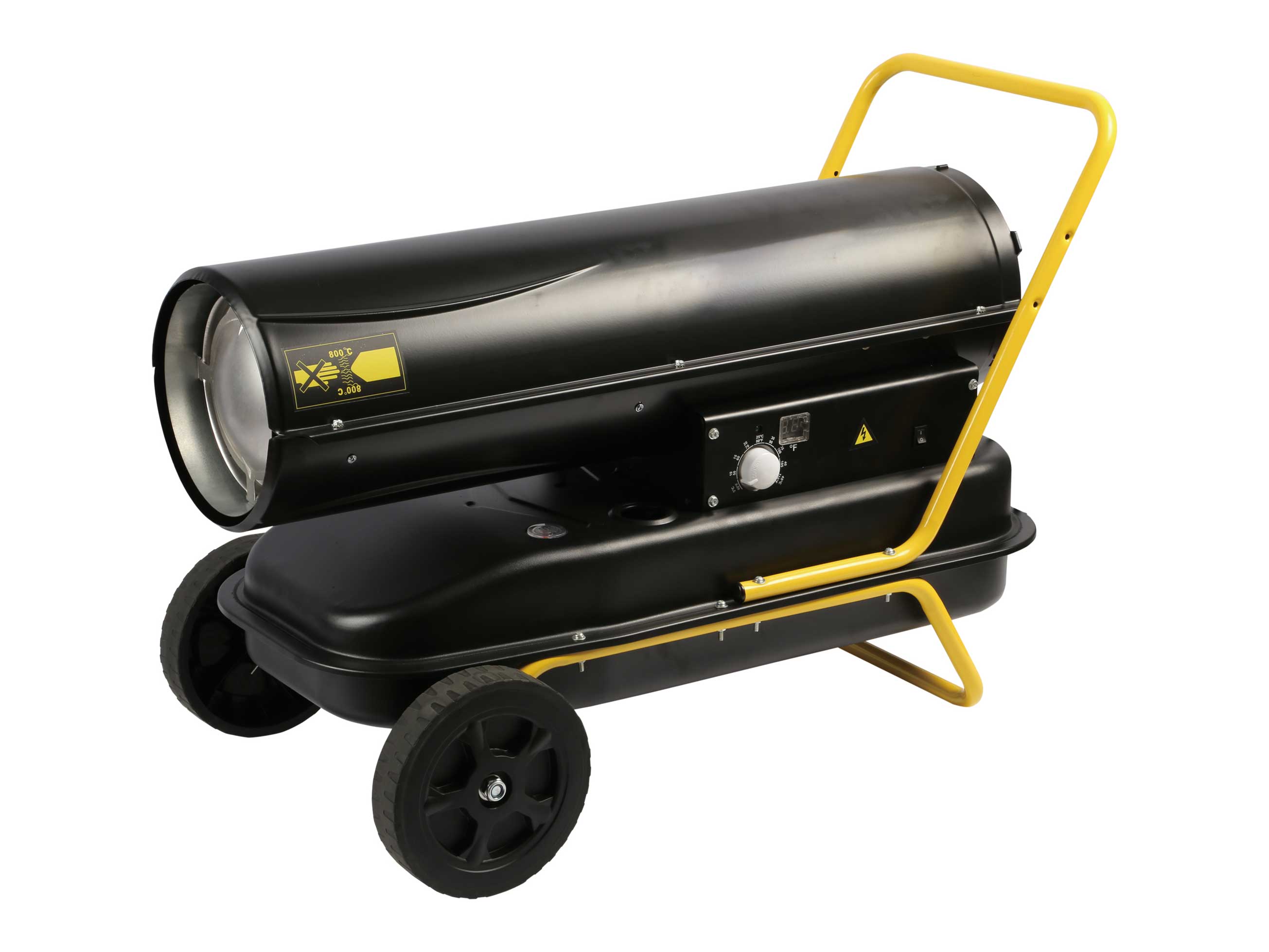 Power 230 V
Fuel consumption 2.8 l/h
Weight 23 kg
Dimensions 880 x 456 x 590 mm
Going back to the Trade Tested brand, they have a variety of "workshop" heaters that do just as well in a patio setting. The Diesel heater uses a different type of fuel. Still, the result is a long-lasting heater that is perfect for heating the garage or patio. It can also run on kerosene.
As a result of the long-lastingness, the weight is about 5 kg higher than our other options. There are also three varieties in a 20 kW model and a 50 kW model, but this one had the best overall look given it was right in the middle. Any of them would be a good option.
The wheels and cart-like structure of this make it a bit less awkward to move. However, you will need to be prepared to bend down. The energy output on this also provides a bit more heat. But the design is clearly built for more of a workshop.
The biggest drawback comes from the smell of diesel. While it isn't around for long, it is a common issue that you run into with workshop-based gas heaters. Provided you can deal with that for a few moments, this is a natural choice for one of the best outdoor gas heaters in New Zealand.
Gasmate Travelmate Portable Butane Heater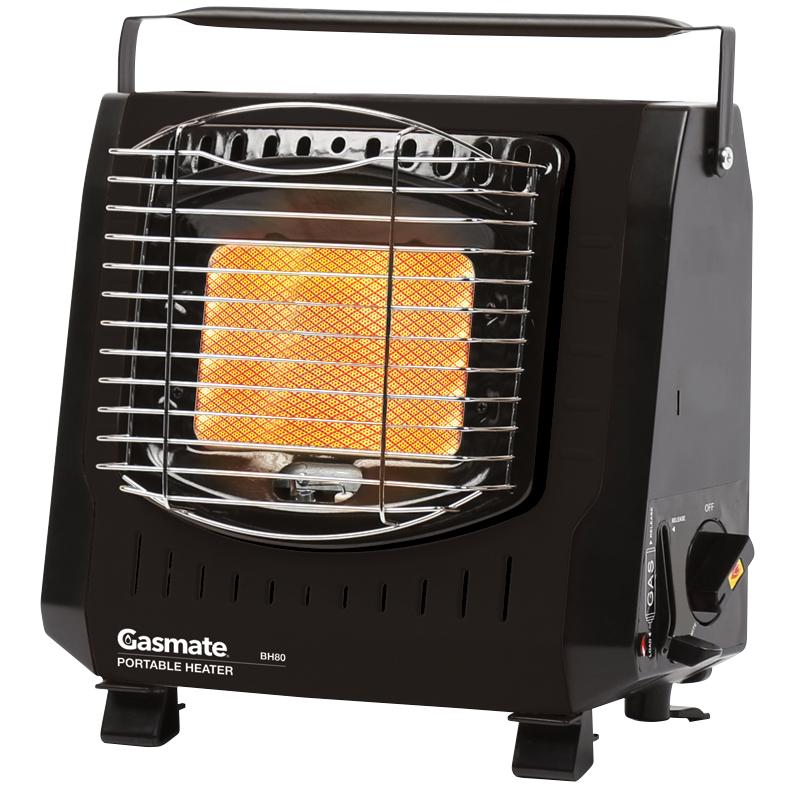 Output 7 MJ/h Gas
Consumption 140 g/hr on maximum flow
Weight 2.1 kg
Dimension 310 x 280 x 180 mm
The last two heaters we will be taking a look at are portable. The reason these are on this list is that they take up far less space and energy than standard patio heaters. This makes them incredibly versatile units worth looking into.
The Gasmate Travelmate Portable Butane Heater is an excellent and versatile option that heats small locations that could include the space outside of a garage or patio. They use less fuel, but that often means that they produce less energy. Given that the tanks are relatively small, you could feasibly get as much use out of these as you would a larger heater.
It ha a carrying handle for improved portability and a safety shut-off system as well as a flame-failure safety system that will avoid expelling dangerous gasses into the air. It is also pretty easy to light.
The Travelmate makes it on the list because of its attention to detail and safety. While it isn't as beefy as a standard patio heater, it is still great for your outdoor adventures.
Mr Heater Portable Buddy Gas Heater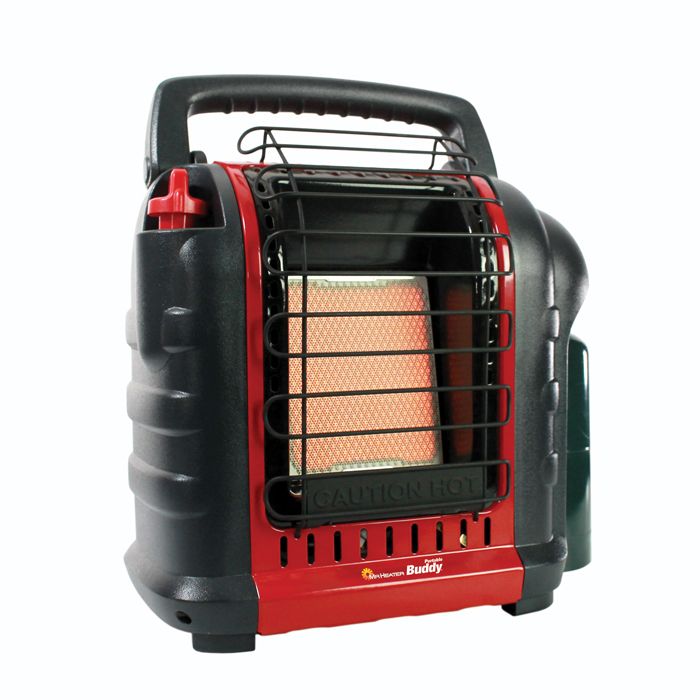 BTU per Hour 4,000/9,000
Fuel Consumption/Burn Rate (Gal/Hr) at 4,000 BTU = 0.044 Gal/Hr, at 9,000 BTU = 0.099 Gal/Hr
Weight 10.6 kg
Dimension 14.25 x 9.00 x 15 in
The Mr Heater Portable Buddy Gas Heater is the premium variant of portable heaters. It costs quite a bit more than the Travelmate, but it comes with a three-year warranty to make sure you get your money's worth.
The run time on this also indicates somewhere close to three hours, meaning that you will have to switch out the smaller tank or grab a couple for a good few hours worth of heating.
The safety shut-off feature also follows suit in this model. It has a shock-absorbant ceramic "burner tile." In lamens terms, this means that it won't break easily and provides for radiant heat on a location, like the "warm glow" feeling you have from standard heaters.
The gas consumption is also around 200 g/h, which makes it about on par with the Travelmate. Overall, an excellent option for outdoor use.
Why Are There Few Indoor Gas Heaters?
If you have done the research, there are few indoor gas heaters available in New Zealand. The reason for this is related to environmental and health concerns. Gas heaters started leaving upon the discovery of oil column heaters, radiators, and panel heaters. These are generally more energy-efficient and far safer. Nobody ever got light-headed over inhaling a column of heated air.
That being said, there are exceptions to the rule. Rinnai has produced portable, indoor gas heaters in the form of the Energysaver 309T and the Portable Connector Avenger. But these are considered under "panel heaters" as well. The key is to ensure that the heaters have a flue (which they do). Still, you would be best served about asking for the heating company's customer service area for further details.
Features You Need to Ensure a Quality Gas Heater
There are a few things worth being aware of when buying a quality gas heater. We will go into the features you need to look for so you can adequately heat your outdoor spaces.
Fuel Consumption Rate
The fuel consumption rate is typically displayed in two forms. First, the energy production rate (MJ/h) and the consumption rate (g/h). These stand for megajoule per hour and gram per hour. Without getting to hard into math, just be aware that the higher numbers mean for a higher rate of energy usage. The more energy it produces, the more heat it makes, and the more power it uses will dictate how long it will last.
The Gascraft and the Silver Hammer are about on par with each other. Each of them will last an entire day and consume a full 9 kg weights worth of fuel canister. The workshop heater is a little less efficient than the two of them. The portable heaters will use the least energy, but also heat the least amount of space and last the least amount of time. Each of them is solid for different reasons, all can effectively heat a patio if given the room.
Safety Features
There are two primary safety concerns when it comes to gas heaters—first, The quality of materials, which is not a concern with any of these models. Second, the ability for them to tip over and cause a fire. Both portable heaters and the two patio heaters have this built into this, they will shut off if tipped or jostled too hard. The Workshop doesn't have this, but given that any model is a stubby thing on wheels, its virtually impossible to tip.
Conclusion
The Gascraft Area Heater is the clear winner in this contest. The Silver Hammer, which came at a close second, is just as capable at heating any location. The portable heaters are a bit more cost-effective. Still, Gascraft gave us an extra year of confidence to make that decision.
Overall, all of these heaters are good for about the same purpose. The portable options are even good at anything from an outdoor patio to a campground. Whenever you use, be sure it meets the needs of your family. In our case, the Gascraft Area Heater is the best gas heater in NZ.
I'm a Consumer Review Specialist that loves to gab about the latest in appliances. As a dad, a lot of my energy goes into keeping up with my four-year-old.
I'm one of those people that needs his appliances to work. As a writer, I'd take some of the burden from your hands with my research. You can check me out on copysmith.org if you want to see any of my other work.