Despite my love for ceramic cooktops, there is still a warm place in my heart for gas cooktops. I grew up on one, my mother used one, and almost every family I know uses one. They have a good deal of versatility and no chance of beaking, which is the big concern that my family would always talk about.
I've never really had a problem with gas cooktops. With all of the great companies still working in the field, I would be hard-pressed not to perform the same amount of research so that you can buy the right one for your family. Below, we will get into the Best Gas Cooktop NZ has to offer.
The Top 5 Gas Cooktops in NZ
The five we have selected are listed below.
Miele KM 3014 G
Westinghouse WHG645WA
Ariston PK640RGHAUS
Fisher & Paykel CG604CNGX2
DeLonghi DEGHSL90
The most pressing concerns we have are the effectiveness of cooking and ease of use. Ease of use will include a variety of matters related to ease of recognizing controls and cleaning. The position of knobs is also essential, as this feature acts as natural protection against curious children.
Miele KM 3014 G
Power 230 V
Weight 14 kg
Cooking Zone (W) Left Centre 4700 , Right Rear 1000 , Right Front 1700
Dimension 626 x 53 x 526 mm
You may look at the Miele KM 3014 G and immediately ask where the fourth burner is. This is a fair question, but Miele has addressed this by offering a unique layout which provides you with a great deal of versatility. The additional room provides you with larger burners that are incredibly easy to access.
Other than the metal burners, the top of this is a heat-resistant glass. This provides you with an exciting design. It is also incredibly easy to clean. This being compared to other gas cooktops that require you to dig into more crevices.
The cooking is excellent, given the variety of burner sizes. But this will not bode well for those who have larger families. The additional burner lost is a big difference maker here.
Also, it has flame-failure protection that prevents your house from being filled with gas should you forget to turn it off. However, the position of the controls makes it easy for children to reach it. Regardless, the unique design and high-quality cooking make for a natural consideration for the "best of" list.
Westinghouse WHG645WA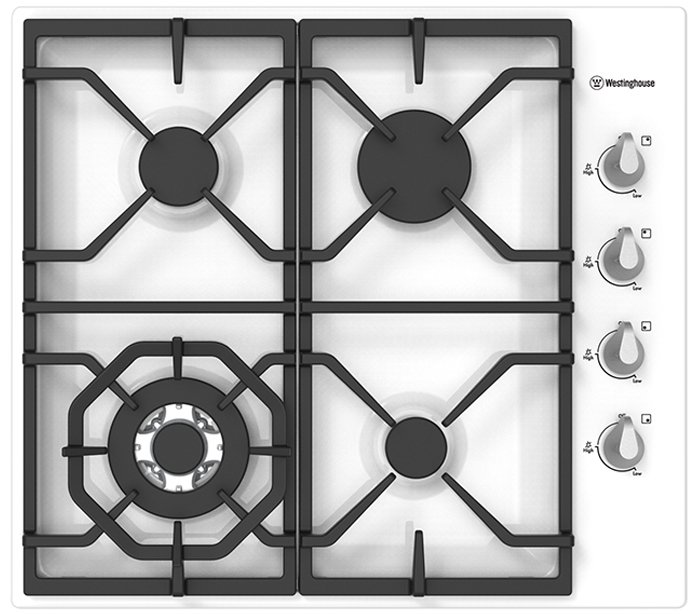 Burner Zone 4 burners
Total burner output (NG)  40.6
Maximum current rating 10.00 Amps
Dimension 570 x 58 x 490 mm 
Going back to classical design, the Westinghouse WHG645WA is a four-burner cooktop which has thoughtful safety provisions. The controls are placed to the side, meaning that children will have to try hard to turn your oven on. Also, it has the same flame-failure protection as the Miele model we featured.
The white enamel surface makes it incredibly easy to see nasty spots. One of the front burners is even designed to handle woks, making it easier to handle unique cooking.  But the burner position makes it a bit awkward to handle multiple pots at once.
It's cooking performance is really high-quality. It is on par with the Miele when it comes to this aspect. The Miele just does not have a specific wok device. Overall, this provides you with an excellent option that seems standard but is unique with the wok accessory.
Ariston PK640RGHAUS
Gas Power 8.85 kW
Electrical Connection 220-240 V
Weight 12.5 kg 
Dimension 650 x 4.39 x 510 mm
The Ariston PK640RGHAUS is another four-burner model, but the unique style makes it great for fitting a variety of things.  Given that it is more of a diamond pattern, large pots will fit there with greater ease. You will just have to remind yourself of the unique placements when you start cooking.
Their safety features are on par with the Miele model. It has flame-failure protection. However, the controls are positioned in such a way that a small child will be able to reach it. Be sure to talk to your toddler before installing it.
Again, the quality of cooking on this model is about the same as everything we have mentioned thus far. It wouldn't be on this list otherwise. It may take away the wok-specific burner, but it is still an excellent option that can fit anything you can think of.  It does this while being one of the most cost-effective items on this list.
Fisher & Paykel CG604CNGX2
Power 230 – 240 V
5 burners including 2 wok burners
Spill Containment 1.5 L
Dimension 511 x 54 x 578 mm
Fisher & Paykel return to a classic design for their four burners.  Regardless of it being classic, it is large enough to fit for pots comfortably. However, the controls are on the front-side portion, meaning that children can still easily reach them.
Safety has also returned in the form of the flame protectant feature, preventing gas from being released into your living quarters. The inexpensive cost takes away the natural cleaning features, but it is still just as easy as most basic burners.
The quality of cooking comes in a wide variety. It can handle the high-heat that comes with needing to cook large amounts of beef. Also, it can handle the lower heat requirements that comes with cooking rice. Overall, it is a stable model that can handle all of your essential functions.
DeLonghi DEGHSL90
5 Burner gas cook-top with Wok support and cast iron trivets
Total LPG Gas Consumption (mj/hr): 41.55
Total Nat Gas Consumption (mj/hr): 44.85
Dimension 90 x 51 x 4.9 cm
DeLonghi has a habit of setting the bar wherever it goes. As a high-quality producer of various appliances, we had high hopes for the DEGHSL90. It doesn't disappoint.
The same safety features we have discussed to this point with flame-failure protection. However, they have failed to address the location of controls. They can be reached by small children.
The unique feature that comes with this is an additional burner. You would expect the extra heater to cause an issue with pots and pans, but it fits these well. It is one of our larger cooktops, so it is a bit more challenging to fit in place. 
Combine that with a very reasonable price point, and you can see why it is a natural choice. Just don't expect it to be easier to clean than those with glass tops and white enamel.
Features of the Best Gas Cooktops You Need To Look For
With our list done, we can dig into various useful features to look into. At this point, it is essential to define what your highest priorities are. Each of these excels in multiple categories, but only one will have the right combination of features that makes it useful.
Number of Burners
The number of burners will affect the amount of cooking you can perform. Larger families, or people who cook a lot, are those who would benefit the most from an additional burner. The Delonghi model is the only option we have with a fifth burner. The Meile model is the only one with three of them.
Flame-failure Protection
Flame-failure protection prevents gas from escaping into your house in the event it is left on. All of the ovens we feature on this list come standard with this feature. It is a useful safety feature to include.
Dimensions
The dimensions of your cooktop will determine its compatibility with the ovens beneath. Be sure to be aware of your current oven's dimensions through measurement if need. Below are the dimensions you need to keep in mind.
Miele KM 3014 G 60: (W) x 50 (D) cm
Westinghouse WHG645WA: 57 x 49
Ariston PK640RGHAUS: 56 x 48
Fisher & Paykel CG604CNGX2: 56 x 49
DeLonghi DEGHSL90: 84 x 48
You will want to look for the cut-out dimensions because that will determine if the stovetop and oven will be compatible. Regular measurements will focus on a couple of inch difference as opposed to the area that pops into the oven.
What are Trivets?
Trivets allow you to move around your pan without lifting it from the surface of the burner. Our best example comes to us in the form of the wok trivet, which comes with the Ariston model. If they trivets are close together, you can slide your pans between them pretty quickly. None of the ovens we feature has an excellent example of this.
Position of Controls
We mentioned that the position of the controls was a pretty common issue among gas cooktops. In fact, the Westinghouse model is the only brand that has made accommodations for this. In either case, it will be essential to talk to your child about not touching the stove.
What is the Best Type of Stovetop
Three major types of stovetop are in production today. These include gas, induction, and ceramic cooktops. We will go into the advantages and disadvantages of each below.
Gas Cooktops
Gas cooktops are the least expensive of the three available types. They have a classical feel about them with flames you can actually see. They are typically turned on using a classic knob system. They are also the most cost-effective of the three options. As a result of this, they commonly have less electronic options, but more variety in cooking.
Induction Stovetops
Induction stovetops take the least amount of time to cook when compared to all other options on the market. Instead of burners, they have "cooking zones" which heat up various locations on the pan. They are also more likely to have smart features due to the advanced technology behind them. They tend to be more expensive than other options.
Radiant Ceramic Cooktops
Radiant ceramic cooktops are the happy middle between gas and induction. Both ceramic and induction heating are incredibly easy to clean. Ceramic is a bit faster than gasoline, but much slower than induction cooktops to heat up. They are more likely to have smart features than gas options, but kind of in the middle when it comes to cost comparisons.
Conclusion
After a complete examination, our choice was the Westinghouse WHG645WA. While it has one less burner than the Fisher & Paykel, and it is slightly harder to clean than the Meile model, it is a happy middle that doesn't lose any quality. The wok cooker is not necessary, but it is a great feature to add here.
As always, the stovetop we choose may not be the best option for you. We encourage you to try and look for any of the options on this list. Always prioritize your desires. Based on our opinion, the Westinghouse WHG645WA is the best gas cooktop in New Zealand.
I'm a Consumer Review Specialist that loves to gab about the latest in appliances. As a dad, a lot of my energy goes into keeping up with my four-year-old.
I'm one of those people that needs his appliances to work. As a writer, I'd take some of the burden from your hands with my research. You can check me out on copysmith.org if you want to see any of my other work.