When I graduated from college, I had come to a quick realization that I would need to start improving my wardrobe. Graphic t-shirts with my favourite bands weren't going to cut it in the business world. So I had to adjust my wardrobe considerably.
After this, it didn't take long for me to realize that the more I used the wardrobe, the pickier it would become. Annoying creases started to show up, which didn't help with my appearance. If you are in the same predicament or only are looking for your next great steamer, I want to help you out. Below are my takes on the best garment steamer in NZ.
The Top Five Garment Steamers NZ
We have chosen five garment steamers to review on this list. Below are our considerations.
Tefal Precision Steam Garment Steamer IT6540
Anko Garment Steamer 42393009
Russell Hobbs RHC400
Philips Steam & Go Handheld GC362/80
Wertheim Pro Garment Steamer GS6100
We will be rating them on their ability to remove wrinkles from a variety of garment types. There will also be some other convenience-centric ratings coming from tank size, telescopic poles, and wheels. The overall package is going to come into play in this case.
Philips Steam & Go Handheld GC362/80
Power 1,300 W
Capacity 70 ml
Steam Output 24 g/min
Cord Length 2.5 m
The Philips Steam & Go Handheld GC362/80 is in an easy to use compact package. While it has a smaller tank, it isn't so little that you will find yourself having to refill it in the middle of use. But the size makes it unsuitable for larger projects.
It has a mitten that you can use that will prevent you from burning yourself if needed. This is great for those who are accident-prone. The steamer also tends to heat up a bit quicker due to its smaller size.
It's a bit less bulky the Russell Hobbs model we just reviewed. Even with a full tank of water, it is pretty easy to move around. This is great for those who don't have a fondness for larger objects.
This is something of a specialist's focus, as it beats out everyone else on portability, but that's about it. It's just as good at steaming clothes in a smaller package, but still not great for those larger projects.
Tefal Precision Steam Garment Steamer IT6540
Power 1,500 W
Capacity 2.5  L
Steam Output 30 g/min
Heat-up Time 45 sec
The Tefal Precision Steam Garment Steamer IT6540 is a beastly steamer that comes with a variety of handy features that make it really easy to use. Because of its size, it's a bit awkward to move around. It does have wheels to compensate for that bulk.
Using the attached clothing pins, you can steam shirts and hang them up pretty quickly. It is effective at steaming a variety of fabrics. The variable steam options allow you to choose thicker materials against thinner materials. So it is suitable for tough jobs and gentle jobs.
Its biggest weakness comes from the available length of hose. This limits some of the versatility we've mentioned at this point. The telescopic pole does attempt to address this concern to some degree. It is long enough to reach most locations you would need it to contact.
Overall, the large tank is where this one gets me. A versatile model that can be a bit bulky at times due to the water tank, but not so much that it is not easy to maneuver. A natural selection for one of the best garment steamers in New Zealand.
Anko Garment Steamer 42393009
Power 1260 – 1500 W
Capacity 1.65 L
Voltage 220 – 240 VAC 50/60 Hz
Steam Output 45 sec
Anko manages to make products that perform effectively at a fraction of the cost of everything else. Ther e are a few sacrifices one will have to make as a result of this cost. However, it is still one of the best garment steamers in New Zealand.
The tank size in this is about on par with the Tefal. You will not need to replace the water unless you have some incredibly heavy-duty projects.
It comes with a telescopic pole due to it being a non-portable steamer. This makes the lack of wheels a bit confusing, It also shares some of the same issues on hose length as the Tefal.
The telescopic pole does address many of these issues, as it folds into a pretty compact steamer as needed. It was just as effective as the Tefal as for as the actual steaming of fabrics.  
Russell Hobbs RHC400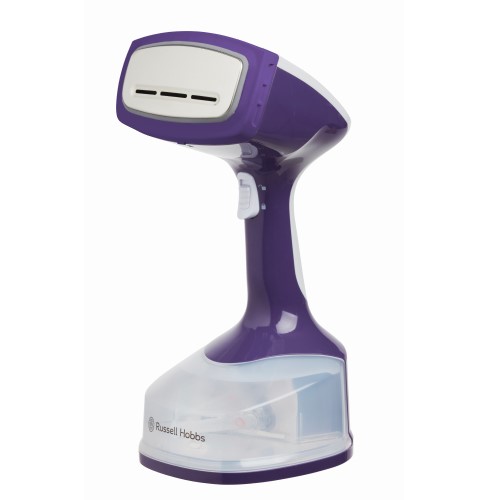 Power 1600 W
Weight 1.8 kg
Dimension 22 x 15 x 32 cm
Heat-up Time 45 sec
The Russell Hobb RHC400 is a hand steamer which is excellent for on-the-go projects. You could feasibly leave this in your car for emergency steaming. You will just need to find an outlet.
The tank on this is reasonably large considering what you have to manage. It could steam more than a couple of shirts before you have to switch out the water. Being portable, it does not include a place to hang your clothes.
I found it useful with most fabrics, but the size makes it ineffective for more extensive linens. Also, it doesn't have variable steam options for lighter clothing.
It does emphasize safety with an auto turn off that activates after 15 minutes. It also is on par with steaming effectiveness with some of our larger models. All of this in a small package makes for an excellent garment steamer.
Wertheim Pro Garment Steamer GS6100
Power 1750 W
Capacity 3.2 L
Voltage 240
Cord Length 1.43 m
Returning to the larger units, the Wertheim steams with the best of them. It's also great for larger projects given the heavy-duty nature of it.
The variable steam settings make it a bit more applicable for a variety of projects. It also has a clothes hanger for convenient mid-air steams. The hose is a little bit short.
It has wheels, which makes it reliable for maneuvering around. But it does not have a telescopic pole, meaning it doesn't have a compact storage mechanism.
Overall, it is just as effective as any of the other steamers on this list. It's okay with more significant projects but has a bad experience with linen. Overall, it is an excellent option for your garment steamer.
Features to Look Out For in the Best Garment Steamers
When you are looking for the best garment steamers, what you need will depend upon your family. Portable garment steamers may be more appropriate than larger garment steamers for you in certain circumstances. Below, we will go through some everyday things to look for.
How Do Garment Steamers Compare to Irons?
Irons are made for flattening out deep creases in your clothing. They are made for the more stubborn wrinkles, which may lead you to believe that a clothes iron is best all of the time. However, some things make a garment steamer more appropriate.
First, irons are rough on clothing. Steamers produce a large amount of hot water, which can dampen your clothes. Provided that you are willing to air dry them, they are just as effective at removing most wrinkles from clothing.
Second, garment steamers are built to handle rugs, curtains, and drapes. Irons are too much heat pressed against these items, which will ultimately cause burns. For non-clothing fabrics, stick to a garment steamer.
Our last concern is a win for clothes irons, as they tend to be less expensive than garment steamers. You will often invest more in a garment steamer due to their versatility. A clothes iron can be just as good in some situations.
Should I Buy a Portable Steamer or a Floor Steamer?
The two types of clothes steamers we feature on this list are portable steamers and floor steamers. A floor steamer is called as such because it commonly has wheels and is connected to the floor. A portable fabric steamer can fit in the palm of your hand.
The Philips product is easily the most portable item on this list. It has a compact tank which makes it the best option for those who have physical disabilities or difficulty lifting more massive objects. The Russell Hobbs is a close second, but a filled tank on this one can cause it to weigh more.
Floor steamers are bulky, but they tend to address that issue with telescopic poles or wheels. The Anko product we reviewed doesn't have wheels, and the Wertheim does not have the telescopic pole, leaving the Tefal as the only one that has both. Overall, what you need will depend on your available storage space and what you plan on using it for.
In steaming rugs and curtains, portable steamers have the most maneuverability, but the floor steamers have the larget capacity tanks. For the most significant projects, it would still be best to stick to floor steamers.
Telescopic Pole
Telescopic poles will retract when you need more storage. The Anko and the Tefal are the only two with the feature. Portable steamers do not need these.
Variable Steam
A variable steam option will allow you to pick how much steam is produced from your product. It is excellent for steaming delicate fabrics, but not often necessary for portable steamers. The Tefal and the Wertheim both come with a high and low setting.
Automatic Shut-off
Automatic shut-off ensures that your steamer shuts off regardless of you using it. It is a safety feature that prevents you from destroying the unit or starting a fire. The Russell Hobbs model will shut off after 15 minutes of non-use, the other models do not have this feature.
Conclusion
After an extensive review, we found the best steamer on this list to be the Russell Hobbs RHC400. While this steamer doesn't beat out the Tefal in the linen area, it does beat it out in versatility. It is far easier to move around the house, given its portability.
Floor steamers always have the same hose-related issues. Another implement does not make moving around more accessible, even if you gain some more enormous tanks and power as a result. The sacrifice of moving around was not worth the loss.
Of course, our selection may not be the best selection for you. Any of these garment steamers would be great for your household. But in our case, the RHC400 is the Best Garment Steamer in NZ.
I'm a Consumer Review Specialist that loves to gab about the latest in appliances. As a dad, a lot of my energy goes into keeping up with my four-year-old.
I'm one of those people that needs his appliances to work. As a writer, I'd take some of the burden from your hands with my research. You can check me out on copysmith.org if you want to see any of my other work.