When I was young, my family could never afford an air conditioner. As a result, we had to get creative about the airflow in our spaces. Even when we got our hands on an air conditioner, this less proved to be one we could use anyway.
You can't have good airflow without a good fan. Because of this, we've gone through a list of different fans we feel to be worthy of the "best fan NZ has available" list. We will get into the details below.
The Top Five Fans in NZ
In our quest to find the best fan, we've narrowed our choices down to five options.
Delonghi 360° Tower Fan
Sheffield 40cm Gun Metal Pedestal Fan
Black & Decker 60W 109cm Upright Tower Fan
Living & Co Pedestal Fan with Timer 40cm
Goldair 30cm Box Fan White
We've removed industrial fans from the list because they aren't necessary for what we want. Instead, we are limiting our choices to box fans and tower fans. We will get into why we didn't include floor fans in a moment. First, let's give you a list of options available.
Delonghi 360° Tower Fan
Power 45 W
Fans 3
Auto-off timer settings 1,2,4 or 8 hours
Dimension 968 x 280 x 280 mm
Old fashioned box and floor fans have seen a lot of evolution over the past several years. While it isn't exactly new, tower fans continue to see a good bit of popularity. The Delonghi 360° Tower Fan is one such example of why they keep that top spot.
The "360" bit in their name is pretty accurate, as it can blast you with air from any position in the house. Given that it is thin, it also fits in many different spaces. For our lazier folks (me), it also has a neat remote control feature. If you don't like that, it even has touch controls on the front.
That remote control allows you to choose between three different cooling settings. I'm not fond of a weak fan, but the low and "eco" settings are incredible for people who prefer a light breeze. It also has a sleep timer that reduces the fan noise overnight.
The customer response is about on par with my opinion of it. It's a premium model that is great at what it does, but many of the features seem a bit over-the-top depending on who you are. If you have the room in your budget, I definitely can recommend this fan.
Sheffield 40cm Gun Metal Pedestal Fan
Power 50 W
Speed 3
Adjustable height to 1.30m
7.5Hr Timer
The Sheffield 40cm Gun Metal Pedestal Fan takes us back to what we can expect from a fan. It has a large, circular top that is great at moving big chunks of air around. It has three different air settings that you can switch between if you prefer a high wind or a light breeze.
It has a 50W motor in there for heavy-duty tasks; This makes it a versatile option that would be great in most homes. It is also an oscillating fan, which means that it commonly rotates from the left to the right to keep entire rooms with airflow. It even has an adjustable neck that allows you to fit it into a variety of corners. 
Two weaknesses come with this fan. First, given that it is a massive, metal fan, it makes a lot of noise. On the higher settings, you cannot hear the television without cranking it up. Also, the fan is a bit more tricky to fit into a room given how it looks. A large, circular disc on top of anything makes it a bit uncomfortable to fit anywhere.
Black & Decker 60W 109cm Upright Tower Fan
Power 60 W
Height 43 in
6 Speed
8 Hour Timer
The Black & Decker 60W Tower Fan returns to modern design with a thin body and many power settings. It has eight different speed functions for those who like a lot of control over their wind. Also, it has a remote for those who don't feel like getting up.
Much like most of the fans on this list, it does oscillate. You can feel this fan in all corners of the room, and it isn't as noisy as the regular bladed fans.  Its timer function will allow you to turn off the fan; it doesn't have a "sleep mode" as the Delonghi has. The timer is limited to about eight hours.
It has a built-in handle that makes it easier to carry than the Delonghi Tower Fan. It also is the quietest fan on this list, making it clear that they built this with people in mind. There are some concerns with the power of the fan, which is related to the chosen design. Regardless, it is an excellent choice fo the best fans in New Zealand.
Living & Co Pedestal Fan with Timer 40cm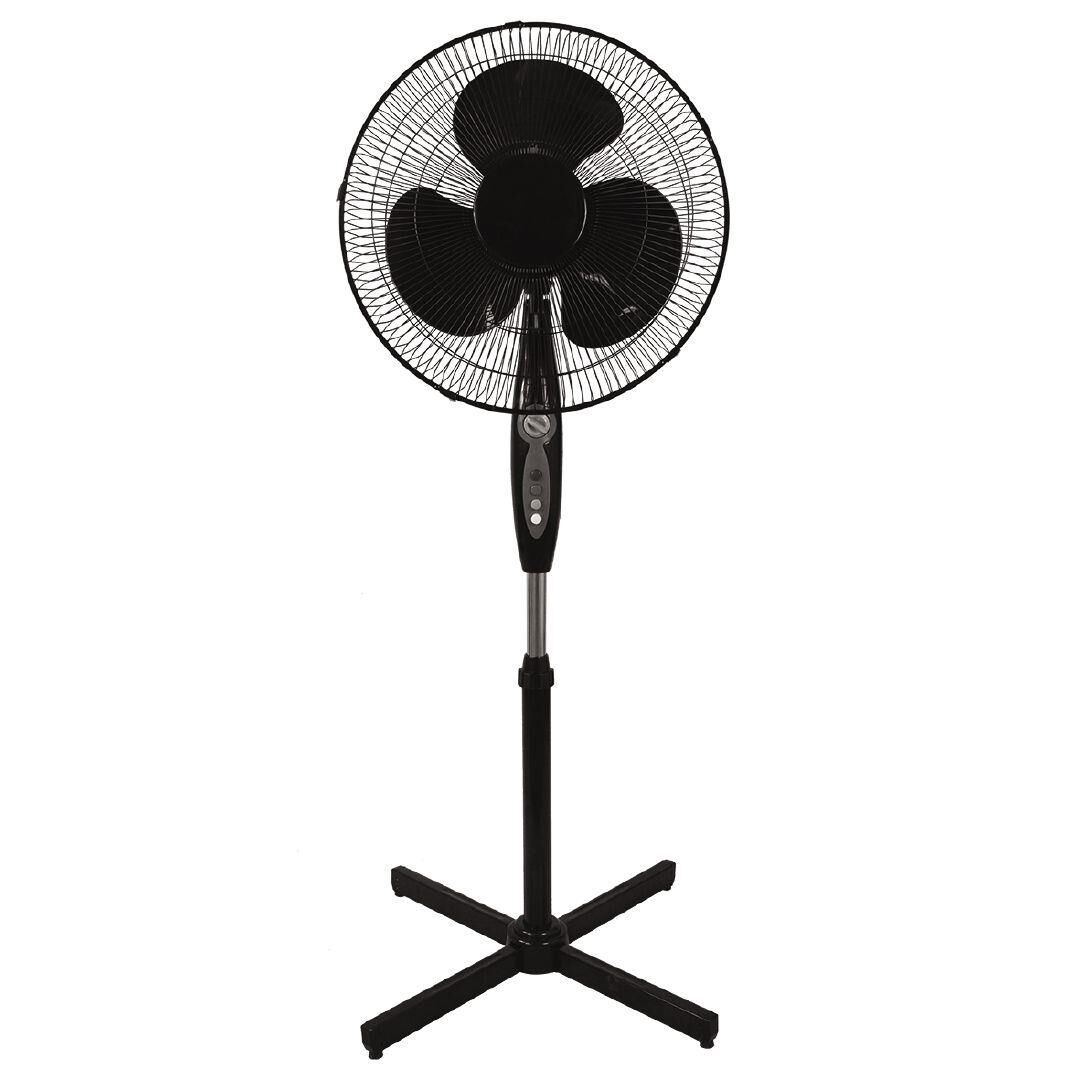 Timer: Up to 1 Hour
Speed 3
Height 40 cm
Weight 3 kg
The Living & Co Pedestal Fan has a built-in one hour time for short bursts of cooling. As the most cost-effective model on this list, it is surprising that this comes with any timer. But it is much weaker than our other options available.
The area of focus on this one is effectiveness. It oscillates and cools a room quickly given the right conditions. It also has the same variable settings you would expect of most normal fans: between three choices.
The height-adjustable choice gives it versatility depending on the height of your furniture. It is also made of plastic, making it a bit quieter than the Sheffield option we reviewed. But it is also a bit weaker than any of the choices we choose. Living & Co is a solid reminder that you don't need to reinvent the wheel to have a good fan.
Goldair 30cm Box Fan
Power 35 W
Height 30 cm
3 Speed Settings
1 Hour Countdown Timer
The Goldair 30cm Box Fan is another reminder that you don't need to break out anything complicated to create a quality product. The quality is doubly confirmed when you see this comes with a one-year warranty.
It has the same one-hour timer that comes with the Living & Co product. There is a material quality difference when handling a Goldair product vs a Living & Co product. This fan will last you a long while if you take care of it.  
When compared to our other options, ask yourself If you have an available window. Box fans are a bit clunky to be on the floor. I've always loved box fans, as they do well to bring in the cool breezes from the outside.
Features to Look For in the Best Fans
There are a wide variety of fan types out there. Our focuses were limited to box fans, oscillating fans, and tower fans. We will go into the details on the below.
Different Types of Fans
The Black & Decker and Delonghi are both considered tower fans. There is a clear appearance difference when compared to most other everyday fans. Otherwise, we reviewed two pedestal fans ( the Scheffield and Living & Co Models) and one box fan, the Goldair. We will go through the advantages and disadvantages of each below.
Ceiling Fan
We have an entire review devoted to the best ceiling fans. To avoid redundancy, we decided to leave them out of this list.
Ceiling fans are great for producing overhead airflow throughout the entirety of the room. The most significant disadvantage to them is that once you install them, they are stuck. Also, they are a design choice as much as they are a cooling choice.
Table Fan
A table fan is a smaller fan that you can feasibly put on a table. They are great if you have the tablespace, but tend to be weaker than most other fans on this list. Great if you have an opening at your desk.
Pedestal Fans
Pedestal fans have long necks that usually allow for adjustable heights. They are often oscillating, which means that they will swivel back and forth slowly throughout a room. These are great for people who want one fan to cool an entire room. But they can be a bit bulky, and the large "cylinder" shape on the top of them can make it hard to find a position to put them in.
Tower Fan
A tower fan is a newly designed fan that looks like a pillar. Despite how small they can be, they usually stand up pretty well when placed against pedestal fans. Also, they tend to have built-in ionizers that purify the air. The major drawback on these comes from the cost, as they can be anywhere from double to four times the cost of regular fans.
Floor Fan
A floor fan is what happens when you take the neck out of pedestal fans. They have a lot of cooling potential, given that they start on the base of the floor. Heat rises, and cold air sinks. They also are the most significant safety hazards for children, as the fan is at their level.
Misting Fan
While you don't usually see these, misting fans come with a water system that produces a water mist that a fan can blow away. It's great for giving you a fresh feeling. It is not as high you don't feel the need to cover yourself in a light misting.
Other Types of Fans
Other fans do not have a place on this style of list. But we will give you a quick overview of these different types. Wall-mounted fans are those that you can stick to a wall, which is great if you lack floor space. Exhaust fans are fans built to take the place of more advanced ventilation systems, such as those you find in a bathroom. Lastly, industrial fans are for expelling a large amount of unwanted air, such as those you find in more advanced ventilation systems.
Different Motors
A good fan is somewhere around a 35 to 60 W motor. Salespeople may try and inform you that higher wattage fans are always the best quality, but base your decision upon a test of the fan instead. Many of the tower fans, which have mid to lower wattage, can seem misleading in the amount of air they can move.
Conclusion
After an exhaustive comparison, our choice for the best fan NZ has to offer is the Delonghi 360° Tower Fan. The fan provides an oscillating, quiet experience. It is without any of the issues that come with many of the other fans. The timer that you can use to adjust when the fan is at maximum usage is what put this over the top.
While there are other fans on this list that are true of high quality, tower fans are becoming an everyday staple in our households. If you do not feel the same, any of the fans we selected on this list will do the job well.
I'm a Consumer Review Specialist that loves to gab about the latest in appliances. As a dad, a lot of my energy goes into keeping up with my four-year-old.
I'm one of those people that needs his appliances to work. As a writer, I'd take some of the burden from your hands with my research. You can check me out on copysmith.org if you want to see any of my other work.