When I first moved out on my own, I didn't have a lot of money. I can tell you about a few cold nights I had where I had every blanket it the house on my bed. There were even a couple of nights where I crashed at my parent's place because of poor insulation.
With this life lesson, I decided that it was time to invest in a heater. It was a cheap oil column heater that worked wonders. While it couldn't heat any of my other rooms, it was great for my bedroom. So to help you avoid the same experience, below is the potential winner of the best electric heater NZ has available.
Top Five Electric Heaters in NZ
We have five different electric heaters to choose from today. The shortlist is below:
Dyson Hot + Cool AM09
Dimplex DHCER20SW
Goldair GCT225
Living & Co LCH2000B Convector
DeLonghi HCX9124E
These heaters will be judged on their abilities to heat rooms, which makes complete sense. Given we are looking for versatility, we will go forward with an awareness of their room limitations. A judgement of safety has taken place before this review, as we aren't going to review something with poor ratings. We will also be looking at other convenient features.
Dyson Hot + Cool AM09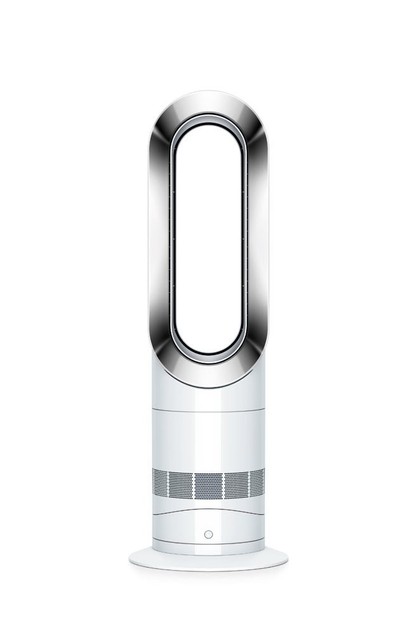 Power 2,000 W
Weight 2.68 kg
Cord length 1.8 m
Dimension 59.5 x 15.3 x 20.4 cm
The Dyson Hot + Cool AM09 reminds us that a heater doesn't just have to be a heater; it can also be a cooling fan. With this optional feature included, the fan is a bit noisier than these other options. One can expect that given that it would need a fan to cool things.
It is also the quickest heater among those we have selected on this list. It takes about five minutes to heat up where the rest of these make an average of eight minutes. The heater also has robust anti-tip safety features and will turn off automatically if it overheats.
It has a built-in thermostat and timer which allows you to control the period that it spends with the heater activated. Given that it is among a the tower-fan heater variety, it is meant mostly for medium to small rooms. Also, it will be mostly ineffective for open floor plans.
There were also some complaints about the accuracy of the thermostat. But regardless, it does what it needs to do. Provided you are willing to appreciate there are some limitations with this style of the heater; it is an excellent purchase.
Dimplex DHCER20SW
Power 2,000 W
Weight 2 kg
Cord length 1.7 m
Dimension 510 x 211 x 208 mm
The Dimplex DHCER20SW eliminates many of the concerns addressed by those who did not like the Dyson. It has an incredibly accurate thermostat that compares well with other pure thermostats. It doesn't have a cooling feature, so it has put 100 per cent of its energy into the heating element. As a result, it has more flexibility with two different heating settings.
Regardless, the heating appears to be a bit weaker than the Dyson, but not to an intense degree. It also doesn't have cord storage, which is a common theme among our heaters. The built-in fan appears to be a bit noisy as well.
It has a strong emphasis on safety with a system that can tell when its overheating and anti-tilt safety detection. It is paramount if you are concerned about leaving it alone. The timer also means you control precisely when it starts or stops. It also has carrying handles, which makes it more mobile than the Dyson.
Goldair GCT225
Power 2000 W
Weight 2.2 kg
Cord length 1.5 m
Dimension 17 x 46 x 12 cm
The Goldair GCT225 is one of the most cost-effective models on this list. It is half of the cost of many of the models we feature, all with about the same level of heating performance. It's the most significant issue regarding heating efficiency. It is related to positioning. If you sit close to it, it will heat that space much faster. It doesn't spread very well.
It's about seven minutes for the heating time, making it number two on the "fastest" list. It also has two different heating settings that will help you heat different rooms. It also comes with carrying handles, making it pretty versatile and quick to respond.
It lacks some of the "good design" you can expect from the Dyson models, making it an ugly heater by comparison. It also has the same "heating evenness" issue that comes with the Dimplex model.
Finally, the thermostat is incredibly accurate. So this appears to be a less expensive version of the Dimplex, but with a couple of features shaved away. Depending on what you are looking for, this is an excellent heater that is good at what it does.
Living & Co LCH2000B Convector
Power 1800 – 2000W
3 Heat settings 750/1250/2000W
Suitable For Medium Rooms 10-18m2, and Large Rooms 18-28m2
Weight 4 kg
Stepping into the realm of convection heating, the Living & Co LCH2000B Convector is a heater that fits well into the budget category. You will notice right away that it lacks many of the features we feature on the other heaters. But it does this at a quarter of the price as most other heaters.
This thing heats at the same level as the highest quality heaters. It spreads that heat pretty quickly as well with a built-in fan, but it is a bit noisy. It takes about eight minutes to heat an entire room, an incredible feat for this tiny model. It sits low enough to the ground that it has a low likelihood of tipping as well.
With all of this good news, there has to be some bad. As expected, the heater heats areas close to it with a fair bit of unevenness. Also, it has no timer or cord storage. The most important fact: this has no tilt protection. So if you are to purchase this, you will need to remember to shut it off before you go, or it will be a potential fire hazard.
DeLonghi HCX9124E
Power 2,400 W
Weight 7.33 kg
Cord length 181 cm
Dimension 555 x 820 x 75 mm
Switching back to the premium end of things, the DeLonghi HCX9124E is a panel convection heater that you can stick to the wall. Its fresh design can blend well with almost any environment. But it's thermostat certainly needs a bit of work, as it has trouble tracking the room.
What it does do well goes back to the focus of our review: heating. It heats things very evenly, meaning you don't feel like you are standing next to the sun when you walk by it.  It also has many of the anti-tilt and anti-overheat features we mentioned in prior models.
For greater control, it has a third heating setting.  There was some concern about the outside plastic heating too fast, but this unit cools down fairly quickly. If you don't mind having a separate thermostat, this is an excellent unit.
Features You Need For Your Electric Heater
Now that we've gone through a few heaters, it is essential to know what you are looking for before you make a decision. Below we will be going through some features you should keep in mind.
Types of Heaters
There are four major styles of heaters. The forms that we feature are limited to tower fans and convection heaters.
Tower Fan Heaters
Tower fan heaters have a built-in fan and are in the shape of a tower. They are pretty distinct, meaning you can tell which of our options are tower fans just by looking at pictures. The Dyson, Goldair, and Dimplex models are all tower fan heaters. They are long, have the potential to rotate, and occasionally have a "cooling fan" feature.
Oil Column Heaters
Oil column heaters are very quiet compared to convection and fan heaters. Given that they are for heating a column of oil, they are also incredibly slow compared to your other options. They are also far more cumbersome than most comparable models.
Panel / Convection Heaters
Our panel heater, the DeLonghi, can be mounted on the wall. It is the only thing that makes it a panel heater. The reason they are with convection heaters is that a panel heater is generally a convection heater.
The Living & Co model is our one example of a pure convection heater. These are known for heating the room fast, but not being as noisy as fan heaters.
Micathermic Heaters
These are the little brother of oil column heaters. They are known to be small and heat up fast, much like my little brother.
The reason you don't see one on this list is related to their inability to control the heat coming out of all sides. As a result, they are a bit of a fire hazard, and you cannot place them next to any furniture.
You can also hear the inside material, called mika, make noise as you heat it to higher temperatures. But they are far faster than most of the other models we feature.
Do I need a Fan For My Heater?
When we compare oil column heaters with fan heaters, there is a noticeable difference. While heat may rise, it does not travel quickly. As a result, a heater with a fan will be far more effective than without a fan.
If you don't mind waiting a few weeks for your heater to work, if it will at all, the oil column may be a nice option for you. There are a few excellent choices out there, but our ratings narrowed down to the ability to heat a room promptly.
Timer
The only machine we feature without a timer is the Living & Co model. A timer will allow you to control the on and off times of your heater. Meaning you will not have to run it during needless times.
Safety Concerns
There are two primary safety concerns with heaters. The first concern is related to the heater's ability to resist tilting or turn off automatically if tilted. The second is associated with the heater's ability to recognize when a blanket or curtain is over it.
All of these heaters are acceptable in these categories. The Living & Co that doesn't have the "overheating" feature or the tilt "automatic off" feature. As a result, this is the highest risk, so just be careful of the location. It is not deemed unsafe based on its ability to be moved and its size.
Conclusion
Based on our research, we found that the Dyson Hot + Cool AM09 is the best heater among our options. For once, the addition of a cooling element proved to be a significant difference-maker. It's heating still maintains a high-quality base regardless of the optional fan. Keep in mind that "cooling" just means a regular fan in this case.
While others have more accurate thermostats and more options on heating, there is much more flexibility in the Dyson. Also, the design will blend in with any modern or classic home. This combination is why this fan is our choice for the best electric heater NZ has to offer.
I'm a Consumer Review Specialist that loves to gab about the latest in appliances. As a dad, a lot of my energy goes into keeping up with my four-year-old.
I'm one of those people that needs his appliances to work. As a writer, I'd take some of the burden from your hands with my research. You can check me out on copysmith.org if you want to see any of my other work.