When I moved out of my parent's place, a long time ago, I never thought of a dishwasher as a luxury. It was just something that you had. But moving into my first place on my own, I didn't have one. It did not take me long to miss the dishwasher.
As a result, I made it a point to invest in a good one when I left. Thankfully, I got pretty lucky with my first purchase, so I want to share that luck with you. Below are our picks for the best dishwasher NZ has to offer.
Top 5 Dishwashers for NZ
Below is the list of different dishwashers we are going through today.
Miele G6660SCVi
Bosch SMU66MS02A Serie 6
Electrolux ESL8530RO
LG XD3A25MB
AEG FFB72600PW
As you may expect, our primary focus will be in the unit's ability to wash dishes. We will also be including a second category in drying dishes. Finally, another primary focus with these will include energy efficiency and water efficiency. It is paramount to hit all three groups to be competitive ad a dishwasher.
Miele G6660SCVi
Annual Energy Consumption 213kwh
Annual Water Consumption 2716 L
Weight 44 kg
Dimension 598 x 805 x 570 mm
Miele has set the standard for reliable performance with our other reviews. The Miele G6660SCVi is no different in its washing performance. It also has 14 place settings, which is about standard for dishwashers.
It has a variety of programs, but many of them take longer than our other models. Those programs also come with adjustable plate racks, which gives this model excellent versatility. It can also be fully integrated with your cabinets, allowing for a smooth inclusion.
The biggest issue I had with this was the lack of child locks. As someone who has a four-year-old who still likes to press as many buttons as possible, it is a concern. Also, there is no time remaining display that tells you how close you are to finishing.
Without a half-load feature, you are best to limit to full loads of dishes. While on paper, it is our most water-efficient model at 11 L, this puts that into question.  The energy-efficiency is no question in this one, as it does well in this category. The auto-sensing feature contributes well to this.
Bosch SMU66MS02A Serie 6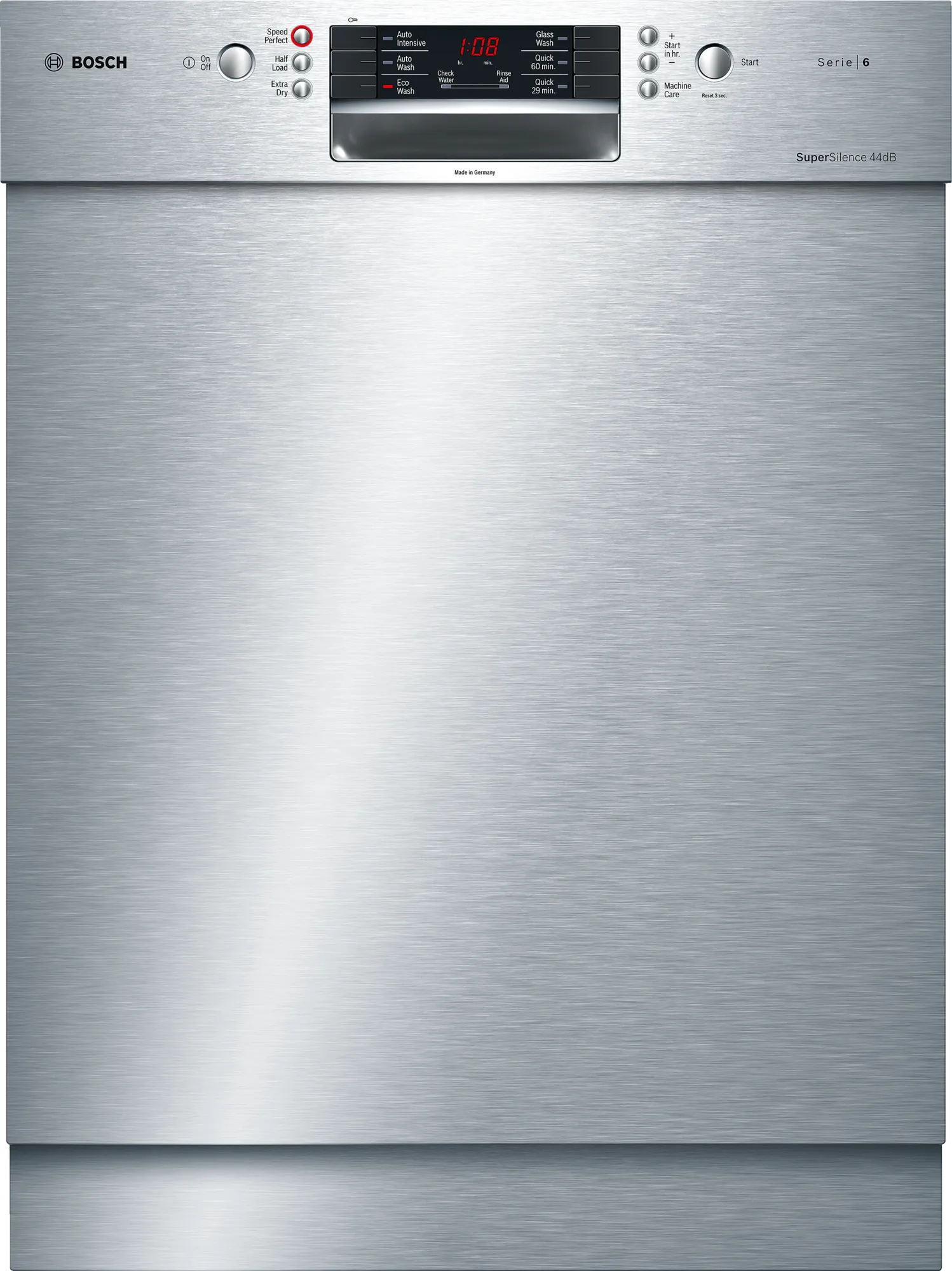 Power 2,400 W
Annual Energy Consumption 235 kwh
Water Consumption per wash 12 L
Dimension 815 x 598 x 573 mm
The Bosch SMU66MS02A Serie 6 beats the Miele in one primary category: drying.  Everything else is almost on par, but it is a bit weaker on energy efficiency. Also, Bosch had the foresight to add a time remaining display.
It has many of the same wash settings as the Miele as well: pots, eco wash, glass, and fast. It even has some of the same issues in taking too long with specific settings. It still cleans pretty effectively regardless of which setting you choose. Don't expect the eco wash mode to handle heavy-duty stains with any of these models.
This stainless steel model includes a child lock and controls. It's great for those who have kids. Also, it does have the option to be fully integrated, but it's a bit awkward compared to the Miele.
For those who like limited amounts of dishes, the Bosch model also comes with a half-load feature. With this in mind, it tends to use more litres per cycle at 15. Overall, still an excellent choice for the best dishwasher in New Zealand.
Electrolux ESL8530RO
Annual Energy Consumption 286 kwh
Water Consumption per wash 13.4 L
Place settings 15
Dimension 870 x 635 x 680 mm
The Electrolux ESL8530RO has one of the shortest clean times I've ever come across. While most of our other models are nearing the three-hour mark, this can clear two and a half hours quick. The half-an-hour difference can free up some much needed time.
It is a little bit more water-efficient than the Bosch, but it is the most energy-efficient model we have picked out so far. It's also fully integrated, meaning it is for blending in with your cabinets. The appearance makes it good with most modern decors.
It's the most significant drawback comes from a weak auto-sensing feature.  It sometimes turns off, regardless of the condition of the dishes. It makes you have to waste water when restarting it.
It appears they may have been aware of this because it does have a rinse only feature. It has the same fold-down plate racks as the other models featured. It also doesn't have a cutlery rack, which isn't great for those who have a lot of knives.
LG XD3A25MB
Annual Energy Consumption 246 kwh
Water Consumption per wash 11.1 L
Place settings 15
Dimension 690 x 664 x 890 mm
The LG XD3A25MB sets the standard for dishes drying, as it is the most efficient option on this list for that. It is also just as quality on the dishes washing front as any of the models on this list. It is also as energy-efficient as the Electrolux model we reviewed.
The child lock is a bit of a confusing element. The controls will need an adult override if the child gets into it. But your young ones could feasibly still crack it open occasionally. So they turned off what was most important.
The auto-sensing feature is a bit better than the Electrolux, but not as useful as the other two models in my experience. It has all of the wash modes that we have mentioned thus far. It even allows for half loaded washers.
LG puts less of an emphasis on water efficiency. It uses the most out of all of these models. It is also a freestanding dishwasher, which is great for flexibility of placement. Not as good for blending in with your other cabinets. 
AEG FFB72600PW
Annual Energy Consumption 277 kwh
Water Consumption per wash 11.4 L
Place settings 14
Dimension 596 x 610 x 850 mm
AEG is a newcomer on our list of appliance reviews, but this doesn't make its dishwasher a pushover. The AEG FFB72600PW is a robust all-around model that has excellent water-efficiency and good energy-efficiency. It's also a lot quicker than most of our models, only losing to the Electrolux.
Again, this is a dishwasher that doesn't have a child lock. But it does have the logic of including a time remaining display. It is excellent for those of us who like the appeal of a countdown.
It does include a cutlery basket, but there is no tray for additional knives. It isn't much of a deal given that it does have a bucket. It also includes fold down plate racks and adjustable top racks. It is the only dishwasher without a salt dispenser as well, which means you will have to find another slot for the salt if needed.
Features to Look for in Your Dishwasher
Now that we have our list, there are a lot of different features to be aware of in a dishwasher. We get into the details below.
Different Wash Options
With every dishwasher, there are a variety of wash options that are more efficient for specific situations. By being aware of these options, you will be better equipped to shop for features that are for your needs.
Pots and Pans
As suggested by the name, this setting is best for washing pots and pans. You will likely have to adjust the plate settings on many of these models. A pots option comes with all models we feature.
Eco wash/ Fast
An eco wash, or fast wash, comes with every model that we feature today. The setting either reduces the amount of energy use or time behind each cycle. It is excellent for those who want to save energy, but not great for those taking care of heavy-duty stains. You may need to pre-wash your dishes if you use this.
Glass or Delicates
The glass option and delicates option are both meant to reduce the pressure or heat inside the washer to avoid breaking objects. If you like to use a machine to wash fragile china, this is the setting for you. A thick, glass casserole dish may not need this setting. All of the featured models come with this.
Half Load
Half load settings only use a small portion of the dishwasher. The Bosch and AEG models are the only two featured on this list that comes with this. It works as a water saver given the amount of water used.
Rinse Only
The "rinse only" wash setting does not include any of your other wash settings. It is excellent if you need to handwash a large number of dishes, rather than let your machine do the work. It is also a good option for machines that have poor auto-sensing capabilities. The Electrolux, AEG, and LG come with this feature.
Cutlery Basket & Tray
Both the Basket and Tray are suitable for holding silverware. All of these models include some bit of this, but the baskets will come in a variety of positionings. For a more critical look at this, pay attention to the place settings that we will get into next.
What Are Place Settings?
The AEG and Miele are the only two with 14 place settings; the rest have 15. These place settings will tell you how many full sets of dishes they will hold. A full place setting includes a dinner plate, snack plate, saucer, bowl, coffee cup, drinking glass, two teaspoons, dinner fork, and a small salad fork. There is not much difference between 14 and 15, try and stick around this level for larger families.
Why Does a Dishwasher Need Salt?
The salt in dishwashers is for softening your water. If you live in a hard water area, such as a major metropolitan area, you will likely need a dishwasher with a salt dispenser. The AEG is the only one without a salt dispenser. Do not use regular table salt; it will destroy your pipes.
Delayed Start
A delayed start will allow you to schedule a time for your dishwasher to start. It is incredibly useful for those who do not like to hear dishwashers all day. All of the models we feature today include this option.
Anti-flood
When a dishwasher overflows, there is a hose that comes with it that will drain it in the event of an emergency. An anti-flood hose, which is part of all the models we feature, will shut off automatically when too much water is in the washer.
Adjustable Place Settings
Adjustable place settings will allow you to adjust the plate racks and top basket in the vent your needs change. All of the models we have come with both options, and they are excellent if you need an "only pot" run of dishes.
Auto-Sensing
Auto-sensing features will attempt to detect when your dishes are clean. In theory, this allows you to save on water and avoid excessive washing when you have a light load—all of the models we feature come with this option.
Child Lock
Child locks will either prevent your young one from opening the washer or prevent your kids from activating the machine. The Bosch and the LG are the only two that come with the complete child locks.
Conclusion
After an intensive review of our many options, our choice is the LG XD3A25MB. It scored high overall marks on the energy-efficient and water savings scale. While others are more water-efficient, the half load and fast features quickly make up for this.
The LG also had an incredibly high-quality cleaning and drying feature, which were two primary focuses in our area. The reality was that the washing on all of these is pretty similar, so the drying was the major difference-maker. With this in mind, any of these models will do great for your home. In our opinion, the LG XD3A25MB is the best dishwasher NZ has to offer.
I'm a Consumer Review Specialist that loves to gab about the latest in appliances. As a dad, a lot of my energy goes into keeping up with my four-year-old.
I'm one of those people that needs his appliances to work. As a writer, I'd take some of the burden from your hands with my research. You can check me out on copysmith.org if you want to see any of my other work.