I remember being a teenager. The first time I needed to start cooking for myself, my parents told me I would need life skills. I ruined a couple of thousand meals in the process, and a chunk of that was due to not taking measurements seriously.
For those of us who want to get a recipe just right, food scales are there for us. My best meals come when I can narrow a meal down to the mathematics of it. When it comes to the kitchen, good math takes delicious. So in my attempt to share some of that logic, we will select the best digital kitchen scale In NZ.
The Top Five Digital Kitchen Scales in NZ
After a bit of research on the topic, we've selected the following five:
Acurite Slim Line Glass Kitchen Scale
Wedo Optimo 13.5cm Kitchen Scale
Taylor 5kg Electronic Digital Kitchen Scale
Taylor Touchless Tare 13.6kg LCD Kitchen Scale
Acurite Digital Pocket Kitchen Scale
We are going to rate them primarily on accuracy and ease of use, the two things a kitchen scale needs to be good at doing. Also, we can rate them on some other convenience-based factors.
Acurite Slim Line Glass Kitchen Scale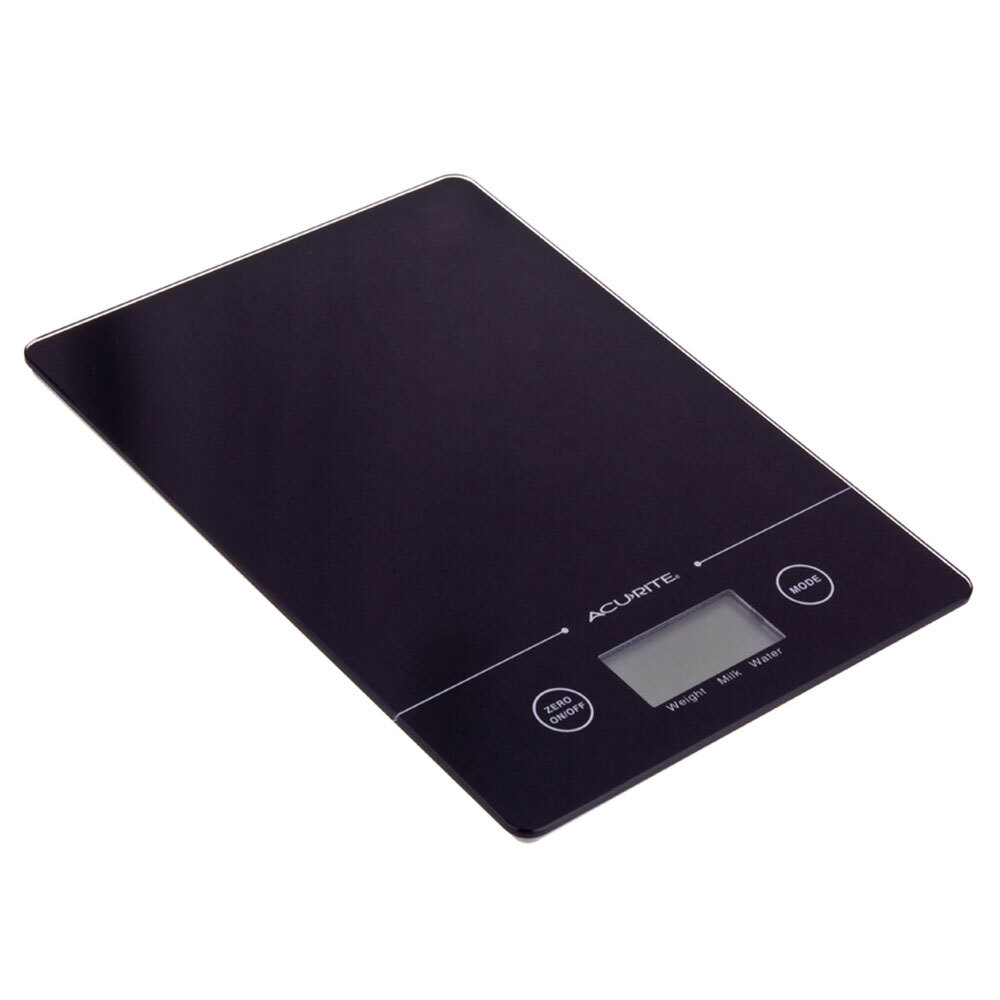 Capacity 5 kg
Weight 0.44 kg
Increment 1.0 g
Dimension 14 x 19.5 x 1 cm
The Acurite Slim Line is a dark, sleek scale with a glass covering. The glass addition makes it easy to clean, which is an essential aspect of accidental food spills. It also has a convenient hook for hanging.
The accuracy of the scale is pretty good at accurate measurements. It measures grams to the detail of .1 increments and ounces in increments of one. It isn't for those who are picky with specific weights when it comes to liquids. But there is a measurement mode specifically built for liquids.
It can hold up to 5 kg of weight capacity, which is crazy for a scale of this size. It even allows you to switch between metric and imperial readings for those who prefer it.
The Acurite doesn't wow us with anything off the charts, but it is accurate and convenient. It even shuts off automatically when you don't use it for a while.
Wedo Optimo 13.5cm Kitchen Scale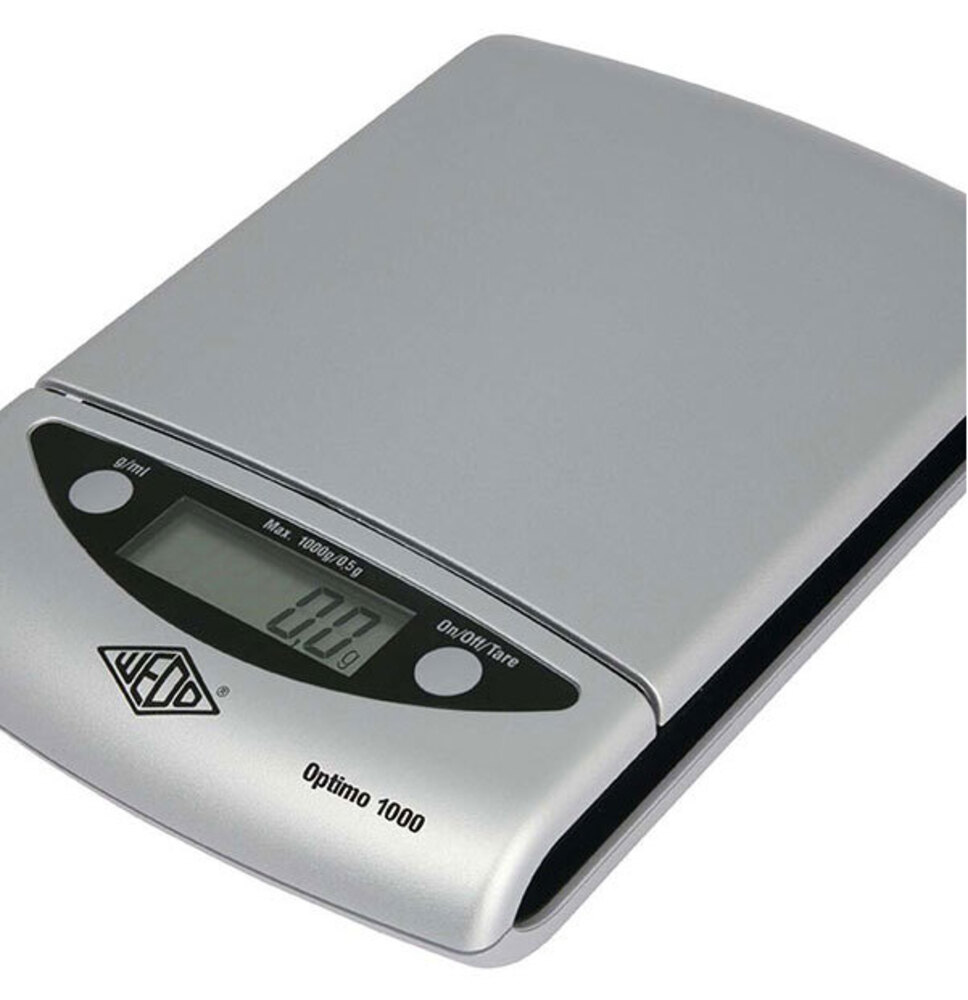 Capacity 1000 g
Power 2 x AAA 1.5V Micro Batteries
Increment 0.5 g
Dimension  20.3 x 13.3 x 3.4 cm
The Wedo Optimo is a chunkier model that has replaced a sleek look with cost-effectiveness. The device also boasts the same precise weighing, but it does so in larger increments of .5 g.  The platform is also slightly smaller than the Slim Line.
The product is like a tank, which explains why they have a three-year-guarantee on it. If the product malfunctions within those three years, you could potentially replace it based on the company's allowance.
The lower cost also appears to have left the weight limit at 1000 g (1 kg). It is far lower than many of our other models. But the accuracy is a crucial component behind this one.
This digital kitchen scale also has the same auto-off feature as most of our other models. So it is built like a tank and will last quite a while rolling over things. It is an excellent kitchen scale for those who emphasize a cost-effective product.
Taylor 5kg Electronic Digital Kitchen Scale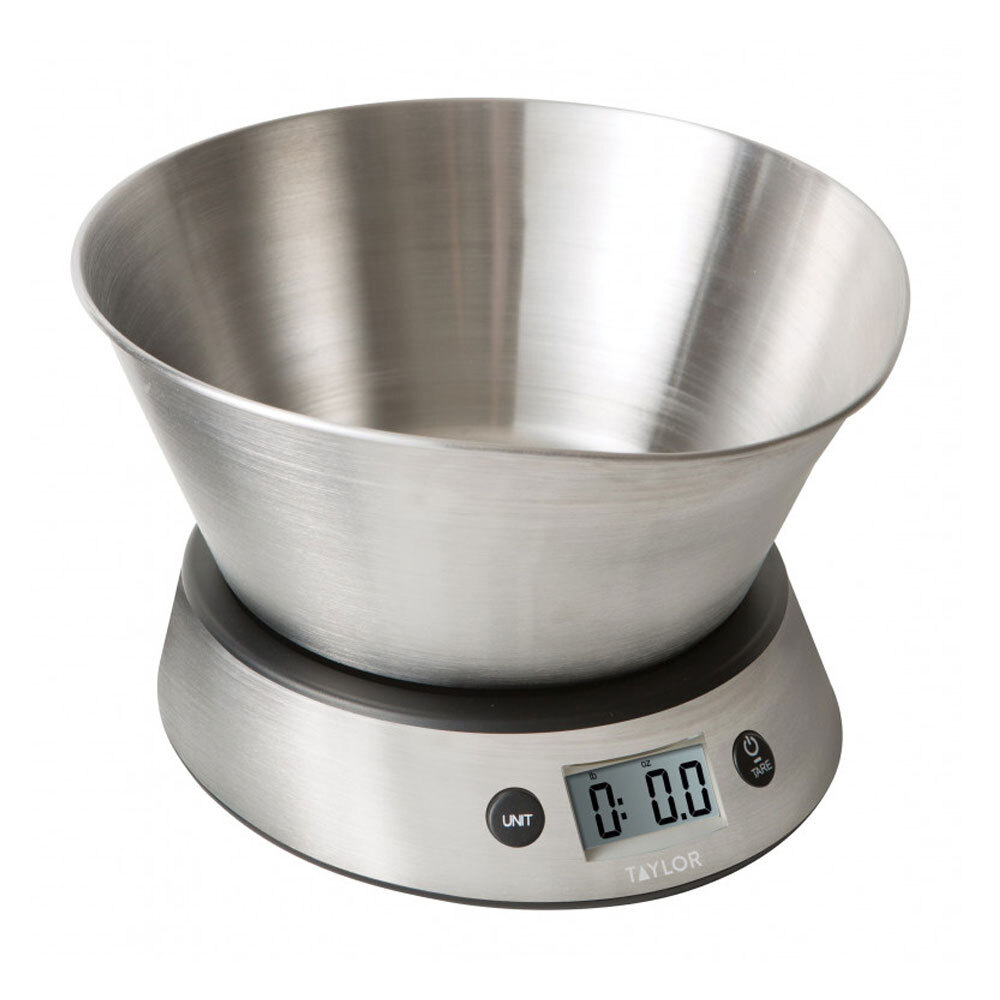 Power 2x AAA
Capacity 5 kg
Increment 1 g
Dimension 0.220 x 0.100 x 0.230 mm
The Taylor 5kg Digital Kitchen Scale has something that doesn't come with any of these: a bowl. It may seem pointless to you, but not having to weight the container before weighing your food is a big deal. It saves a good chunk of time based on the convenience.
If you do not like the bowl, the device allows you to remove it from the system. When you do, it still is admirable at reading dry foods. It has an accuracy that is equal to the Acurite.
The premium quality comes to us in the form of the material. Stainless steel provides an excellent finish and an easy wash on the top rack of the dishwasher. It also maintains the auto shut-off trend.
Taylor Touchless Tare 13.6kg LCD Kitchen Scale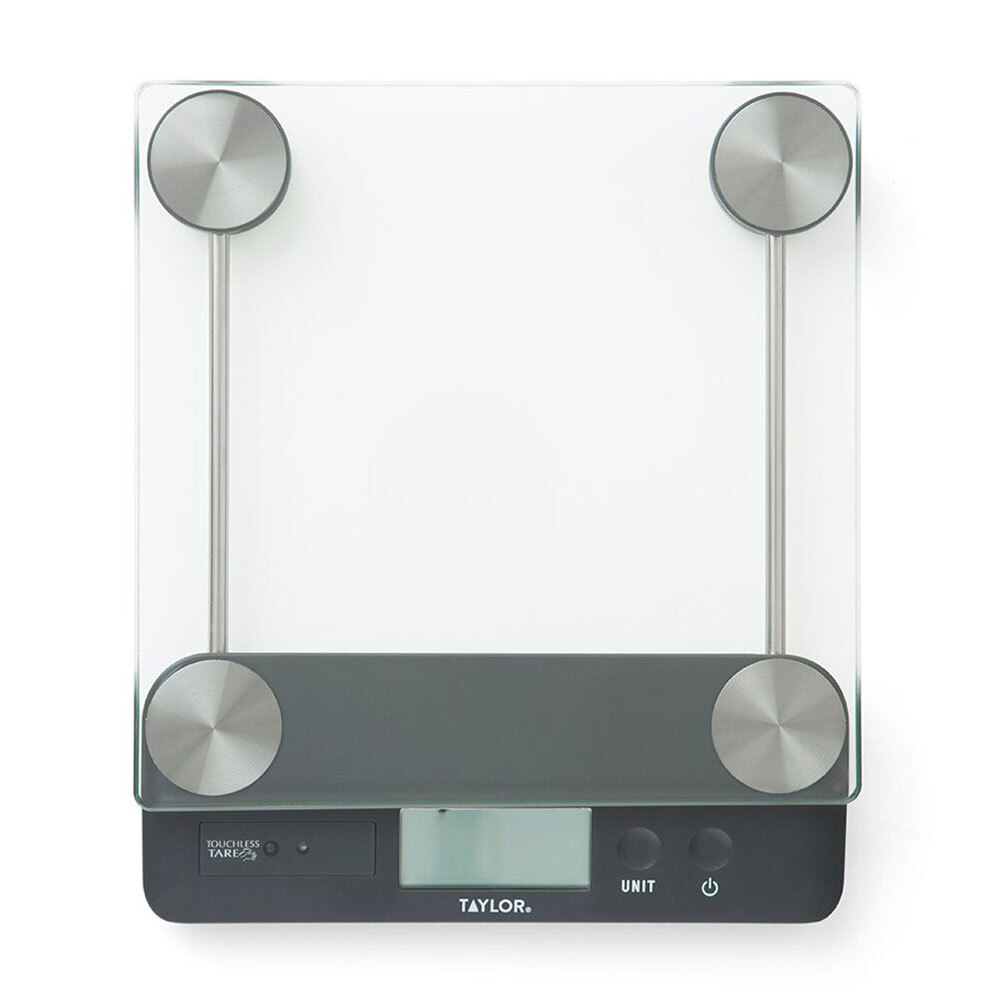 Power 3x AAA
Capacity 13.6 kg
Thickness 1.9 cm
Dimension 0.300 x 0.070 x 0.250 mm
Sticking with the premium trend, the Taylor Touchless Tare has the most extensive surface area of all of these scales. The construction emphasizes quality with tempered safety glass and a chrome finish. When putting it next to other stainless steel and metallic appliances, it blends in well while also standing out.
The size allows you to conquer larger meals up to 13.6 kg. Unfortunately, it is not as accurate for measuring out the ounces of liquids. But it is still a beast of a scale regardless.
Another unique feature worth mentioning is the touch buttons. The TARE button, known for adding weight to your measurement, is prominently displayed. It is a problem for some of our other models who hide it behind symbols.
Acurite Digital Pocket Kitchen Scale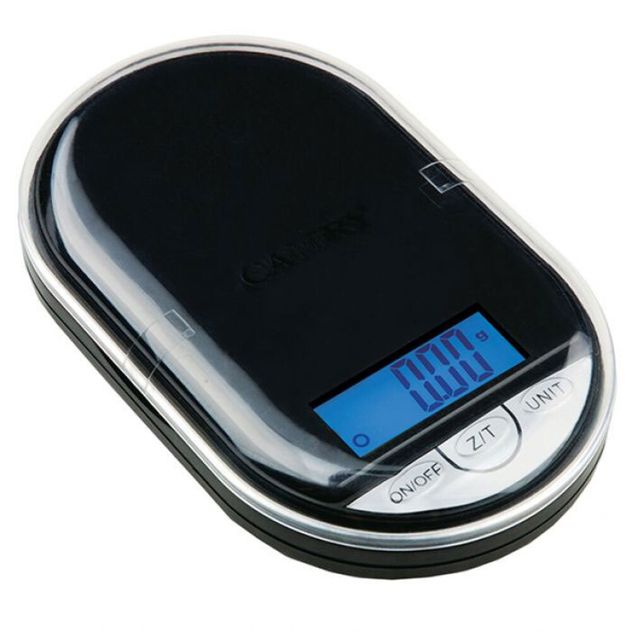 Power 2x AAA
Capacity 200 g
Accuracy 0.2 g – .001 oz
Dimension 110mm x 65mm
You've seen the biggest, now see the smallest with the Acurite Digital Pocket Kitchen Scale. As the tiniest in this group, it takes up the least amount of kitchen space. Regardless, it is still a sleek unit that does what you need.
The small size limits its weighing ability to 200 g, which eliminates a lot of food options. But it is the most accurate among those small food sizes, especially with liquids that have a variance of .001 oz. The grams can change between increments of .2 g.
While it may seem a bit too small for most projects, it's still powerful for the reason that is different than the others. If you ever need a super-accurate small scale, this is the one for you.
Features To Look for in Digital Kitchen Scales
Now that we have our list of kitchen scales, we have a few features that I want to go through with you. While these features may seem a bit straightforward, it is always essential to consider them before making a purchase. You may find that one scale's features will outweigh your needs for another.
Liquid Measurements
Every scale on this list is capable of taking liquid measurements. However, you will want to be aware of the process before doing so. Follow these steps to ensure accurate liquid measurements.
Change the mode to ounces (oz)
Weigh the container of the liquid first
With the cup still on the scale, reset the scale
If done correctly, it should read zero
While leaving the bowl on the weight scale, pour the liquid into it
If you follow these steps, your measurement will be incredibly accurate. The scale will recognize your cup as part of the device. It means your container will not be part of the total ounces.
Accuracy of Measurements
There are two different methods you can use to verify the accuracy of measurements.
The Taring Method
The taring method involves testing the before and after effects of adding and removing weight. Take anything you can weigh, such as an apple, and have it ready. First, you will want to measure the fruit and take stock of that measurement. Next, you will want to reset the device, so it rereads zero. After this, hitting the TARE button and removing the apple will reveal the same weight, but negative. If it doesn't, your scale might be faulty.
Using Currency
If you do not need to test your TARE function, you need to check the weighing capabilities using something with a confirmed weight. Take a 1 dollar coin, which should weigh 8 g, and place it on your scale. Coins are a standardized weight, making them a good option. If you are still unsure, compare that coin's weight with other scales. Try and get a new coin, as old coins tend to degrade and lose mass over time.
Surface Area and Weight Limit of Scale
The larger the surface area of the scale, the more bulky items you will be able to measure on it. Currently, the Taylor model holds the distinction of being the largest in this group at just above 13 kg. The rest of this average out at about 5g, with the portable scale being a measly 200 g.
Ask yourself how you want to use your food scale before considering weight limitations. Are you going to measure out small bowls of spices? Do you measure out larger pieces of meat? The answers to those questions should reflect on what you purchase.
Hooks
A hook allows you to hang up your food scale. The Slim Line is the only food scale with that feature included. It is a convenient option that is best for smaller weight scales.
Conclusion
The Taylor 5kg Electronic Digital Kitchen Scale is the winner of our selection today. The reason for this is because of two different reasons. First, it is incredibly accurate at measuring solids and liquids that are right in the middle of the weight scale. Second, it comes with a bowl that makes adding weight via the TARE function incredibly easy.
Of course, weight scales are incredibly subjective. If you feel like you need something to measure out vast chunks of food, this may not be the best. If you need a scale that takes up a small amount of kitchen real estate, this may not be your choice. Choose something that fits you and your family.
I'm a Consumer Review Specialist that loves to gab about the latest in appliances. As a dad, a lot of my energy goes into keeping up with my four-year-old.
I'm one of those people that needs his appliances to work. As a writer, I'd take some of the burden from your hands with my research. You can check me out on copysmith.org if you want to see any of my other work.