A few years ago, I bought a cheap dehumidifier for my apartment. The apartment was on the bottom floor and retained a lot of heat and moisture. It was alright during colder seasons, but it was a nightmare in the hotter months.
Because I've got this "set and forget" habit with these kinds of appliances, the cheap humidifier filled up pretty quick and started to leak. Thankfully, I caught it before any significant water damage occurred.
Because of this experience, I've got a personal interest in making sure you do not make the same mistake. We have found five of the best dehumidifiers NZ has to offer. Below, we will get into the details.
The Top Five Dehumidifiers NZ
The list of dehumidifiers we will be going through are listed below.
Suki WDH-1150DBH
Dimplex GDDEKD9
Panasonic F-YWP33N
Goldair GD330
Mitsubishi Oasis MJ-E22VX-A1-W
The focus of a dehumidifier is related to the amount of water it removes from the air. As a result, that's going to be our number one focus. There will be other focuses related to optional features and ease-of-use.
Mitsubishi Oasis MJ-E22VX-A1-W
22 L Moisture Removal Capacity
7 Modes including laundry mode
4 litre water tank
Weight 13.7 kg
Getting back to our chunkier models, the Mitsubishi Oasis MJ-E22VX-A1-W is a mouthful to say. But don't let it's abnormally long name turn you off, it has a feature that none of the other models on this list has: an air filter.
While it is not quite as powerful as individual air purifiers, the additional air filter creates an impressive package. I always felt that combining heaters and dehumidifiers were unusual.
Being a Mitsubishi, it comes with a few premium features which include a timer, humidistat, and wheels. But no cord storage. It also manages to be reasonably noiseless regardless of all this.
The negative points come from it being the least efficient water removal device on this list. It's still much better than many options out there. It is also reasonably energy-efficient.
Suki WDH-1150DBH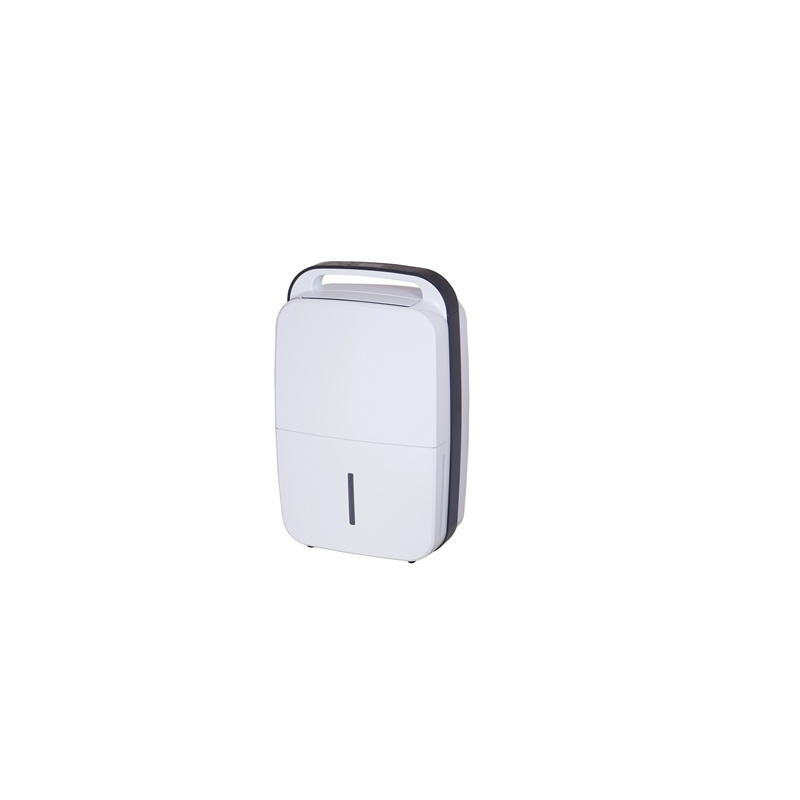 24 hour timer
Capacity 30 L
Weight 16 kg
Dimension 247 x 372 x 595 mm
The Suki WDH-1150DBH that is easy to grasp and pretty energy efficient. It's also cost-effective when considering the initial investment, which makes it suitable for people on a budget.
It is a compressor model, which we will be getting into later in the article. For now, be aware that this model can sputter in the cold, but it does better than any compressor in its price class.
What won me over on this model was the larger tank capacity than nearly hit 5L of water. Taking fewer trips to empty the dehumidifier is an understated feature. 
As a result of the larger tank, the device is bulky. It is not a problem once you get it inside, as the WDH comes with wheels. It also has a humidistat which allows you to track the level of humidity in your house.
Dimplex GDDEKD9
24 Hour Timer
Extracts 9 L per day
Anti-Bacterial Tank 5 L
Dimension 34 x 221 x 509 mm
As a premium humidifier, the Dimplex GDDEKD9 has one of the highest stats of water removal on our list. As a trade-off, you are going to end up paying a bit more in energy costs when compared to the WDH.
Out of all of the dehumidifiers we tested, this one was one of the more noisy ones. It isn't so loud that it's going to interrupt your conversation; you will hear it buzz from the next room. 
The GDD also doesn't have wheels, which isn't much of an issue given the fact that it's far lighter than the WDH. It is surprisingly lightweight given that the water tank is still a whopping 5 L.
Other convenience features it lacks include a lack of cord storage. But this wasn't a deal-breaker for me. You could still feasibly wrap the cord around the unit.
Panasonic F-YWP33N
Power 330 W
Capacity 5.2 L
Weight 18.0 kg
Dimension 370 x 605 x 250 mm
The Panasonic F-YWP33N blows almost any unit out of the water when it comes to performance at low temperatures. This is likely related to the fact that it has no heater, which is a staple of the models we've mentioned so far.
It makes up for this with a litany of other features: a timer, humidistat, and wheels for smooth movement. It is a bit heavier than the Suki. You will get some use out of those wheels. Lugging this beast up a couple of flights of stairs was not easy.
It also lacks the cord storage area, but we've already discussed that there are other options for storage here. The tank capacity is also a bit short compared to the other two at 4 L
Goldair GD330
Power 650 W
8 L extraction of damp air
Timer settings 1, 2, 4, 8
Dimension 45 x 64 x 35 cm
The Goldair GD330 is a baby when compared to some of the units here. As a result, it has the smallest tank among those that we feature. But the lighter weight and compact size make it more flexible for smaller environments.
The size makes wheels useless, and they would have no room for cord storage if they tried. It also doesn't have any room for a heater. But it does have carry handles that make it easy to maneuver regardless.
The Goldair also is not as efficient, but it removes a surprising amount of water given the size.
This unit is good at fitting into tight spaces and removing a good deal of water from the air. It is useful where it needs to be. The size also makes it the quietest unit on our list.
The Features You Need to Look for in Your Dehumidifier
Now that we have a list of great dehumidifiers to choose from, now is the time to break things down. If you don't know what you are looking for, you can't make an informed decision. Below, we will get into the details.
Water Removal Stats
Many of these statistics are available on their respective company websites. But the most crucial feature in any dehumidifier comes in its ability to remove water from the room. Below is the list including the claimed daily removal rate.
Suki WDH-1150DBH: 30 L
Dimplex GDDEKD9: 9
Panasonic F-YWP33N: 33
Goldair GD330: 8
Mitsubishi Oasis MJ-E22VX-A1-W: 22
These statistics are aware of the number of times you may need to switch out the tank. Expect these numbers to be different for you if you don't spend all day camping out next to the smaller tank designs.
Energy Efficiency
Below are the calculated running costs per year
Suki WDH-1150DBH: $110
Dimplex GDDEKD9: $220
Panasonic F-YWP33N: $60
Goldair GD330: $190
Mitsubishi Oasis MJ-E22VX-A1-W $80
The statistics will change depending on how often you use your dehumidifiers. It also may vary depending upon the level of humidity in your given location.
Tank Size
All of our tank sizes average around 4 to 5 L. The Goldair model is the only option that goes as low as 2 L. The Goldair isn't build for large-capacity projects.
If you don't feel like changing out the tank often, try and shoot for a more substantial capacity tank. These will affect our next topic.
Weight
Heavier products which include the Suki, Panasonic, and Mitsubishi all include wheels. This feature is related to their much heavier weights. If you live on the lower floors, don't expect to carry more than 7 kg from the products on this list.
Humidistat
A humidistat is for tracking the current level of humidity in the area. Each of the models that we feature today has a humidistat. It gives you a visual representation of the moisture in the air reducing.
Compressor vs Desiccant
There are two major types of dehumidifiers: Compressors and Desiccants. Below are some details on the differences.
Compressor Dehumidifiers
All of the dehumidifiers we review fall into this category. The reason we consider compressors is the significant cost difference between the two areas. Compressors tend to be far more inexpensive to run. Because energy-efficiency is an essential rating factor on our list, desiccant models were not featured.
Desiccant Dehumidifiers
Desiccant models are built similarly to the way that heat pumps arrive in a refridgerator. A desiccant model has more considerable crossover with a heater.
For those who are willing to deal with the heightened energy costs and improved healing element, desiccant dehumidifiers might be a better pick for you. In my opinion, I would prefer to buy a separate heater.
Timers
Timers allow you to choose a period that they are operational for the day. This feature is excellent for people who like to keep their dehumidifier running while they are out. It prevents them from having to hear the noise.
Also, it gives you more control over the energy-efficiency aspect of this. All of the models we feature include timers.
Noise
None of the noise we have on our list goes over 60 dB. That is the level of normal conversation, meaning that you will never have to shout, but you may have to raise your voice with any of these models. It is why a timer is a handy inclusion.
Conclusion
The clear winner of this conversation is the Dimplex GDDEKD9. This model is the ultimate combination of efficiency in water removal, energy-efficiency, and the overall size of the product.
While the heater is unnecessary, it is still useful to mash your appliances together. Too much of this results in an ineffective product, but Dimplex managed to do this very well.
The tank size also makes this a deceptively light product. If you are looking for the best mix of features, the Dimplex is your best best. Any of these dehumidifiers would also make an excellent addition to your home.
I'm a Consumer Review Specialist that loves to gab about the latest in appliances. As a dad, a lot of my energy goes into keeping up with my four-year-old.
I'm one of those people that needs his appliances to work. As a writer, I'd take some of the burden from your hands with my research. You can check me out on copysmith.org if you want to see any of my other work.