A while ago, my brother and I got into a conversation about the best coffees. We had our own opinions on brand, but he was the only one among the two of us that owned a coffee grinder. He made me a brew of coffee using a cheap one that he had on hand. This brew taught me an essential lesson.
If you happen to have room for this luxury in your house, it will re-ignite your love for coffee. As someone who lives and breathes the stuff every morning, I tell you that grinding your coffee makes a difference. Because of this, we want to share that experience with the world. Below, we go into our suggestion for the best coffee grinder NZ has to offer.
The Top Five Coffee Grinders NZ Has Available
We will be going through the best five coffee grinders available in New Zealand. You may see our short list below.
Rancilio Rocky Doser
Breville The Smart Grinder Pro BCG820BSS
Mazzer Mini
Macap M2M
DeLonghi Dedica Coffee Grinder KG.521.M
Our primary rating point for this will be the fineness of grains. Other factors related to ease-of-use will come into play as well, but all of these are at least reasonably easy to use.
Mazzer Mini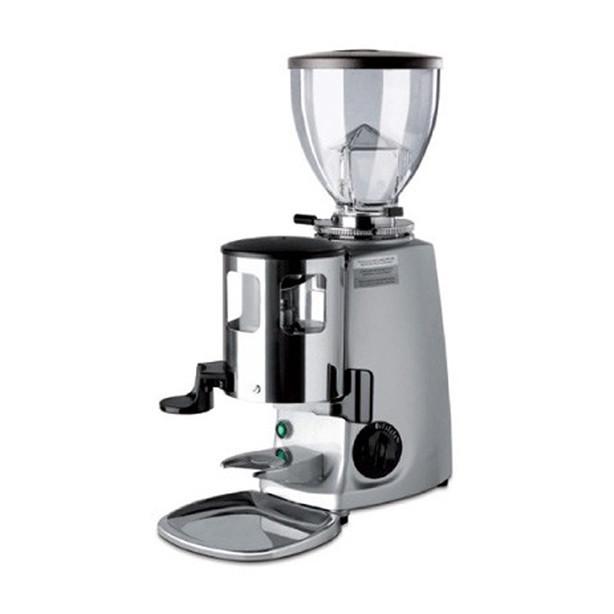 Power 250 W
Coffee-bean container capacity 0.6 Kg
Ground coffee container capacity 200 gr
Weight 10.2 kg
The Mazzer Mini is the epitome of "premium coffee grinder." The confidence is in the two-year-warranty offered with this thing. It also has an adjustable doser, which we will detail later in this article. It makes you feel like an at-home barista.
The grind settings appear to have many options. While it is isn't clear how on the number of fineness settings available, it gives you control over our coffee's grain.
It is easy for you to section off a small amount of coffee for each drink of expresso. Once you get it down, it allows you to produce a high amount of quality coffee quickly. Others may allow you to measure it out. Still, the Mazzer Mini is the only one that will enable you to drop that measurement without having to worry about it.
By comparison, the Mini's barista-like focus makes it a bit harder to understand. Small households who don't need the premium side will ask themselves why they bought it. This appliance is great for those who are looking for a high-quality coffee grinder and conversation starter.
Rancilio Rocky Doser
Power 166 W
Number of Grind Settings 50
Weight 18 lb
Dimension  5.2 x 9.75 x 13.75 in
The Rancilio Rocky Doser provides us with an immediate reminder of what a high-quality product is. With 55 different settings to control the fineness of the coffee, it's a bit overwhelming for newbies to the grind. But it doesn't take long before you are making expresso with the champs.
The flexibility allows it to be used for regular coffee as well. The highlighted hopper makes it easy to see your beans that the fineness of the grind. It does hold less coffee than others at 8 oz, but this is rarely an issue unless you have a household of people who love coffee.
You have to remove and hand wash the bean hopper, which is pretty standard. Being an "elegent tank," it may take you a couple of minutes to find a spot in your crowded kitchen. But it's completely worth the room it takes up.
Breville The Smart Grinder Pro BCG820BSS
Power 165 W
Number of Grind Settings 60
18 oz Coffee Bean Capacity
Dimension 6 x 8.5 x 15.5 in
The Smart Grinder Pro is an incredibly cost-effective model that is a bit more clunky than some of our other models out there. But it comes with a large-capacity hopper that can hold up to 16 oz and has 60 different settings available.
With all good things come some negatives.
We had a couple of different times where the coffee stuck to the sides of the jar and the hopper. Other people have also expressed the same issues, making it a bit of a cleaning annoyance.
Aside from this annoyance, this sleek device has an LCD screen that makes it easy to control the amount of coffee that one produces. It also has the same one-year-warranty as the Rocky Doser, making it an excellent option.
Macap M2M
Power 150 W
Capacity 250 g
Grinding output 1 g/s
Dimension 152 x 250 x 382 mm
The M2M is a quiet, efficient grinder that does what you need it to do. It has an excellent adjustment option that allows you to get into the details of your fineness. It is still versatile enough to handle coarser coffees, such as a French press. 
It isn't quite as attractive as some of our other models, in my opinion. The dispenser on the front is also angled a bit, which causes a bit of awkward hand placement coordination. It was an easy fix but required a bit of "human error correction."
The open design provides the option of applying a portafilter, which allows you to relocate the grounds pretty quickly. It also gives you control of when to grind or keep the beans, allowing you to have greater control over the amount you want to produce.
DeLonghi Dedica Coffee Grinder KG.521.M
Power 150 W
Beans container capacity 350 g
Weight 2.75 kg
Dimension 240 x 154 x 382 cm
The DeLonghi is the lightest model on our list. While that isn't much of a feature, it is an excellent thought when you have to take it to your car. The lighter size also means that it takes up a bit less space than many of our other options.
The grinding container allows you to see what's going on with the grind. Different "strength" settings which are a bit odd, but it does have excellent control over fineness.
The grinding container is a bit too snug, causing a higher potential for messes if you remove it. But it does focus on the number of cups, which can be easier to read depending upon your preference. Overall, an excellent way to end competition for the best coffee grinders in New Zealand.
Features To Look For in the Most Effective Coffee Grinders
Now that we have gone through the list, below are some features you will want to keep in mind when shopping for a grinder. In my experience, the two most important areas to look at are related to how easy it is to understand and the fineness of the grain. There are budgetary concerns as well, but we feel that you know your budget more than anyone, which is why we don't tend to include these in our reviews.
Burr Grinders vs Blade Grinders
There are two major types of grinders available. These include burr grinders and blade grinders. Below are the details.
What is a Burr Grinder?
The "burrs" are in a burr grinder are two metal plates that crush and grind the beans down. After this, the coffee beans are forced through these burrs to get into a container. The process gives you a considerable amount of control over the fineness of your coffee.
What is a Blade Grinder?
A blade grinder is a blender that is for coffee beans. While they are incredibly cost-effective, they do not produce high quality and consistent results. They are best at grinding down single cups of beans over large capacity projects. As a result, we have not featured a blade grinder on this list.
Fineness and Coarseness
Most of the coffee grinders we produce on this list will provide you with a wide array of coffee grinding levels. All of these on the list are excellent at what they do. The highest amount of control comes from the Mazzer Mini.
Keep in mind that if you are interested in French press coffees, you will want coarse brewing options as well. Base this decision on a combination of your needs and budgetary concerns.
Auto Switch-off
This option is a built-in safety and convenience feature that will automatically shut off the grinder. All of the coffee grinders have this to some capacity. Many of them will require you to hold down a button so that you may control the time the beans will bring. All of them also have built-in settings for adjusting time, as that directly impacts the fineness of the result.
Noise
Blade grinders are far louder than burr grinders, which is another reason you won't see them on this list. The loudest is the Smart Grinder Pro, but it isn't by too much. All of these are pretty loud, given that they are still coffee grinders.
Hoppers and Shutters
Hoppers allow you to store whole coffee beans so that they may be ready for easy use. All of the coffee makers have some sort of hopper applied to them. All of these are removable and need to be hand-washed periodically to ensure the coffer grinder keeps its quality.
A shutter allows you to shut off the dispenser so that it may hold the blended coffee within. It will enable you a good deal of control over the amount of coffee you want to produce on a bach-by-batch basis. The DeLonghi is the only product we have on our consideration list that does not have a hopper shutter.
Coffee Doser
If you have ever been to a professional coffee place, you might recognize what this is. A coffee doser allows you to segment different areas of expresso grains so that you may control how much goes into each coffee. These get segmented like a pie would be, where you would release one corner to deposit it into your espresso machine.
The Mazzer mini has the most iconic doser among these. However, a hopper shutter can serve the same purpose at a slightly slower rate. Coffee dosers are considered luxury items.
Conclusion
After an extensive review of our options, the Masser Mini takes our top spot among the best coffee grinders in NZ. While it may seem a bit excessive, the Masser Mini provided with the most significant variance of course coffee vs smooth grounds. Also, it combined the most precision with a combination of a shutter and a doser.
While Smart Grinder Pro was a bit easier to use, enough time with any appliance can make you a master with it. The owner's manual and instructional features will help you on this journey. Others also have the edge on this one in the allowance of portafilters. Still, those exchanged this with less control elsewhere.
Do you agree with us? If not, feel free to leave a comment on our opinion. The best coffee maker for us may not be the best coffee maker for your family, so we hope this guide will help you on your way.
I'm a Consumer Review Specialist that loves to gab about the latest in appliances. As a dad, a lot of my energy goes into keeping up with my four-year-old.
I'm one of those people that needs his appliances to work. As a writer, I'd take some of the burden from your hands with my research. You can check me out on copysmith.org if you want to see any of my other work.