It may seem like an easy feat to pick the best clothes dryer. You create a budget, select a size, and choose the one that is best at drying your clothes. While this might seem like a straightforward process, the modern dryer comes with a couple of different concerns worth addressing.
First, energy efficiency is the name of the game. You need a dryer to outperform others. But if your electricity bill spikes in the process, it is not saving you money. Second, if it is so energy efficient that it doesn't dry your clothes, that isn't very helpful. There are also a variety of different types of dryers.
It is harder than it looks. So with this in mind, our guide will bring you through the features and statistics you need. Here is our list for the best clothes dryers NZ has to offer.
Top Five Clothes Dryers for NZ
Given the vast amount of suitable dryers available in New Zealand, this one was particularly difficult. We narrowed our selection down to five options listed below.
Electrolux EDV705HQWA
Simpson SDV656HQWA
Miele TCE 630 WP

Fisher & Paykel DE8060P2

Haier HDV40A1
We focused on two primary locations in our rating: energy efficiency and drying efficiency. There are other factors which will go into this as well, such as ease of use and optional features. Flexibility will be vital in determining the best possible dryer.
Electrolux Condenser Dryer
Capacity 7 kg
Energy Consumption 315 kWh per year
6 Drying programs
Dimension 795 x 600 x 600 mm
The third vented dryer on our list comes to us in the form of the Electrolux EDV705HQWA. The drying efficiency is about on par with the Simpson model. Still, It sacrifices a bit of energy-efficiency as a result. It sits at .81 cents per small load and 1600 per ten year period based on available statistics.
It's a happy middle when comparing dryer sizes, as this sits at 7 kg. Not too big, but not too small. It also has a drying sensor, wall mount, and reverse tumbling feature.  But it loses in the delay start feature that comes with the Miele.
The dryer is slightly louder than any of our other models. But for those who have a wall between them and this dryer, it isn't very noticeable. Its also between our other two models on the drying period at 110 minutes.  It also has a ducting kit for easy installation.
Simpson SDV656HQWA
Capacity 6.5 kg
Energy Consumption 292 kWh per year
5 Drying programs
Dimension 795 x 600 x 600 mm
The Simpson SDV656HQWA is an excellent and cost-effective model that beats out many of our other options on drying time. Being a vented dryer, it will need a connection to the outside through some tubing. Vented dryers tend to have one spot available in standard housing.
It is stable in the energy-efficiency area at around 80 cents per small load. It doesn't make it excellent, but it could certainly do worse. Applying the cost to a ten-year spread will cost you around 1600, which is pretty good considering the overall cost.
There is an optional ducting kit which you can use to seal the machine. Otherwise, expect dryer lint to out of the back end with any use.  It also has some features that make it a pretty advanced dryer: reverse tumbling, wall mounting option, and anti-crease technology. It is also stackable.
The capacity makes this limited to medium families. 6 kg is pretty good, but not great for those who wash a lot of stuff. This model also lacks a drying rack and delayed start.  But it does have a sensor to tell you when your clothing is dry.
Miele TCE 630 WP
Capacity 8 kg
Energy Consumption 94 kWh per year
12 Drying programs
Dimension 850 x 596 x 636 mm
The Miele TCE 630 WP is the Lamborghini of dryers. It is a cost-efficient model that works best in keeping energy, but it doesn't dry with the same efficiency as some of our other options. It is a heat pump dryer, so it maximizes flexibility while also preventing the room from heating up.
The capacity of this dryer is where it beats out other options. At 8 kg, it is perfect for larger families. However, the 10-year cycle cost jumps up to three thousand as a result.  But the price per small load on energy efficiency drops to .24 cents.
Being a high-quality dryer, it has many of the same options we have already addressed in the Simpson: stackability, drying sensor, and an anti-crease option. It also has a delayed start just in case you don't like the noise of the dryer, or you want to avoid running during hotter times in the day.
The only real drawback is the lack of wall mounting, but that isn't much of an issue for my household, so we didn't notice it.  It also has a slightly higher cycle time than the Simpson dryer at 125 minutes.
Fisher & Paykel DE8060P2
Capacity 8 kg
Energy Consumption 355 kWh per year
5 Drying programs
Dimension  850 x 600 x 645 mm
The first and only condenser clothes dryer on this list is the Fisher & Paykel DE8060P2. With an 8 kg load capacity, 115 minutes of cycle time, and energy efficiency around .73 cents per small load, this matches closely to the other dryers on this list.
The significant difference comes to us in the form of a LED display. This feature allows for easy viewing on the remaining time and a fancy look. It also comes with a drying rack, which is a unique feature compared to others on this list. It's around 2400 per ten years of cycle costs.
In my experience, the size of the dryer doesn't seem to compliment the sensor. It sometimes goes off when a portion of the clothing is dry, especially with larger blankets. Also, condenser laundry dryers tend to turn any room they enter into a sauna, try not to make it a heavily trafficked area.
It doesn't have a reverse tumbling feature, which can cause a higher potential for tangles. It's also a bit picky with stacking, as it is compatible with washers in the same product line. It does have the delay start and anti-crease features; making is a powerful dryer regardless.
Haier HDV40A1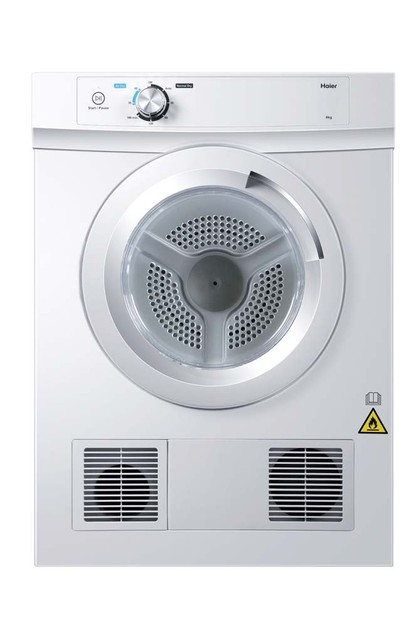 Capacity 4 kg
Energy Consumption 180 kWh
7 Drying programs
Dimension 830 x 600 x 495 mm
The Haier HDV40A1 is one of the most cost-effective up-front investments I have ever made. While it is a bit slower than the others on drying time and a bit less energy-efficient, it manages to stay on par with these models at a much lower rate.
It still has a drying sensor with reverse tumbling features, making it effective at preventing tangled blankets. But, it will not be able to fit many of those blankets, as the capacity is limited to 4 kg. It is also stackable, which makes it very maneuverable given the size.
For families in need of a small unit, who do not mind a couple of extra trips, this is an excellent option for your home. It lacks some of the more fancy features, such as delay start and crease prevention.
Features of the Most Energy Efficient Clothes Dryers
Clothes dryers come with a wide variety of features these days. The need for energy-efficiency grows higher every day. Given the power behind many of these machines, it is easy to see why dryers used to be a significant issue regarding energy consumption.
Below, we will be going through a few features and different types of dryers you might need.
Different Types of Dryers
Three types of dryers are available today: Heat-pump, vented, and condenser. Each of them comes with a list of advantages and disadvantages that we will list below.
Heat-pump Dryers
Heat-pump dryers contain the heat using an internal system that takes the warm, damp air pumps it into a separate area where it may be cooled and reused. This system results in some of the most energy-efficient dryers available. This system will generally reflect in the price, causing them to be more expensive than most other dryers.
Vented Dryers
The design of vented dryers is the oldest available. Many improvements have complemented these dryers over the years, making them the cheapest options available. You will need to put them in a location that needs to ventilation, limiting their options.
Condenser Dryers
Condenser dryers are like heat-pump dryers without the "reuse" step. As a result, no ventilation system makes these turn any room into a sauna. For those who have an isolated place, this may not be a problem. The features tend to make them in the middle on the cost list.
Size and Capacity
All of the dryers we selected have a capacity of 4 kg or higher. Our two Meile dryers and the Fisher & Paykel are up to 8 kg. Given that they are all reasonably close, this wasn't a significant factor in the selection process. Of course, larger dryers make for more clothes-per-load, so consider the 8 kg options if you have a big family.
The capacity of the dryer tends to reflect in size. Below are the dimensions of the dryers we have selected. Be sure to measure out a space for them so that you can properly fit your new dryer.
Simpson SDV656HQWA: 79.5 x 60 x 60 cm
Miele TCE 630 WP: 85 x 60 x 64
Electrolux EDV705HQWA: 85 x 60 x 60
Fisher & Paykel DE8060P2: 85 x 60 x 65
Haier HDV40A1: 83 x 60 x 50
Given the similar capacities, you can see that all of these are relatively close. The measurements are in height, width, and depth, respectively.
Energy Efficiency
Energy efficiency is related to the amount of energy usage per small load. In this case, the small load was about half the capacity of most of these at 3.5 kg. Below is the full list that we considered:
Simpson SDV656HQWA: 81 cents
Miele TCE 630 WP: 24
Electrolux EDV705HQWA: 85
Fisher & Paykel DE8060P2: 73
Haier HDV40A1: 59
The Haier is the only one that matches that small load. But the small size makes it easy to manage and measure.
Reverse Tumbling
Reverse tumbling prevents your larger blankets and sheets from tumbling into each other. Most of the time, this prevents section of your rugs from the dryer, requiring you to untangle them and try again. It is a necessary feature for most dryers these days, but the Fisher and Paykel model does not include this.
Delay Start
The delay start option allows you to schedule a time for the dryer to start. For vented dryers and condenser dryers, this is an incredibly handy feature. Other dryers have this feature just in case you do not want to hear your dryer. The Haier, Electrolux, and Simpson models do not include this feature.
Wall Mounting & Dryer Stacking
If you live in a smaller environment, having the ability to mount your dryer to the wall or stack your dryer on top of your washer is paramount. The 100 square feet you have in a washroom is sometimes not enough to handle even the smallest dryers.
The Fisher & Paykel is the only picky dryer, as it tends to limit its stackability to those in the same model list. The Meile and the Fisher & Paykel are the only two without wall mounts.
Drying Rack
If you see an exhaust grill on the front door, it is part of something called a drying rack. While not common in most washers, the Fisher & Paykel model decided that It was a worthwhile inclusion. It is perfect for drying items that do not need a tumble. So if you have a washed shoe, you could place them there.
Conclusion
With some painful deliberation, the Electrolux EDV705HQWA has proven itself to be the overall winner. The reason for this is related to its robust combination of features in a cost-effective package.
It has the fastest drying time among all of these models. Also, its flexibility in being stackable and wall-mounted allows it to fit into tricky spots. The 7 kg of space also makes it a perfect middle among the best clothes dryers for New Zealand. If you have your own opinion, feel free to leave it in the comments.
I'm a Consumer Review Specialist that loves to gab about the latest in appliances. As a dad, a lot of my energy goes into keeping up with my four-year-old.
I'm one of those people that needs his appliances to work. As a writer, I'd take some of the burden from your hands with my research. You can check me out on copysmith.org if you want to see any of my other work.