It was only relatively recently that I discovered the joy of ceramic countertops. I love the easy-to-clean surfaces, the impressive heat distribution, and the high potential for energy efficiency. Making the transition from a gas stove-top was one of the better decisions I've made in my life.
As a result, I'd like to share that decision with you. If you have ever thought about getting this style of cooktop, our guide will help you on your way. Below, we will provide you with a list of the best ceramic cooktops NZ has to offer.
The Best Five Ceramic Cooktops in NZ
This review will be focusing entirely upon New Zealand's offerings for the best ceramic cooktops. Below is the list of countertops we will be going through.
Haier HCE604TB2
Electrolux EHC644BB
Bosch PKE611CA1A
Miele KM 6520 FR
Fisher & Paykel CE905CBX2
We will be basing our decision primarily on ease-of-use. However, other features, such as safety, will also be considered.
Haier HCE604TB2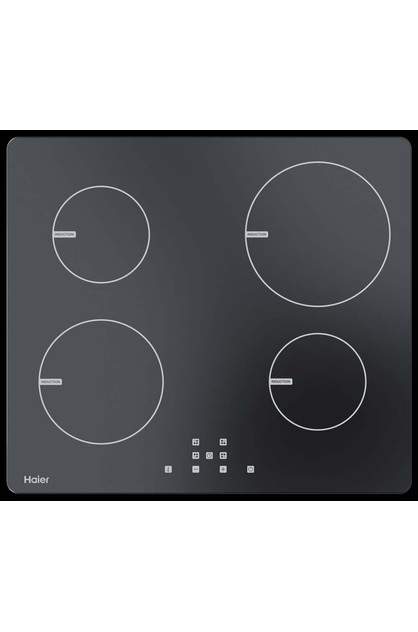 Voltage 220 – 240 V
Heat Settings 9
Weight 12.2 kg
Dimension 40 x 580 x 510 mm
The problem that many ceramic cooktops run into can be related to price. This factor does not seem to be an issue for Haier, as the HCE604TB2 is one of the most reasonably priced cooktops you will encounter.
The unit also has touch controls, which is usually for higher-cost products. This year was a game-changer for many of these countertops, and Haier is at the forefront of that evolution.
When considering the cooking, it does heat up well. The biggest issue I had with it was that there is only one burner with a "Flexi-zone," preventing me from adjusting the area of heat for my other pots and pans. It also does not have a "keep-warm" feature. But it does have a child lock.
Electrolux EHC644BB
Left Front Power 210 W
Left Rear Power 145 W
Right Front Power 145 W
Right Rear Power 180 W
The Electrolux EHC644BB is a premium-level ceramic countertop that sleek-looking device that will fit in with any modern kitchen. The sleek design will blend well; even the burners blend well.
This unit is similar to our Haier model, but it includes a keep-warm function. It also has an auto heat-up that you can schedule, so you don't have to worry about waiting when you have a planned meal.
The single, multi-element burner is a bit more flexible for small to large pots. But this is still limited to a single heater, which makes it more flexible, but not by much.
The unit also has features like a timer, child lock, and automatic switch-off, making it pretty concerned with safety. The touch controls also make it pretty easy to clean. It even comes with a glass scraper.
Bosch PKE611CA1A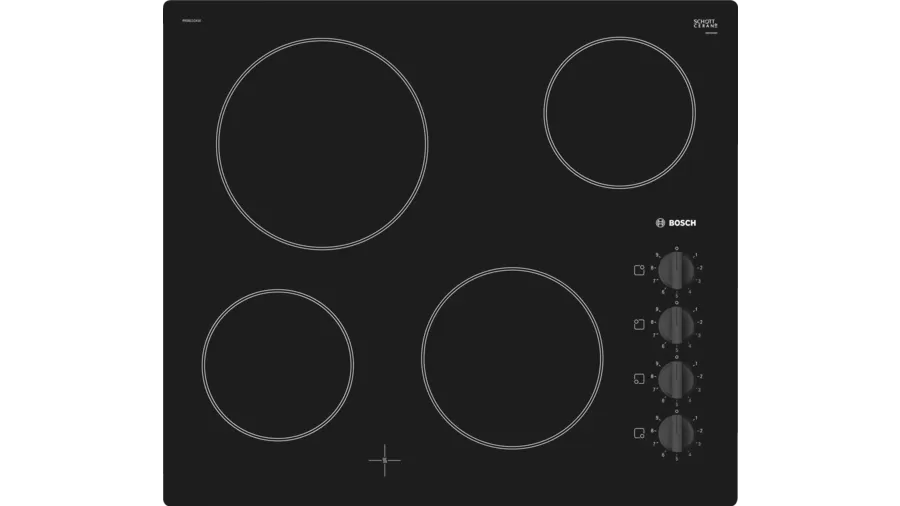 Power 6600 W
Cooking zone rear left: Standard zone – 210 mm – 2.2 kW
Cooking zone front right: Standard zone – 180 mm – 2 KW
Cooking zone rear right: Standard zone – 145 mm – 1.2 KW
The Bosch PKE611CA1A reminds us of a simpler time where we could focus on efficient heat-up times and excellent cooking. It does what a ceramic cooktop should do: be outstanding at cooking meals and pretty easy to clean.
It goes back to the dial controls, making them easier to notice and access in the event of needing a quick response. However, its design lacks an auto turn-off and child lock, meaning it doesn't have some of the safety features that we would come to expect from our other models.
Another issue it has is a lack of a timer. Instead, Bosch has chosen to invest this back into the efficiency of the stove-top. While you can use your phone, it is still a feature that I missed coming from other units.
Another issue behind simplicity is the lack of energy-efficient options. It lacks Flexi-zones and multi-element options. It also doesn't have a keep-warm function. The drawbacks exist, but Bosch can produce a high-quality product that does as advertised, and this is no exception.
Miele KM 6520 FR
Weight 8 kg
Power 6.7 kW
Voltage 230 V
Cable Length 1.4 m
The Miele KM 6520 FR is a beast that sticks out with a stainless-steel trim that can blend in with modern or classic environments. My mind has always had a love for stainless-steel products, mainly because my family has used them for ages.
The Miele also brings back what we would expect out of a premium cooktop: a child lock, timer, and auto heat-up function. It also automatically switches off after a given period. Touch controls are in the front, making them easy to reach for all.
The drawback with the KM 6520 FR comes from the unique design element. It is not as easy to clean this one as it is to clean others because that stainless-steel buffer catches dirt.
It makes up for this by outperforming many of our other options as far as ease-of-use goes. It also quickly cooks anything you can throw of it—an excellent choice for the best ceramic cooktops in New Zealand.
Fisher & Paykel CE905CBX2
Left front 1700 / 700 W
Left rear 1800 W
Right front 1200 W
Right rear 1200 W
The Fisher & Paykel CE905CBX2 is longer than our other options, allowing the space to fit a fifth burner. The result makes it perfect for large families, and it was incredibly useful to save time as a result. If you have to feed a small army, this is the choice for you.
To keep the price reasonable, it had to sacrifice the premium touch controls one would expect. Also, the position of the knobs is low enough for a child to reach. Combine that with a lack of an auto switch-off, and you pay for that extra burner in safety features. It also does not have a timer.
It performs where you would expect it to: in cooking quality. All five burners are excellent, and two of these burners allow for multiple zones of cooking, making it pretty efficient for being a beast.
The dimensions are the tricky bit hear, as most stove-top areas don't have the space for this burner set. Granted, it wasn't an issue on my end, but be sure to measure out the dimensions before purchasing. If your stove-top is around 87 x 49, you will be fine.
Features Took Look For In the Best Ceramic Cooktops
When looking for a ceramic stove-top, there are a lot of high-quality options available. If you have already decided to stick with ceramic, you are ready to enjoy the revolution of easy cleaning.
If you are worried about glass breaking, keep in mind that these glass tops are for withstanding intense heat. Unless you drop a hammer from the second floor, you aren't likely to shatter it anytime soon.
Dimensions of The Countertop
There is a slight bit of variance between all of our countertops. The only countertop that has a significant variation is the Fisher & Paykel model. Below is a list of dimensions to keep in mind for your house.
Haier HCE604TB2: 56 x 49
Electrolux EHC644BB: 56 x 49
Bosch PKE611CA1A: 59 x 52
Miele KM 6520 FR: 57 x 50
Fisher & Paykel CE905CBX2: 87 x 49
Measure out your available space before making a purchase.
Number of Burners
Fisher & Paykel is the only oddity on this list, as they have a total of five burners. Most standard stove-tops come with four cookers; more is a premium feature. Unless you can justify an additional heater through multiple invitations of large groups of people or a large family, there is not usually a need for these. However, base that decision upon your experience.
Position and Type of Controls
This feature is essential for those who have movement limitations. If you have difficulty reaching long distances, you will want to be sure that the controls are in an easy-to-reach location. The Bosch stove-top is the only product that has foreseeable issues with that, as some of the knobs farther back.
Touch controls fall between convenience and inconvenience. Pressing a button is far more efficient and easy-to-access than pressing down on a knob and turning it. Those with physical disabilities should consider touch controls. Others may want to stick with knobs due to familiarity. The only two models we feature with knob controls are from Bosch and Fisher and Paykel
Safety Features
There are two major safety features that you will need to look for: child locks and auto turn-off features.
Child Lock
There is a button on your stove-top that will prevent children from mashing the other buttons. The other buttons being the ones that start the heating features of your oven, which is not a good thing. It doubly concerns if they like to press down and turn knobs, which is something I am familiar with given my son has locked himself in the bathroom before.
The Bosch and Fisher and Paykel are the only products that lack these child lock features. This problem is because they have knob controls, which are difficult to handle when it comes to child safety.
Auto Turn-Off
Going back to the limitations of knob technology, the Bosch and Fisher and Paykel are the only ones that lack this feature. This feature is something that is with the other three stove-tops, and it automatically turns off the burner in the event of no interaction. It is a handy feature for those who have a bad habit of keeping them on.
Multi-element Countertop
A multi-element countertop has multiple circles on the inside of your burners. Touch controls will allow you to use the larger zone or, the smaller area, resulting in you having more control over heat distribution. The Fisher & Paykel personally have my favourite example of this, as they just added another burner. Two of the five burners on this model have multi-elements.
My second favourite version of this comes from the Electrolux model, as they have three multi-elements with one burner. These features are those who like to have control over the distribution of heat. If you have a wide variance of pots and pans, consider this on the list of features you may use.
Flexi-zones and Induction Cooktops
Flexi-zones and induction cooktops are something that exists on the "cutting-edge" of technology, so you are like to see this become more popular over the next several years. The two go hand-in-hand because these "induction zones" are flexible.
This feature means that you could feasibly put your pan in a general location and the pot would still heat up. It is an exciting feature that is still growing, so keep your eyes open over the next few years. We have not featured anything with induction heating or Flexi-zones on this list.
Keep-warm Feature
The keep-warm feature is related to the ability of the ceramic burner to have an incredibly-low temperature setting to keep your meal heated. It is a less common feature with ceramic countertops, which is why this feature is limited to the Electrolux model. It is a nice feature, but not a deal-breaker given one can retain heat with a lid.
Auto heat-up
This feature is a different option that is limited to the Electrolux and the Miele models. It allows you to schedule a time for pre-heating, meaning you don't have to wait for cooking. It is a unique feature that is perfect for busy families. The five-minute difference did not do too much for me; also, it does not help those who have fluctuating plans.
Conclusion
After an exhaustive research process on various improvements and features, the Electrolux EHC644BB is our choice for the Best Ceramic Cooktops NZ has available. The number of features that this product contains beats out our other options pretty handily. I struggle to think of anything I hated about this product.
While it may not be as flexible as our Fisher and Paykel product, it does fit standard stove-tops. The other options were all on par when considering the cooking quality. Also, their design is considerate of those who are disabled.
If you have another opinion or feel that we missed something, feel free to leave a response. Keep reading for more reviews on the best of everything in NZ.
I'm a Consumer Review Specialist that loves to gab about the latest in appliances. As a dad, a lot of my energy goes into keeping up with my four-year-old.
I'm one of those people that needs his appliances to work. As a writer, I'd take some of the burden from your hands with my research. You can check me out on copysmith.org if you want to see any of my other work.