Ceiling fans are great. It's a fan that does not take up floor space. What's better than that?
I'm sure we can talk about a lot of things more enjoyable than ceiling fans, but they are still one of the best methods of spreading cold or warm air throughout the house. They are a conduit of whatever happens to be nearby, its just a matter of finding the right one.
For those who are looking, there is a surprisingly large amount of considerations for ceiling fans. So with that in mind, below is our choice for the best ceiling fans NZ has to offer.
The Top Five Ceiling Fans in NZ
Much like our other lists, we will be limiting them to five options listed below.
Canyon DC 56" Ceiling Fan
Arlec 1200mm Northera Chrome Ceiling Fan With Light
Tempest AC 52" Ceiling Fan
HPM 1200mm Hang-sure Ceiling Fan
Bahama DC 52" Smart Fan
Unique Features of Ceiling Fans in NZ
With a ceiling fan, our focus is going to be on the longevity of materials and the effectiveness of cooling individual rooms. Given that our diameters are all about the same, we will be using an average-size living room.
Canyon DC 56" Ceiling Fan
Power 40W
Size 1420 mm
Blade 3 x molded durable ABS
Blade pitch 20 degrees
With a six-year warranty, Canyon doesn't mess around with quality. The material is finely crafted and has a longevity to explain the six-year warranty.
It also has a powerful 40W motor that cools the room but stays quiet.  As a regular fan, it is hard to find something negative about this.  It also has a variety of colours, depending on your design preferences.
It lacks a light, which could be a deal-breaker for some people. Also, the three blades can cause less of a cooling spread effect. It is a simple, long-lasting fan that is at the highest quality on this list.
Arlec 1200mm Northera Chrome Ceiling Fan With Light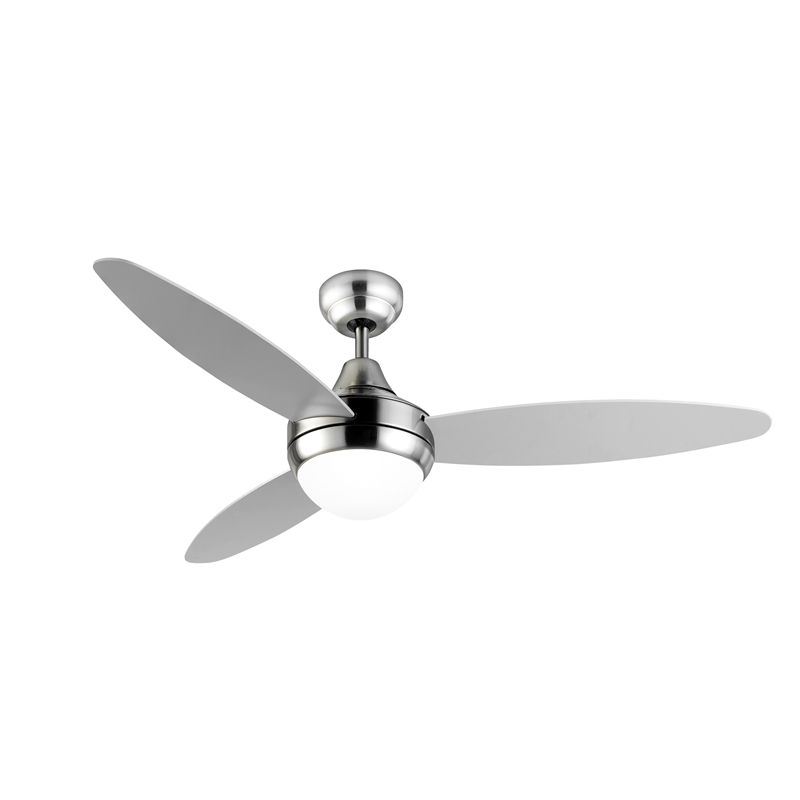 Power 50 W
Weight 7 kg
Bulb wattage 60 W
3 blade 120cm
The chrome design may not appeal to everyone, but a metallic fan has its advantages when it comes to power. Arlec corners the market in cost-effective fans with this one. It even has a light, something that our premium fans do not have.
The one design option is not appealing for everyone, as it is chrome. Being a reflective surface, natural light in the wrong position can be its enemy. You may find yourself wanting to invest in a pair of sunglasses.
The motor is also a bit more robust, creating a noticeable difference in fan speed. But its additional rate comes with a bit more noise, which is a big deal for many people.  Thankfully, this is a rare situation that ended up being an easy fix for me.
Tempest AC 52" Ceiling Fan
Power 50 W
Size 1320 mm
Blade 4 x Painted Plywood
Blade pitch 11 degree
The Tempest is unique on this list because of its remote option.  The remote allows you to switch between three different speeds. This feature gives you greater control over the output of the fan, which is a great luxury.
The quality has dropped slightly as a result, but it still has a two-year in-home warranty and a three-year motor warranty. But that is impressive compared to some other options.
It also has a 52" diameter with a 50 W motor, putting it on par with the power of the Northera. It does this while avoiding the potential for noise. This product is likely the best at spreading cold or warm air with an additional blade.
The smaller amount of depth means that it takes less overhang space, which is excellent for shorter rooms. Overall, it is an incredibly versatile unit.
HPM 1200mm Hang-sure Ceiling Fan
Power 60 W
Weight 6.5 kg
Fan blade 3 aluminum
Speed 320 rpm
An inexpensive ceiling fan with interchangeable parts, the HPM is an unusual underdog in a race full of premium items. It does feel cheaper, but the sturdy, aluminium design and gives it a unique upper hand on many of these other options.
While the HPM may not be winning any awards in design, it does win prizes for power and versatility. A 65 W motor gives it one setting that is fast and adept at cooling large rooms.
The HPM also has one of the most simple installation methods on this list. But you may still want to get a licensed electrition if you are unsure about what you are doing.
The depth on this is far lower than our other options, and it can even go on inclined walls. Overall, an unusual contender for the best ceiling fan in New Zealand.
Bahama DC 52" Smart Fan
Power 32 W
Bulb 18 W
Size 52″
Blade 3 durable ABS
The Bahama is the odd fan out on this list, as it is the only one with wifi connectivity. With a supplied application and Google Assistant, you can command your fan verbally to change speed. If you do not like smart technology, you also have the option of a remote.
The Bahama has available extension rods that give it a bonus in the design realm. As a result, it can take up a lot of room if you let it.  It proves its quality with a six-year warranty. Three of these are for in-home while three are for the motor.
It has one of the weaker motors at 32 W, but it still manages to cool or heat a wide area. It returns to the standard three-blade model that is throughout this review. The Bahama reminds us that the age of smart technology can be cost-effective.
Unique Features of Ceiling Fans in NZ
We've gone through a lot of fans on this list. Some of them focus on design, others concentrate on power, and some are focusing on smart features. It brings us to the next point: the highlights.
As always, our favourite fan may not be your favourite fan. As a result, you are likely to pick something else that we present on this list. Below, we will go through a list of potentially useful features.
With or Without Light
If you have a light built into your fan, it is a handy addition that provides an additional source of light. However, you trade design potential when you jam a shining bulb into your fan.
There are a variety of designs, but it can appear clunky to those who prefer premium fans. As a result, the HPM and Arlec are the only two that have this feature.
Fan Speed
Typically, quick fans make for louder fans. Slower fans make for weaker cooling but less noise. The HPM has the highest speed potential, but you may be looking for a fan with variable speed.
Variable speed fans are my favourite given that it means you don't have to be stuck with the debate of loud vs ineffective. Regardless, all of the fans on this list are considered high quality. If you think variable options, look at the Bahaman and the Tempest.
Fan Material
The material of the fan doesn't have much of an effect on the abilities of cooling. Instead, it has more of an impact on appearance. The Canyon, Bahama, HPM, and Northera are a variety of metals. Our wooden option is the Tempest.
Fan Diameter
Fan diameter tends to affect the fan's ability to cool the room. All of the fans we cover can handle "medium rooms." In our case, the tested rooms were around 36 to 40 square meters. For those who have open floor plans, have a diameter of at least 56".
Your floor fans can act as a guide. Large fans tend to be most effective for open floor plans and living rooms. Small fans are for hallways and smaller rooms. This decision will depend on the area that you are trying to cool or heat.
Motors
Motors on the items we reviewed vary from 32 (The Bahama) to 65 W (HPM). As the cost goes down, you will notice that the wattage goes up.
Part of the reason for this is related to energy-efficient technology. Fans are not on any "watch lists" for energy consumption, but expensive fans have a great deal of care put into them.
High wattage will create a powerful fan, but it isn't an endgame for cooling or heating power. Try to focus more on fan diameters when shopping.
Warranties
Excluding the HPM and the Northera, all of the fans we over have a minimum five-year warranty. In-home warranties begin once it reaches your home. You should speak to each company to determine the details.
Remotes
Remotes allow you to adjust the fan speed remotely. Back in the old days, you had to yank the chord down seven times to get the fan to do what you wanted.
It is a necessity for high-ceiling fans. It is also great for those with mobility issues. Check out the Bahama and the Tempest for these.
Smart Features
Smartphone applications allow you to control any aspect of your smart home. In the case of our one option for this, The Bahama, it will enable you to control fan speed.
Great for those with high ceilings and mobility issues. Not great for much else.
Conclusion
After observing all of the features of these ceiling fans, we've found the Bahama DC 52" Smart Fan is our choice. Despite the name of this product, the reason for this choice has little to do with the smart features. However, this was a consideration.
The combination of having variable fan speed with smartphone capabilities while retaining some semblance of style gave this fan the edge. Despite coming to blows with some pretty heavy hitters, it came down to some pretty simple requests in a versatile package.
If you have a different opinion, feel free to share your thoughts in the comments. Otherwise, pick your fan based on you and your families needs.
I'm a Consumer Review Specialist that loves to gab about the latest in appliances. As a dad, a lot of my energy goes into keeping up with my four-year-old.
I'm one of those people that needs his appliances to work. As a writer, I'd take some of the burden from your hands with my research. You can check me out on copysmith.org if you want to see any of my other work.