Regardless of what modern design will tell you, you would believe that tile and hardwood floors are the way to go. They are easy to clean, easy to manage, and difficult to mess up. But if you are like me, putting your feet onto a carpeted surface is incredibly satisfying.
But without a sufficient carpet cleaner, you won't have that satisfying feeling on your toes for very long. Carpets require maintenance every so often. Without a proper shampooer, your carpet will eventually get pretty gross.
We have composed a list to address these issues. Below, we will give you our take on the best carpet shampooers in NZ.
Top Five Carpet Shampooers in NZ
Several different brands have a fantastic line-up of products. All of these have a good history in New Zealand, so all of these will meet high-quality demands. Below is the short list of what we will be going through today.
Bissell SpotClean Turbo Carpet Cleaner
Wertheim Animal Pro Carpet Shampooer
Wertheim SE2000 Extractor Carpet Shampooer
Bissell ProHeat 2X Revolution Max Professional Deep Cleaner
Living & Co Carpet Washer
We will primarily be basing our decision off of the quality of clean. Mainly, we will focus on how these products handle stains which include pet hair, coffee, wine, and dirt. Additional features that improve the ease of use will also be on our list.
Bissell SpotClean Turbo Carpet Cleaner
Power 750 W
Capacity 2.8 L
Weight 5.8 kg
Power cord length 6.7 m
The Bissell SpotClean Turbo Carpet Cleaner is an excellent start on our journey. This design is made primarily for spot cleaning projects. But the quality at which it does these projects are excellent.
The small size of attachments makes it challenging to clean heavy-duty messes. It is one of the few cleaners that can handle carpeted stairs. But it is not made for larger carpet surfaces.
Given its smaller size, it is easy to get around corners and maneuver compared to our other options. But it sacrifices tank size at around 2.8 L. The 7 m cord also makes it an excellent choice for more complicated projects.
While it cleans all types of stains pretty well, chunkier items can occasionally get caught. You will also have to switch out the tank a little more often.
Wertheim Animal Pro Carpet Shampooer
Power 1,850 W
Capacity 3.8 L
Weight 13 kg
Cord length 9.2 m
The Wertheim Animal Pro is closer to what you may expect from a carpet cleaner. It has a shape similar to barrel vacuum cleaners, so it's a bit bulkier than the SpotClean. However, it compliments this by adding another litre to the tank size.
When compared to the Bissell SpotClean, it is one of our more premium options. It has four separate cleaning strengths, but the lowest power won't clean much of anything in my experience. However, the other three make up for it.
It also has a "spot cleaning" spray to it, allowing you extra power for tricky stains. It has a dryer that takes care of the carpet shortly after cleaning it, but it is less effective with thicker mats. We still suggest letting time take care of most of the drying process, but it does help.
The cleaner specializes in pet hair messes, but it is good at almost anything. It does have a hose attachment, but given that it is attached to a 4L behemoth water tank, it is not easy to get up the stairs.
Wertheim SE2000 Extractor Carpet Shampooer
Power 700W
Dirty Water Tank Capacity: 2 L
Power Cable Length 5.8 m
Weight 6.2 Kg
Another product by Wertheim on this list bodes well for the brand, and the SE2000 Extractor is no pushover on this list. Despite it having the smallest water capacity, that assists in its maneuverability.
It has a rotating brush bar built-in, but it isn't too big to handle carpeted stairs. However, it lacks the auto drying feature that comes with our other Wertheim.
While other cleaners have a continuous stream, this allows you to control when the cleaning fluid dispenser comes out with a trigger. However, it does spurt in large waves. As a result, this tends to soak your carpets.
The limited power makes it less effective with thicker carpets and larger surfaces. I also found it to require multiple passes when it came to cleaning up things like coffee and dirt. Overall, this is one of the most versatile models available on this list.
Bissell ProHeat 2X Revolution Max Professional Deep Cleaner
Power 800 W
Capacity 3.7 L
Weight 7.9 kg
Cord length 7.62 m
The Bissell ProHeat is a bit larger than some of our other models. Much like the Animal Pro, it carries most of this weight In the tank. A unique feature that this has is known as "HeatWave Technology," allowing it to function as a partial steamer.
This feature, combined with the brush, makes it one of the most effective shampooers I've ever come across. Much like the Animal Pro, it is still not easy to haul up a flight of stairs. But it Is slightly more accessible than the Wertheim shampooer.
The way it differentiates itself is through the variety of accessories available. It even has a tool that allows you to unclog the shampooer in the worst-case scenario.  This cleaner is an excellent choice for deep cleaning, making it an easy pick for one of the best carpet shampooers in New Zealand.
Living & Co Carpet Washer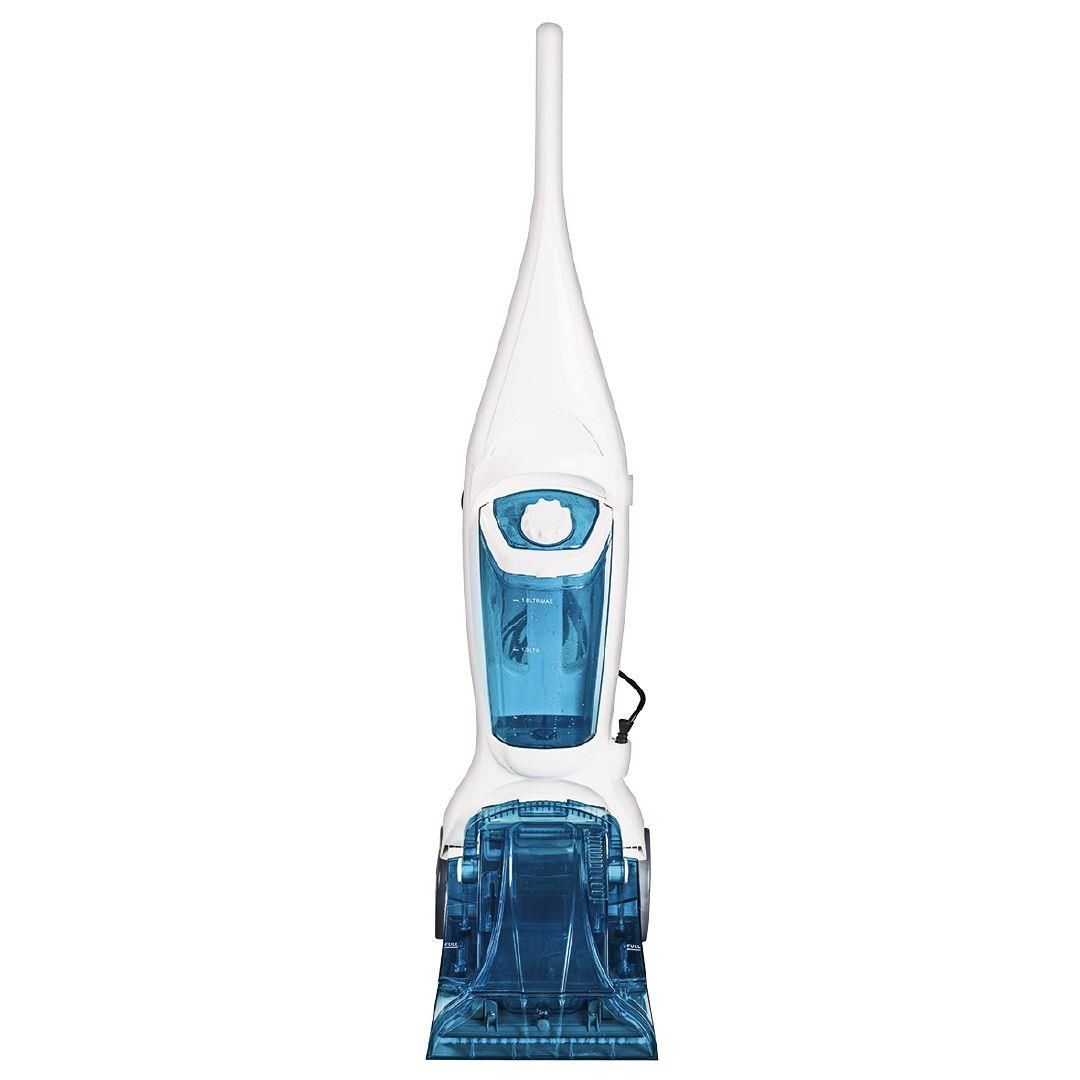 Power 600 W
2.45 L Waste Tank Capacity
1.8 L Clean Water Tank
6m Power Cord
Living & Co creates a wide variety of inexpensive products that are perfect for families on a budget. Despite lacking a fancy name for their washer, they manage to stand alongside the big boys with this option.
It has the smallest tank of all at 2.4L, making it a bit annoying with smaller projects. However, the cleaning system is surprisingly effective, given the low price tag.
There is a time sacrifice with this item, as this cleaner requires multiple passes. But it makes up for this by being far more comfortable to move around the house.
It lacks some of the attachments of our premium options. It also dries the old-fashioned way, with a fan and an hour or so of your day. Regardless, it is still an excellent value for what you get.
Features of the Best Carpet Shampooers in NZ
The best carpet washers heavily depend on how you are using them. The smaller units are suitable for strange crevices and small apartments. Larger machines are useful for larger houses with a lot of carpets.
As a result, versatility will be critical in our decision. Your decision will vary upon your conditions. We have listed some features below for consideration.
Water Tank Size
All of our water tanks are between 2.4 and 4 L, the highest being with the Animal Pro. The lowest is the Living & Co Carpet Washer. Tank size only affects the number of times that you have to replace It during cleaning. A smaller tank means more trips to the sink, hose, or bathtub.
Dual Tanks
All of the shampooers that we have selected today have a dual tank system. Those that do not tend to have issues with wet carpet. Others are a bit less effective with picking up the water after the fact; others focus on having a heating system.
Regardless, it is a necessity to have a carpet shampooer that has the power to pick up the dirty water again.
Chord Length
Chord length is a versatility issue. There is no issue with longer cords. The most extended chord we feature is with the Animal Pro; the shortest is with the Extractor. Shorter cables make it harder to reach the furthest corners in rooms. If you have a large house, consider a cleaner with a substantial cord.
Hose Length
The SpotClean takes the cake when it comes to hose length. It is mainly because the only vacuum function on it is a hose. Both the Living & Co and the Extractor do not come with any hose attachment.
Hoses give the vacuum further versatility to clean couches, unusual carpet sections, and small spots.
Accessories
Save for the Extractor and Living & Co, all of these cleaners come with a wide variety of accessories. Similar to vacuums, these accessories help the shampooer clean many different areas.
The SpotClean is a bit unique in this category, as it only carries brushes of varying wideness. Each is suited to a different level of stain; the medium and small ones are best for stairs. Below, . We will give you a comprehensive list of these accessories below.
Stain Brush
A stain brush is connected to the end of the hose attachment and is used to deliberately "brush out" the stains on the grown. This attachment comes with the Animal Pro, but similar tools come with both the SpotCleaner and the ProHeat.
Turbo Head
A turbo head is a powered brush that acts as the smaller version of a vacuum cleaner. Consider it to be a tiny vacuum. It is more useful for minor, tough stains. It comes with the Animal Pro.
Upholstery Tool
This tool is for removing pet hair and dust from your couch. It comes with all of the three we've mentioned with accessories.
Crevice Tool
It is for digging into difficult-to-reach areas of your house. It comes with the SpotClean and the ProHeat.
Stair Cleaning Tool
This device is for overcoming the limitations of larger vacuums. It only comes with the ProHeat, but the SpotClean and Animal Pro both have a brush that will work here.
Heating Element or Drying Feature
The ProHeat recognizes the need for having a shampooer with a heating element. The heating element is a luxury, but it provides an easy drying feature for you.
The Animal Pro has a drying element that does much of the same thing. As a result, these are both considered on the "premium" end of shampooers.
Conclusion
After a heated battle of convenience versus features, we have come to a conclusion. For us, the best carpet shampooer in NZ is the Bissell ProHeat 2X Revolution Max Professional Deep Cleaner.
The area that put this shampooer over the top was the accessories. Each accessory is to complement any weaknesses of the cleaner. This consideration, combined with the built-in heat drying and incredibly powerful cleaning element, makes it an excellent option.
As always, you may prefer our other options based on your experience. If you have another opinion, feel free to share it in the comments. Good luck with your carpet cleaning projects!
I'm a Consumer Review Specialist that loves to gab about the latest in appliances. As a dad, a lot of my energy goes into keeping up with my four-year-old.
I'm one of those people that needs his appliances to work. As a writer, I'd take some of the burden from your hands with my research. You can check me out on copysmith.org if you want to see any of my other work.