When you decide to go on a weight loss journey, one of the items you might find yourself looking at is a body fat scale. A body fat scale, as you may expect from the name, combines the features from a regular scale, and allows you to track your body fat.
This is important because someone's weight is not a reliable indicator of their health. If that was the case, all of our goals would be to become as thin as a rail. Instead, a body fat scale respects that the level of fat that you carry is an important aspect. Below is our take on the best body fat scale NZ has.
Top Five Body Fat Scales in NZ
We have gone through five different scales in our search. All of them are reasonably accurate in all categories. Many of them have additional features which we will take into consideration. Below is the short list of what we will be reviewing
Weight Watchers Body Balance Bluetooth Diagnostic Scale WW910A
Weight Watchers Body Analysis Bluetooth Diagnostic Scale WW310A
Tanita Inner Scan BC-587
Sanitas Glass Diagnostic Scale SBG 17
Garmin Index Smart Scale 010-01591-10
The ultimate goal is to find something that is accurate, easy to use, and easy to read. The combination of all of these factors will determine what we select.
Weight Watchers Body Balance Bluetooth Diagnostic Scale WW910A
Power 3 AAA batteries
Capacity up to 182 kg
Increment 0.05 kg
Dimension 315 x 30 x 315 mm
Weight Watchers is the premier company when it comes to weight loss products. It should be no surprise that they hold two slots on this list.
The two slots are over reasonably similar products that got on the list due to their accurate readings on weight and Bluetooth features. The Weight Watchers app can be connected to track your body fat using these products. However, the accuracy of this body fat scale can fluctuate a bit. But it does still stay pretty close to initial readings.
The WW910A detects everything you may want otherwise. These include Muscle content and Bone content, giving you a better idea of where you are at on your weight loss journey.
This is a difference-maker to those who like to track their weight without having to write it down. Connecting it the first time is a bit of a headache, but the first-time blues are pretty natural with smart features.
Weight Watchers Body Analysis Bluetooth Diagnostic Scale WW310A
Power 3 AAA batteries
Capacity up to 182 kg
Increment 0.05 kg
Dimension 315 x 30 x 315 mm
Our second Weight Watchers product does a stable job put against our other similar product. Again, its biggest issue appears to be related to Bluetooth. It also does not bone content and muscle content, which makes it a bit weaker than our first option.
The sensitivity is a bit lower on this one, which means that it doesn't detect slight differences in weight as well. However, it does well on every other factor in our experience.
For my family, Weight Watchers is often considered more of a way of life than a product. There is an impressive community to be had, which puts these two products at an immediate advantage.
Tanita Inner Scan BC-587
Power 4 AA batteries
Capacity 200 kg
Weight 2.7 kg
Dimension 300 x 340 x 43 mm
The Tanita lacks brand recognition from our Weight Watchers preference. But my experience with this indicates that it has chosen to place its focus on where a body fat scale should be: accuracy.
The Inner Scan is an easy-to-use, easy-to-read scale that focuses on simplicity. It tells us that you do not need smart features to be a high-quality product.
Everything you need on this can be operated with your big toe. The only drawback, it does not have a tracker for BMI. Depending on what you are looking for, that may not be a necessity.
Sanitas Glass Diagnostic Scale SBG 17
Power 1 CR2032 ION
Capacity 150 kg
User profile 10
Dimension 2 x 30 x 30 cm
The Sanitas Glass Diagnostic Scale is a scale that emphasizes simplicity and cost-effectiveness. It is typically the least expensive, but it doesn't lose any features as a result.
The biggest drawback of this is that it is a bit pickier when it comes to controls. To this day, I am unsure if you can access all of the features using your toe. For a product that spends most of its time on the ground, this is an important issue.
It also lacks trackers for bone content and BMI, both are relatively important in tracking health. That being said, it makes up for these features in the simplicity of reading the on-screen display and accuracy. On a list of the best body fat scales for New Zealand, you know what you are getting with this one.
Garmin Index Smart Scale 010-01591-10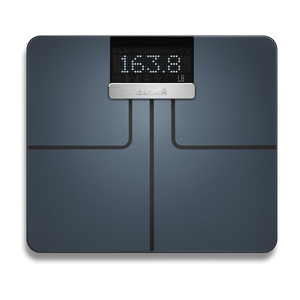 Power 4 AA Batteries
Capacity 181.4 kg
Weight 2.8 kg
Dimension 350.0 x 310.0 x 30.0 mm
The Garmin Index Smart Scale brings back many of the features that we've lacked over the past two models. We've got back our BMI tracker, Wi-Fi connectivity, and bone content readings. That being said, it has some pretty significant drawbacks with its complicated setup.
The Bluetooth application often didn't recognize my phone. Meaning that the useful multi-day tracking feature is a bit lost on it. Also, there are limited controls on the scale, everything is done through the application.
If you like tactile sensations of being able to control your scale through the big toe, this isn't for you. However, it does have multiple users that allow you to differentiate between people once you figure it out. As a result, it is a different scale with some really awesome features.
What Features to Look For – Body Fat Scales NZ
When it comes to looking for body fat scales, there are a lot of complicated areas to look for. Many of the readings you get on a body fat scale are complicated for people who do not know what they are looking for.
This brings up the importance of knowing how to read an owner's manual, but you won't get that until you make a purchase. Instead, we have provided some things to keep an eye for in your journey to find the best weight loss companion.
Weight Scale (Load Capacity)
The typical weight scale has a capacity of 180 kg. The Sanitas is about 150, while the Tanita scale is about 200.
If you have weight outside of the standard range, be aware of the weight limits of your selected product. In most cases, this should not be an issue.
What About Accuracy?
When trying to determine the accuracy of your weight scale, you can use something you have absolute certainty of the weight of. Try it multiple days to determine if there is any fluctuation in the readings.
If you try to apply the same logic to humans, it doesn't work. Our weight fluctuates a bit on a day-to-day basis. But a dumbbell's weight does not tend to change.
Body Fat Scale
There is no such thing as a perfect body fat scale. With that in mind, modern technology has gotten pretty close, given the current system.
The way a body fat scale works is by simply placing your feet. You may feel an electrical current trip up your foot. This electrical current measures the level of resistance in getting up your leg: the more strength, the higher your body fat content. Muscles have more water than fat.
The average body fat varies from 25 to 30 per cent. This varies a bit depending on whether or not you are an athlete, your age, and your gender.
Bone Content Scale
Most adults have bone content around three to five per cent. This is important to note because bone mass percentage tends to reduce as you age. Try not to worry about this too much.
You cannot exercise your way to more one mass. Follow your doctor's advice on healthy bone structure and bone mass. This measurement is not included with the Sanitas and the WW310.
Muscle Content Scale
Body fat and muscle tend to be in an ongoing battle to confuse people when it comes to BMI. It is often assumed that people with high BMI are unhealthy.
However, those who spend a lot of time building muscle mass in the gym will have higher-average BMI. Most people should expect theirs to be around 44 to 36 per cent.
However, this varies based on age. As you get older, this number tends to get lower. This number will be based on the electrical current we mentioned earlier. This measurement does not come with the WW310.
Body Water Percentage
Body water varies between 45 to 65, depending upon your gender. All of the scales we reviewed include measurements for this percentage. If you stay hydrated, you won't have to worry about this reading too much.
BMI Scale
The Sanitas and the Tanita are the only two scales that do not include consideration for this. This scale combines information from what we have already gathered. Body fat content, muscle content, height, and overall weight are all critical factors in this.
Ideally, you should be 18.5 to 24.9. But there has been some debate on the usefulness of this scale. Regardless, BMI seeks to track a balanced body. It is a handy number to have when pursuing goals related to weight loss. It is less useful for purposes related to muscle gain.
Smart Features
Three of the products we feature include smart features. Two of them use the application associated with Weight Watchers, and one of them has its own form under Garmin. All of these are handy features to track your stats and adjust settings on your scale.
Multi-User Interface
All of the scales on our list allow you to have up to ten users. The Tanita only has four total users while the Garmin has 15. This feature really opens up when you add in smart features.
Each person in the household could feasibly download the Weight Watchers or Garmin app to track their stats. Those without smart features are limited by flipping through options with your toe. This allows you to share your stats easily or keep them private in your individual application.
Weight Loss Companion Apps
Weight Watchers and Garmin are both excellent companies. As a result of their tradition, each of them has a solid reason to produce a companion app. Weight Watchers has a strong following with a worldwide community.
Garmin has less of a community. Instead, they focus on the utility that comes with smartphone controls. You can adjust many of the settings from the Garmin app while the Weight Watchers app is limited by comparison.
Conclusion
After a detailed review, our choice for the best body fat scale for NZ is the Weight Watchers WW910A. Despite an impressive showing by Garmin, they lost on the simplicity that comes with Weight Watcher's products.
The other products we reviewed lacked some of the features or were just short on accuracy comparisons. Versatility became a critical factor in considering our choice.
As always, just because we pick one, it doesn't make it the best for you. Any of these would be an excellent addition to your household.
I'm a Consumer Review Specialist that loves to gab about the latest in appliances. As a dad, a lot of my energy goes into keeping up with my four-year-old.
I'm one of those people that needs his appliances to work. As a writer, I'd take some of the burden from your hands with my research. You can check me out on copysmith.org if you want to see any of my other work.