In the new age, automation of many of our systems has led to innovations in the kitchen environment. One of those innovations includes all-in-one kitchen appliances.
You may be sceptical when looking at these, but the time saved when employing these is amazing. After some hands-on experience in using these, we want to share that knowledge with you. We will also go through some features to look out for when shopping for your own. So below is a list of the top all-in-one kitchen appliances NZ has available.
Top Four All-in-One Kitchen Appliances in NZ
We have chosen four different appliances to pick from.
Thermomix TM6
KitchenAid Artisan Cook Processor KCF0104
Kogan Thermoblend Elite KAPRETHBLNA
Magimix Cook Expert
The primary factors that we are going to be looking at are ease-of-use and safety features. This can involve anything potentially listed but will be considered from an overall stance. An all-in-one needs to do everything it is advertised to do.
Thermomix TM6
Power 1300 W
Capacity 2.2 L
Weight 1.76 Lb
Dimension  5.2 x 10.8 x 15.1 in
The Thermomix TM6 is an excellent place to start, given its ability to emphasize safety. For someone new to these kinds of products, the features included were easy to read and understand.
The built-in heating system will limit your speed to "six," meaning that it does emphasize safety over efficiency. However, we didn't find this to be too much of a nuisance.
Out of all of these options, it is the only one with wi-fi connectivity. This allows you to manage the device from the app. With 120 pre-built recipe programs, it is incredibly powerful.
For my family and me, the worst element was the bowl size. If you are looking to batch cook something, this is less appealing than the others for that. Regardless, it is still an excellent and straightforward choice.
KitchenAid Artisan Cook Processor KCF0104H3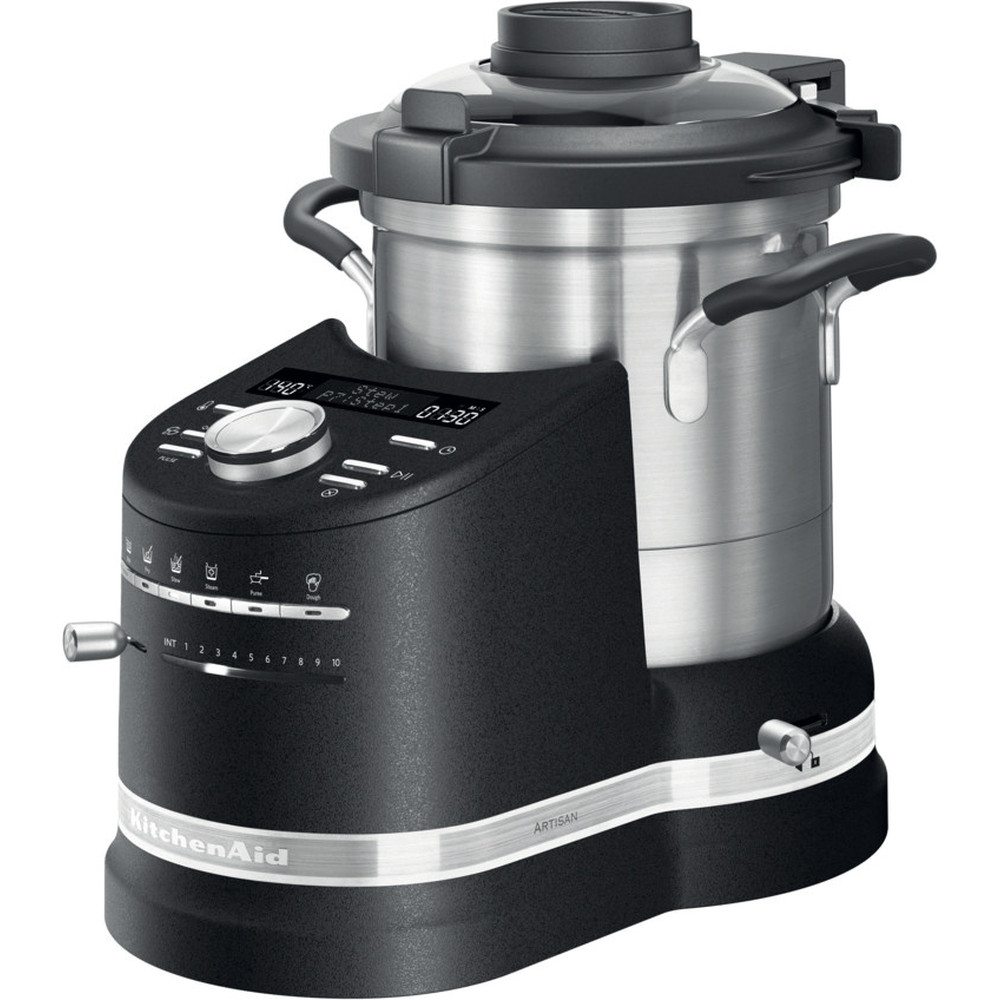 Power 1500 W
Capacity 2.5 L
Weight 12.52 Kg
Dimension 411 x 314 x 342 mm
The KitchenAid  Artisan Cook Processor is a sleek, sturdy unit that works to be an incredibly high-quality product. It has ten speeds and six automatic cooking modes, making it incredibly versatile.
The bowl size on this is also nearly double that of the Thermomix. It solves many of the problems with batch cooking. This more giant bowl requires a larger power unit, as it is at 1500 W, or 500 W higher than the Thermomix.
A couple of other drawbacks include the lack of wi-fi and programming. It also doesn't have any scales, which is a significant issue for those who are picky about portion sizes. As a result, it requires a bit more of a manual touch, but it still has many excellent features to make up for this.
Kogan Thermoblend Elite KAPRETHBLNA
Power 1,000 W
Capacity 2 L
Speed settings 11
Dimension 430 x 400 x 200 mm
The Kogan Thermoblend Elite is one of the most cost-effective options that we found. But reducing the expense doesn't seem to slow the Thermoblend down much, because it still stands with the "big boys."
There are some sacrifices to be expected with this. There is no wi-fi or programming to be found here. Instead, it has ten speeds and ten automatic cooking modes. It won't go beyond speed four when heating, meaning that Kogan has clearly put a strong emphasis on safety.
Among our options, it has the smallest bowl available. It does have scales, but the cover for this and the measuring cup is weaker than the others. The material is clearly cheaper, but no so much that it does not make this list of the top New Zealand all-in-one appliances.
Another major issue with this is the lack of safe dishwasher items. This requires you to manually clean the unit on a reasonably regular basis. This makes it one of the less convenient options on this list.
Magimix Cook Expert
Power 1700 W (900 W motor)
Capacity 3.6 L
Weight 11 kg
Dimension 380 x 335 x 390 mm
The Magimix includes many of the automated options that our others have introduced. However, this is the only option that has a real "manual mode." For those who are "experts" at using these devices, they may include a manual touch to adjust the speed levels and make some items.
The other three programs are for specific types of mixing and heating. You could feasibly mix anything from a cake to crushed ice deserts to soup.
With the scales being separate, it isn't as well integrated as the Thermoblend or the TM6. However, it does have a more giant bowl that both of them, so this can be a convenience for people who like to have separate scales.
Features of the Best All-in-One Kitchen Appliances
Now that we've gone through a quick list of our favourite features, we will go through some details on them. All-in-one appliances are new for most people, but the best way to think of them is an advanced blender with cooking features. If we can see these as comparable units, it will give you a better idea of where to start.
Chopping, Mixing, & Blending
If you have ever used a blender, you are likely familiar with settings from chop to puree. The base features of all-in-one kitchen appliances are not too far from what you would expect of a standard blender.
Chopping tends to leave larger chunks, mixing tends to give us smaller pieces, and blending tends to bring us closer to the soup. All-in-ones tend to emphasize versatility above most things, so try not to be too worried about this. All four of these are of high quality in this area.
Kneading & Whisking
Combining the elements of another type of "mix," all-in-ones allow you to switch out the types of attachments, so they fit your needs better. How they knead or whisk can vary between products.
The Thermomix is the unique beast on this list, as it allows you to attach a mixing bowl to the top of the device, where the spinning elements come from two layers below.
The other three are closer to what you would expect of a blender. You just switch out the cup for a bowl that is used for mixing. The only difference between this and a standard mixing bowl is that the mixer doesn't come from the top.
Emulsifying
Emulsification is when you mix force combine two ingredients that would typically not mix easily. For example, if you try and combine oil and water, they tend to try and stay to two different layers.
With enough force, you, as a person, will be able to emulsify two different liquid ingredients. However, this is far easier with a blender or all-in-one kitchen appliance.
Sometimes, ingredients will resist emulsifying without heat. This brings up the importance of the heating element. However, be cautious when combining rotations at high speeds. Many of these all-in-ones can mix heated liquids at high rates, but safety features will prevent two at once. All of these items can emulsify food.
Heating
The inclusion of this feature is what differentiates all-in-ones from mixers and mixing bowls. By combining a heating element into these products, you can feasibly make a pureed soup using a single container. Soups are something that the Magimix specializes in.
It is a less useful feature when it comes to whisking and kneading, as you cannot bake a cake or bread effectively in this as of yet. Regardless, several recipes may be worth looking into when applying this heating element.
Programs
Programs tend to apply in a couple of different situations. Situation one is when plans are meant to tell you when to add ingredients for specific recipes, such as the TM6.
In situation two, programs are meant to modify the speed at which the blades or mixing pieces spin. They also include what heat to put them at. For example, kneading bread is a reasonably slow setting that requires no heat. But making pureed tomato soup requires faster environments and higher temperatures.
Weight Scales
The only product we feature that does not include scales is the Magimix. The Thermoblend has weight scales, they are just not integrated with the product.
These items are handy, especially when it calls for a specific amount of something to be blended. The integrated scales will automatically include the weight of the bowl as well, taking all complications out of the process.
Bowl size
The bowl size of are reviews varies between 2000 and 4500 ml. This feature is a "deal-breaker" that is only dependent upon what you are using it for.
Larger families will ideally go for the more giant bowls available in the Magimix and the Artisan Cook Processor. Smaller families, or single people, will go for the smaller items. Ask yourself how you foresee yourself using this.
Energy Consumption
Given that you will likely not see these items flagged as high energy consumers, this will all depend on your preference. The Thermoblend has the best overall stats if you plan on using the heating function less. The Thermomix takes second place. The other two tie for the last place award.
Smart Features
The only all-in-one appliance we have with smart features is the Thermomix. With wi-fi connectivity and 120 programmable recipes, it has a good deal of flexibility in it.
As this device gets more popular, we will eventually see more competitors to introduce smart features. These features likely include machine status, turning on, and turning off. Until then, the Thermomix has cornered the market.
Conclusion
With 120 recipes, many options on heating and turn speed, and the ability to connect to the wi-fi, the Thermomix is the clear winner in this contest. While not the ideal choice for those with large families, the ease-of-use behind is clear.
While it loses in the batch cooking market, the simplicity of this device is made clear in the company's thoughtful process in creating this stackable machine. As always, just because it is our favourite doesn't mean it will be your favourite.
We suggest you go over the features on this list and decide what your top priority is. Let us know if you have any other opinions.
I'm a Consumer Review Specialist that loves to gab about the latest in appliances. As a dad, a lot of my energy goes into keeping up with my four-year-old.
I'm one of those people that needs his appliances to work. As a writer, I'd take some of the burden from your hands with my research. You can check me out on copysmith.org if you want to see any of my other work.