If you have not tried an air fryer before, it is something I cannot recommend enough. My family and I have used this to cook everything from breaded chicken to cauliflower.
By taking out the oil and putting in the right seasonings, you can turn a fatty meal into something amazing. This fact is why we are reviewing the best air fryer New Zealand has to offer.
There are a ton of features that we will be going over for you today. We like to ensure that you are making the best possible decision for you or your family. The best fryer overall may not be the best fryer for you. Be sure to review the features section for further detail.
Best Air Fryer NZ – Our Five Picks
We have chosen five air fryers to review today. Our shortlist of these is below.
The Halo+ DuraCeramic Air Fryer AF5000
The Phillips Premium Air Fryer XXL Digital
The Phillips Daily Collection Air Fryer
The Russel Hobbs Brooklyn 5L Copper Air Fryer
The Kambrook 2.5L Air Chef Air Fryer
If you have any opinions you wish to share regarding these fryers, feel free to share them in the comments section. Our experience with the product may vary from yours. Below, we will go into the details.
Halo+ DuraCeramic Air Fryer AF5000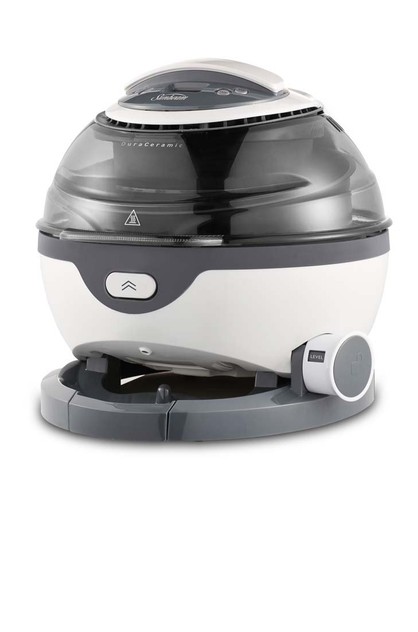 Capacity 1.3 kg
Weight 6.67 kg
Power 1,300 W
Dimension 356 x 334 x 422 mm
The Halo+ DuraCeramic is a unique option because of its non-stick ceramic coating. It is perfect for small families seeking to cook some healthy fries on the side. But larger families will lack the room to serve larger meals.
The tilting pan is an excellent feature for cooking fries evenly on all sides. Most items you will put in it still require a small amount of oil, which makes it far healthier than other options. It also has multiple cooking features so that you can bake or grill things as well.
Phillips Premium Air Fryer XXL Digital
Capacity 1.4 kg
Weight 8.28 kg
Power 2,225 W
Dimension 315 x 321 x 433 mm
Phillips has always had a strong tradition of high-quality products. The XXL Digital HD9651/91 is no different. Initially, we were sceptical because of the noise that this produced.
However, Phillip's customer service team managed to address this and helped us with the issue. Despite some hiccups, the frier has a lot going for it.
The large 7.3L capacity opening is perfect for larger family sizes. It has multiple cooking features for a house that demands versatility. Many of the parts are dishwasher friendly, making it easy to clean. The combination of these factors makes it an easy option on the list of best air fryers in New Zealand.
Phillips Daily Collection Air Fryer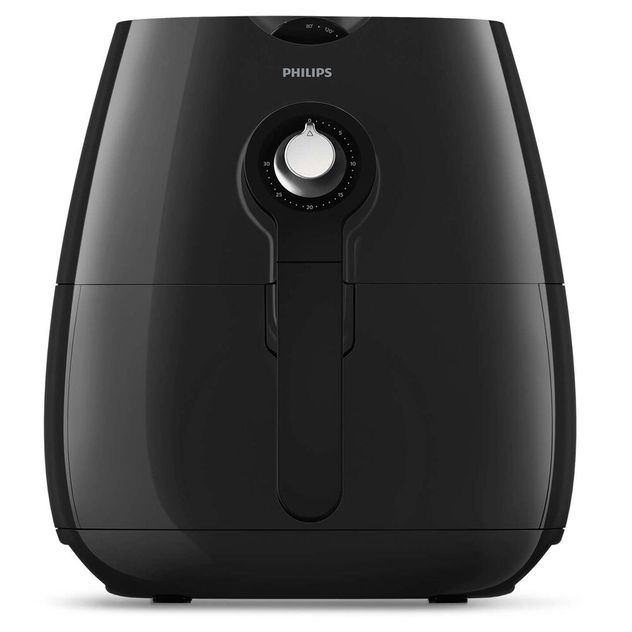 Capacity 0.8 kg
Weight 7 kg
Power 1,425 W
Dimension 384 x 315 x 287 mm
The Phillips Daily Collection Air Fryer is a simple product that is perfect for people who are just looking for a regular air fryer.  It doesn't try and impress you with many of the features that other fryers have. It has a knob and a need for you to shake the contents every once and a while.
It has a very sleek design with built-in cord storage and room-temperature exterior. None of the fryers we mention will heat your room. The biggest drawback comes from its limited size, which is comparable to the DuraCeramic.
Russel lHobbs Brooklyn 5L Copper Air Fryer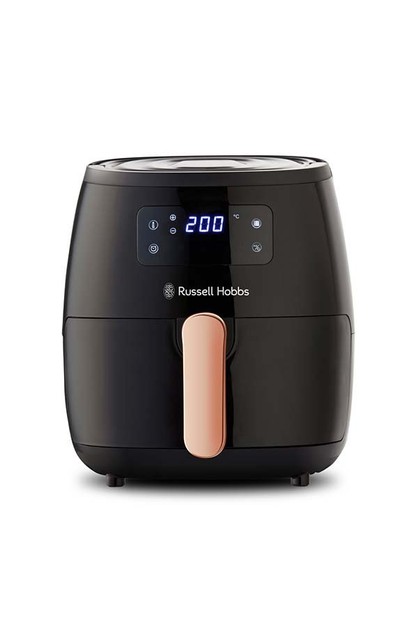 Capacity 5 L
Dimension 398 x 390 x 390 mm
Preset Function 7
Timer 60 min
The Russel Hobbs Brooklyn 5L Copper Air Fryer is among the newest produced on our options today. It has a 5L carrying capacity that works to be between the largest and the smallest. It still manages to carry a great deal of stuff.
It has a two-year warranty like our best options and a carrying handle for easy transport. It even has dishwasher safe parts. The only thing it lacks is a rotatable rack, meaning you will have to check on it every so often.
Kambrook 2.5L Air Chef Air Fryer
Capacity 2.5 L
Power 1,300-1,550 W
Settings 30 minutes auto-off time
Dimension 315 x 250 x 310 mm
Kambrook comes to the table with something that acts as a happy middle between the smallest and the biggest. As a result, they are suitable for serving sides, like chips, to two to four people.
The small size and simplicity of this model make it easy to use. Also, this air fryer is pretty fast when compared to our larger models.
The biggest drawback comes from the materials to hold the basket. The handle on this thing has had a habit of breaking for more than enough people. The issue has tested Kambrook's customer service department, where they delivered by replacing most people's items within warranty.
Features of the Best Air Fryer NZ and What You Need to Look For
Now that we have gone through a list of friers, we would like to go through some standard features. By listing out these features yourself, you will be able to define what is most important to you and your family.
If you need something with automatically rotating trays, pre-programmed settings, and a timer, you can put these on the top of your list. New Zealand has a lot of great options when it comes to air fryers.
Pre-Programmed Cooking Settings
The XXL, the Brooklyn, and the DuraCeramic are all great examples of those with programmable settings. Many of these settings are similar to those you may find on the microwave. You will see settings such as chicken, chips, or ribs. These features do not tend to be a "one size fits all" model.
If you have any uncertainty about the amount that these programmable settings suggest, they tend to have instructions in the owners manual. Others may come with a simple recipe guide, such as the Halo+'s model. We will go into greater detail on capacity later.
On-Screen Displays
The Brooklyn and the XXL are the only two we feature with any sort of screen display. It is a convenience feature that goes well with the timer, showing you the minutes needed to finish cooking.
Others may confirm you which "program" you have selected. They may display the word "FISH" in the bolded text to let you know what you are cooking.
Given that most populations tend to have smartphones, some may find this feature meaningless. When you can tell Google or Siri to set a timer for you, you are more likely to listen to your phone.
Timers
This feature is an absolute need for all of our products today. Many of these are as simplistic as a knob on the front. These include the Phillips Daily, the Kambrook, and the Halo+ models.
Smartphones may have eliminated some of the programmable display needs, but the timer acts as a simple safety feature. Too much time in the heater can burn and catch fire to your food.
Rotating Trays
The DuraCeramic is one of the few products here that recognize the need for rotating trays. In standard fryers, you need to check on the food every five to ten minutes, depending on what you cook. For some people, including myself, their forgetfulness seems to get the better of them.
This feature seeks to ensure that all sides of the food get cooked evenly. Those who prefer to adjust the food itself will not appreciate this feature. Be especially careful of pre-heating time to avoid an uneven cooking spread.
Temperature Controls
Most air fryers lack this feature due to typical frying occurring around 178 degrees Celsius. The Brooklyn does have this feature, which gives it a bonus to versatility.
However, keep in mind that frying tends to all occur at the same temperature. For those who are expecting a crispy exterior with a soft interior at low heat, you will be disappointed.
Dishwasher Safe Parts
Dishwasher-safe parts, including optional accessories, make these products painfully easy to clean. The only exception to this rule being the DuraCeramic.
Follow the instructions of your owner's manual to be aware of the heat tolerance of the items you are putting into the washer. You may need to put them in the top drawer or reduce the heat in your dishwasher in some circumstances.
Air Fryer Capacity
The fryers we reviewed today went from a .8 L capacity to a 7 L capacity. The XXL easily won this category with the Brooklyn being a reasonably close second. This feature is one of the most critical areas to consider when it comes to frying. The size of the object determines its versatility.
Whether capacity will be a big deal to you will depend on what you do. The larger capacity items hold more chicken wings, vegetables, or chips. They also tend to fry at a comparable speed to our smaller models.
Air Fryer Warranties
The most common warranties are limited to one year, but we have reviewed several in this batch that goes up to two years. The longer your warranty is, the more confidence the producer has in it. Keep an eye out for a two-year warranty when shopping.
Cord Length
The only reason you need to keep an eye out for this one is based on the position of other things in your kitchen. Longer cords give you the option of placing it in more locations. Be aware of where you like to keep the microwave, toaster, and coffee pot. Otherwise, you could leave it in storage until you need to use it.
Power Usage
The average power usage varies between 1000 W on the lower end and 2200 W on the higher end. The XXL holds the highest while the lowest is with the DuraCeramic.
Higher power does not always indicate more usefulness. In fact, these high-power items will tend to do no more than increasing your electricity bill. The EECA sets the power standards for products used in residential locations.
Conclusion
After reviewing all the choices for the Best Air Fryer New Zealand has to offer, we have decided upon the Phillips Premium Air Fryer XXL.
While the initial release of these ran into a couple of snags, Phillips competent customer service team handled any issues well, completely recovering from any poor experience.
Also, while it does use the most power, those who need the room will appreciate this greatly. The different between 7 L and 5 L is noticeable for those who have larger families. Even if you just occasionally invite guests over, the XXL is a clear winner given its ability to work in multiple situations.
I'm a Consumer Review Specialist that loves to gab about the latest in appliances. As a dad, a lot of my energy goes into keeping up with my four-year-old.
I'm one of those people that needs his appliances to work. As a writer, I'd take some of the burden from your hands with my research. You can check me out on copysmith.org if you want to see any of my other work.